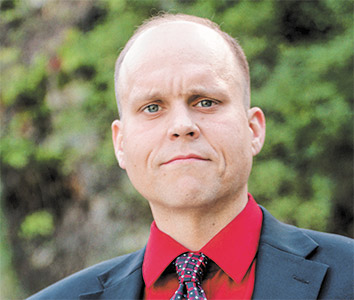 Small-town lawyer Justin Wall argues in his discipline case that he's fighting not just for his career, but for the livelihoods of his Huntington co-workers and the needs of his community after he tried to drum up business with a regretful decision to answer a Craigslist ad four years ago.
The ad was from Jacksonville, Florida-based McCann Law Group, doing business as Consumer Attorney Services. The firm led by attorney Brenda McCann sought local counsel to represent clients in foreclosures and bankruptcies. Wall was one of at least five Indiana lawyers who signed contracts with the firm to serve as local counsel for Indiana cases referred by CAS.
By 2013, CAS was the subject of complaints that it was gouging and failing to serve clients, prompting an ongoing consumer lawsuit from the Indiana Attorney General's office. McCann has been effectively disbarred from the Florida Bar, and she was never licensed to practice in Indiana, though the companies were registered as business entities. Wall is the second attorney to face a formal disciplinary complaint from the Indiana Supreme Court Disciplinary Commission for his arrangement with CAS.
But Wall, 39, is fighting. In a nearly 60-page set of proposed findings, he lays out in detail the work he performed for each CAS client from start to disposition. He argues the commission provided no proof of complaints from clients about the work he did for them, even though it had those clients' contact information. Wall says he engaged in no professional misconduct and shouldn't be sanctioned.
"The paucity of proof (and lack of charges) that [Wall] did not represent his clients competently and diligently, combined with a lack of proof that [his] CAS clients were ill-served by CAS at its Jacksonville headquarters, leaves … the impression that the commission is advocating that the problems the commission has with CAS should be visited upon [Wall] even though there is no proof (or charges) that he mishandled his CAS clients' cases," Wall argued in his proposed findings for hearing officer Robert C. Reiling Jr.
Wall's attorney, Barnes & Thornburg LLP partner Don Lundberg, said he could not comment on the pending case.
'Renting' law license alleged
The commission has charged Wall with violating Rules of Professional Conduct for alleged violations including charging an unreasonable fee, using an improper trade name, assisting the unlicensed practice of law, knowingly assisting CAS with charging an unreasonable fee, failing to promptly inform clients of the limited scope of his representation, failing to consult with clients about relevant limitations on his conduct, and dividing fees between lawyers who are not in the same firm without the client's written agreement. The commission asks for a 60-day suspension without automatic reinstatement.
"Other precedent tells us that a lengthy suspension is appropriate in cases … where a lawyer essentially 'rents' his law license to an entity otherwise engaged in the unlicensed practice of law," the commission argues.
The Florida-based firm obtained leads for people seeking legal help on its website that has since been taken down. The commission says CAS typically charged clients $1,200 or more as a non-refundable retainer, plus a recurring monthly fee of $400 to $1,300. The commission says the fees weren't based on time spent on the matter or the skill or labor involved in the representation.
CAS paid local attorneys fees for certain services. For instance, the commission says after a lawyer agreed to represent a CAS client, he would be paid $75 for a welcome call to the client, $125 for an answer and appearance in a client's foreclosure action, and $300 to attend court appearances. Lawyers also were paid a specified hourly rate based on volume.
Wall "received a small portion of the total fee charged by CAS," the commission charges. "Clients did not agree in writing to the manner in which CAS would share legal fees with [Wall] nor the amount CAS would pay [him]." Wall responds he's unaware of how much any particular client paid to CAS.
Consumer lawsuit unsettled
In January 2014, the office of Indiana Attorney General Greg Zoeller sued CAS and its related entities, "alleging its actions — which exploited distressed homeowners facing foreclosure — violated the Credit Services Organization Act, the Mortgage Rescue Protection Fraud Act, the Home Loan Practices Act and the Deceptive Consumer Sales Act," spokesman Bryan Corbin said in an email. He said the AG's office received seven consumer complaints about CAS.
But the Indiana Court of Appeals largely ruled in favor CAS, granting it summary judgment on all claims except deceptive representation under the DCSA. The appellate panel let all of the complaints proceed against McCann personally. Both the state and the McCann parties are seeking to appeal the ruling.
Corbin said the AG's office could not comment about whether it referred complaints against CAS to the disciplinary commission. But he said in general, when the AG's office receives a complaint concerning a lawyer or legal services over which it would not have authority, the complaint is forwarded to the commission. He said the office has received 377 consumer complaints about Indiana attorneys or law firms since 2009.
"There were several Indiana attorneys who had entered into contractual relationships … and participated in some way in transactions with that Florida firm that held itself out as a foreclosure-rescue consultant. The Indiana Attorney General's Office did not claim that we were pursuing the Indiana attorneys," Corbin said, because the relevant statutes exempted lawyers and empowered the Supreme Court to regulate them.
The Disciplinary Commission argues that because Wall signed a "partner" agreement with CAS, he had or should have had supervisory duties for one of those Indiana lawyers who worked for the firm, Indianapolis attorney Eric Jackson. The commission in 2014 brought a complaint against Jackson based on complaints that he botched a CAS client's case. In accordance with an agreement between the commission and Jackson, the Supreme Court in 2015 suspended him for 120 days but allowed automatic reinstatement.
The commission counters Wall "bore the title 'partner' and received payment for the dishonest appellation, while Jackson did not and was not charged with dishonesty.
"[Wall] is concerned that he is being made a whipping boy for the Commission's concerns about CAS, not about him. … By engaging in such self-pity, [he] ignores that he agreed to be the 'partner' of CAS in Indiana, and that is was his involvement that allowed CAS to operate as it did in Indiana," the commission asserts.
In addition to Jackson and Wall, the COA opinion listed Jonathon Albright of Fort Wayne, Jeffrey Branstetter of Jeffersonville, and Kimberly Vereb of Avon as attorneys who had contracted with CAS or McCann entities to represent Indiana clients. None of those three attorneys is the subject of a disciplinary commission complaint.
'No alternative but to fight'
Wall argues the commission sought tougher sanctions against him even though there's no evidence he mishandled cases as Jackson admitted. Wall argues in filings with the commission that he "is left with no alternative but to fight for his livelihood, the continued employment of his staff, the continuity of representation of his clients, and his continued service by appointment to his local courts."
He argues this is significant because he "represents one or both parents by court appointment in 75 to 85 percent of the CHINS cases in Huntington County." Sanctioning his ability to practice "would work a great hardship on the local courts because of the few lawyers willing to take appointments at the rate the courts pay."
Wall is remarkably candid in his defense, arguing that in the couple of years he contracted with CAS, he billed just over $13,000 in fees to the company. By contrast, he says his firm had total billings of between $263,000 and $294,000 each year from 2012 to 2014. He notes after paying his staff and his law firm's overhead, "his total income from his law practice has never exceeded about $32,000 per year."
"This disciplinary matter has been hanging over his head for approximately two and a half years," Wall argues in filings, noting he received a notice of investigation in November 2013 and the complaint wasn't filed until Sept. 28, 2015. "It has been very expensive for [Wall] to defend himself in this cause — money [he] can ill-afford to spare."
No hearing date had been set in the matter at IL deadline. Wall told the commission in a filing he "regrets having ever done business with CAS. He remains proud of the legal work he did for his own CAS clients."•
Please enable JavaScript to view this content.