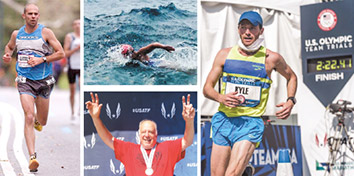 Fifty-two years after trying to get on the U.S. Olympic men's track and field team, Stephen Cohen is still going for gold.
The Munster attorney tried for a spot on the shot put crew in 1964, but an injury kept him out of contention. Life moved on, but he stayed close to sports. He played basketball on a team while he furthered his legal studies at Cambridge University in England, and was a regular on the racquetball courts while he was raising a family and building his practice.
At the age of 48, he picked up the shot put again. Most recently, he was in Grand Rapids, Michigan, where he competed in the 2016 USATF Masters Outdoor Championships. He took home the bronze in the 75 to 79 age group.
"I've never lost my passion for it," Cohen said.
If he had gone to the 1964 Olympics in Japan as part of the United States team, he still likely would have followed his father's footsteps into practicing law in Lake County, but he would have had more notoriety. It's always nice to be called an Olympian, he mused.
Cohen is part of a small cohort of the Indiana legal community whose excellence in athletics got them to the cusp of the Olympics. They trained several days a week for many years to increase their endurance and hone their skills with the singular focus of getting to the Olympic trials.
Jonathan Little (Photo submitted)
Jonathan Little, partner at Saeed & Little LLP in Indianapolis, ran for a slot on the U.S. marathon team for the 2008 Olympics in Beijing. Megan Ryther at Ice Miller LLP competed as a high school student for the 1996 U.S. Olympic women's swim team.
Jordan Kyle, a 2016 graduate of Indiana University Robert H. McKinney School of Law, decided to intertwine his J.D. work with training for the 2016 Olympic marathon trials.
They can all remember the tryouts. The atmosphere, the feeling and, of course, their finishing times, or in the case of Cohen, the distance of the throw, are readily recalled. And for the most part, they all echo Kyle's assessment: "It was an incredible amount of work, but I'm glad I did it."
A bag of sandwiches
Little arrived in New York in November 2007 ready to run. The 26.2-mile course started in Times Square then settled into numerous loops around Central Park.
"Stupidly my goal was to get on the team," he said.
Like Kyle, Little laced up his running shoes again when he enrolled at the University of Missouri-Kansas City School of Law in 2004. And until 2010, he ran 4,500 miles or more every year, picking up a sponsorship from Brooks Running Co. that included, in his words, all the shoes he could eat.
He ran 17 to 20 miles every weekday morning and followed with another 5 miles in the afternoon. Heading to class, he always carried a bag of sandwiches to get the daily 3,000 to 5,000 calories he needed.
After graduation, he went to Arizona to take a job in the prosecutor's office in Flagstaff and, primarily, to join the running community there.
Jordan Kyle (Photo submitted)
In New York, his routine was disrupted. He did not eat enough before the race and during the race, he was not able settle into an even pace. By the 16-mile marker, he knew he wasn't going to Beijing. He finished with a time of 2 hours and 33 minutes.
Explaining what it was like running those last 10 miles with the knowledge his goal was toast, Little was direct. "It sucks," he said.
Tried to muscle one out
Cohen had just finished his law degree at Vanderbilt University Law School when he arrived at the 1964 National Amateur Athletic Union track and field championship. In those days, the AAU contests served as the Olympic trials.
He had taped two fingers together (which shot putters were allowed to do then) and took a dose of Novocain but his throwing hand still hurt. He had torn the joint on his third finger trying to "muscle one out" during an AAU meet in Kentucky just prior to the championship.
The pain kept him from throwing a personal best of 60 feet and knocked him into a 10th place finish.
Surgery in 1990 finally repaired the joint and got Cohen back to throwing the shot put and, about 10 years later, the discus. Instead of talking about retiring, he advocates for all attorneys to get on the track or in the gym or do whatever sport they like.
"I think too many lawyers get so involved in their practice that they forget there's life outside the practice of law," he said.
Just wanting to get to trials
Ryther remembers her Olympic trials as "pretty overwhelming" while Kyle recalls his as "horribly hot." Both had just wanted to get to tryouts but neither expected to make the U.S. team.
Megan Ryther (Photo submitted)
Just a 16-year-old high school student from Texas, Ryther traveled to Indianapolis to compete in the Olympic trials for the 800-meter freestyle. Having swam, lifted weights, and ran up and down stairs nearly every day plus Thanksgiving and Christmas, she came into the trials with a personal best of about 8 minutes, 49 seconds.
Ryther swam the 16 laps and although she finished less than 30 seconds behind the winner, she was still in 26th place. Her final time was 9:00.45 minutes.
Kyle finished the trial marathon with a time of 2 hours and 38 minutes, 10 minutes off his personal best. However, the February day he ran in the trials in Los Angeles, the temperature climbed to a record-breaking 75 degrees and running on the street through the city, Kyle estimated the course temperate broke 80 degrees. The heat forced him to quit running and walk six times.
He chose to train for the marathon because he felt that was the best chance he had to get to the Olympic trials. The event required endurance rather than speed.
To prepare for the heat, Kyle regularly logged several miles bundled in a coat, gloves, tights and a hat. He was running 100 miles or more each week and kept his energy up by eating a lot of frutis and vegetables and catching 20-minute power naps in the law library.
Occasionally he did think about quitting and forgoing his dream of competing in the Olympics. But then he would realize he did not want to look back on this time with regret.
In the aftermath of the trials, Little, Kyle and Ryther have not let their sports gear gather dust.
Like Cohen, Ryther still competes. After high school, she turned her attention to open water swimming and "very, very briefly" considered trying out when the sport was first included in the Olympics in 2008. But she decided to focus instead on finishing her J.D. and MBA at Marquette University.
She loves the sport and has competed in a handful of world championships around the world. Recently, she battled the waves at a competition in the Cayman Islands.
Kyle and Little still run. The former is eyeing the trials for the 2020 Olympics and the latter is planning to run in the Monumental Marathon in Indianapolis in the fall.
"I'm happy," Little said of his time running. "In the end, I think it was a positive experience."•
Please enable JavaScript to view this content.