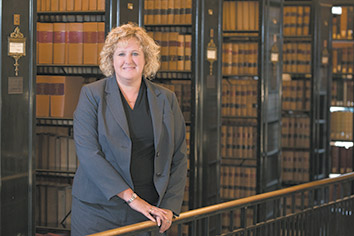 Mary Willis is known in the Indiana judiciary for going beyond the day-to-day duties of a trial court judge — a mover and shaker who seemed a natural choice for the newly created position of chief administrative officer for the Indiana Supreme Court.
"I don't think there's any judge throughout the state, any judicial officer throughout the state, who doesn't know of her," said Lake Superior Judge John Pera, who preceded Willis as president of the Indiana Judges Association. "She certainly is no wallflower, and she's an excellent choice for that job. … She has a fierce dedication to enhancing the judiciary in everything she does."
Willis' reputation of helping Indiana's trial courts led to her selection from 68 candidates — including judges, state court leaders, executive administrators and seasoned lawyers nationwide — who applied for the CAO position. The 13-year Henry Circuit judge began in the new position July 23, and while her duties are still in the formative stage, she said the need for a new governance structure is clear as the entities reporting to the court have grown.
"There are 200 people who would like the Supreme Court justices' attention to answer questions, so there needs to be a system to make decisions and bring to them the policy decisions that they need to make, and then a structure to implement them," Willis said. The court is working with the National Center for State Courts to develop a governance structure for Indiana's court administration, and Willis said other states are watching.
"The goals are to have a structure that all the staff is comfortable with, needs are being met, we're responsive top to bottom, and that we have a good line of communication with the trial court bench and the bar," Willis said. She said the new role could be viewed as a chief of staff for the Supreme Court, and the new governance structure may resemble a corporate model that delineates protocols, chains of command, and duties and responsibilities.
New Castle attorney R. Scott Hayes, of Hayes Copenhaver Crider Harvey LLP, said Willis has been helpful with members of the bar in Henry County. "She has taken the time and trouble to make us aware of new developments … as they arise with technology and rules changes and things like that," he said.
'A good fit'
Chief Justice Loretta H. Rush praised Willis as a tremendous leader committed to improving the courts. "Appointing her to work for the Indiana Supreme Court means her legal and administrative expertise will have a positive impact on the entire judiciary. She is respected by her peers and many of our court staff have previously worked with her on initiatives — they too welcome her arrival."
Willis said the parts of being a judge she most loved were the administrative pieces, and that's where she believes her skill set was strongest.
"The planning for the future, the organizing of new pilots and programs, and being on the national stage and moving Indiana forward have been some of my favorite parts of the job," Willis said. The CAO position "seemed to be a good fit for me."
She's led the Indiana Judges Association and the Indiana Council of Juvenile and Family Court Judges, and served on numerous committees. For years, she's also offered pre-bench orientation for newly elected judges, preparing them for what to expect, getting to know their strengths, and finding ways to compensate for weaknesses.
"You build a lot of connections with judges in that relationship because they feel comfortable then coming to talk with you and asking questions. … If a new judge hasn't done a murder case, I've got four judges for them to talk to who are more than generous to share a form order, or procedural ideas, or ways to have a best practice," she said. "I feel very privileged to have earned those relationships."
Likewise, Willis has cultivated relationships in state court administration. "I'm lucky there are a lot of great people that already work here," she said.
Ties that bind
Hayes has known Willis since she was in private practice, before she was appointed as a court commissioner in Henry County 19 years ago. "She's a strong judge," he said, adding Willis and her husband, Todd, who have two children, "are good parents, good family people. She's the kind of person you're proud to point to as your circuit court judge."
"I'm going to miss her a lot," Hayes said. "I've got tons of respect for her."
Willis' devotion to family can be seen in her cousin, Molly Martin, a deputy prosecutor in Zanesville, Ohio. In January of 2013, Martin was in desperate need of a liver transplant, but she had been rejecting Willis' standing offer to donate a lobe of her liver to save her cousin's life.
"I thought, she's got children, and I didn't want to put her through this, but my condition continued to get worse, and we finally decided to do that," said Martin, herself a mother of two young daughters. "It's amazing, and she's amazing. … I'm doing great."
Martin said Willis "is turning into the matriarch of the family," keeping the family history, hosting Thanksgiving dinner each year, and setting an example personally and professionally. "She's a great mom, a great wife, and a great cousin," Martin said.
Reweighing caseloads
As Willis' duties are defined and a new organizational structure develops for state court administration, the NCSC is also undertaking the first weighted caseload study of Indiana trial courts since 2009. Willis said judges collected case data in October 2015 that will help pinpoint needs around the state. This new information will reflect societal changes, effects of the revised criminal code, and how changes in court practices have altered the time judges spend on particular matters.
The NCSC said 99 percent of Indiana judicial officers provided data for the study. Nine focus groups also were conducted with Indiana judicial officers to provide qualitative data to supplement the study's findings, according to the NCSC.
"There is a need for additional judicial officers throughout the state, but that's not a surprise," Willis said. "This is an opportunity to come up with some creative ways of addressing that need." The new study should be released in about a month, she said.
Willis will be tasked with overseeing numerous projects, but she said the court hasn't emphasized particular projects or initiatives demanding immediate attention. She expects a big part of her job will be reaching out to judicial officers and members of the bar to help on projects or pilots.
"They've not hung up on me yet," she said.•
Please enable JavaScript to view this content.