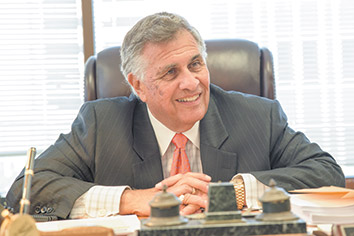 Jim Voyles managed to raise a respectable sum for the Indianapolis Legal Aid Society a few years back when he persuaded a friend, a guy named Bob Knight, to speak at the organization's 70th anniversary event he was arranging.
Hosting the former Indiana University basketball coach was a coup, a success, and something for future events to measure up to. So the criminal defense attorney best known for representing a who's who of famous clients thought ILAS board member and Frost Brown Todd LLC partner Tom Davis was making a sucker's bet when he asked Voyles be the guest of honor at a fundraising roast marking ILAS's 75th anniversary.
"I bet him dinner at St. Elmo's they wouldn't sell 200 tickets," Voyles said.
"He said to me, 'Tom, I'll do it,'" Davis said, recounting the bet, "but he owes me a big dinner and he knows it. … There are going to be over 500 people, and we're ecstatic about this."
The help couldn't have come at a better time for ILAS, which like other legal aid groups is challenged by cuts in funding and fewer reliable sources of long-term revenue. Davis and ILAS general counsel John Floreancig said without the $125,000 or so the event should raise from ticket sales and sponsorships, the organization might have been looking at staff cuts.
"This is huge," Floreancig said. "It's more than doubled anything we've ever done."
Davis wasn't surprised. "I don't think you can minimize the attraction of Jim Voyles," he said. "We all hope we never have to call him to be our lawyer, but we all know what kind of lawyer he is."
Voyles demurs, saying people aren't coming to see him, they're coming to see the big names who'll give him grief at the event at his Crane Bay roast Sept. 23, like racing icons Chip Ganassi and Tony Stewart. Like Indianapolis Colts punter Pat McAfee. Like Republican Rep. Susan Brooks and Democratic gubernatorial candidate John Gregg and others.
"I don't think of myself as a big deal," Voyles said. "On a daily basis, I'm eating lunch at the Workingman's Friend."
Making a name
When Voyles stepped out of law school not quite 50 years ago, he began a path that's made him arguably the most notable criminal defense attorney in Indiana. "I had no idea I'd be here," he said.
When he went to work as an attorney in 1968, he joined his uncle, George M. Ober, who ran a notable criminal defense firm along with Charles Symmes and his father, Frank. These lawyers had made a name for their firm by trying such cases as the Connie Nicholas murder trial in 1959. The mistress of Eli Lilly executive Forrest Teel, Nicholas was convicted of manslaughter in his shooting death in a sensational trial that drew international media attention.
"I was the beneficiary of their reputation," Voyles said of those first law firm partners, and he also gained valuable experience clerking for former Indiana Attorney General John J. Dillon. "They were great lawyers and great mentors. They taught me about practice, they taught me about how to interact with lawyers, how to represent myself in courtrooms. They were just invaluable."
People likely most associate Voyles for his representation of boxer Mike Tyson, who was convicted of rape in Indianapolis in 1992, he said. He noted the irony that he didn't argue that case, but served as local counsel. Voyles has argued in court for numerous athletes, luminaries and politicians facing a range of charges, but he points to lesser-known cases as personal highlights.
He vindicated a Greenwood man named Danny Tunks during a four-month murder trial in Hackensack, New Jersey. He won an Illinois case involving a 30-year-old murder in which both sides employed forensic anthropologists and his opponent called a best-selling author as an expert witness.
"Those are the kinds of cases that are not high notoriety, but were satisfying," Voyles said.
Fast company
People who know Voyles also know his affinity for cars. He's got an eclectic collection of 15 gems — Jaguars, Bentleys, Porsches, Ferraris and others — and he's also got deep connections to the city's signature race.
The man who started his legal career, his uncle George Ober, was a former Speedway judge who with Tony Hulman was a founder of the United States Auto Club in 1955. "I've seen every 500 but one since '53," Voyles said.
He's got another family connection to the Greatest Spectacle in Racing. His wife of 38 years, Joan, is the daughter of 1950 Indy 500 champion Johnnie Parsons.
ILAS board member Betsy Russell said Voyles' connections to the 500 and the legal community made him an easy choice for an honoree, and she said her late husband, Joe Russell, had cases with and against Voyles.
She said her husband heaped praise on Voyles, and he learned from him and respected Voyles as a man of his word even as an adversary. "He's got a great sense of humor, he's done a lot for the bar and he's very civic-minded," Russell said. "Lawyers don't always have the best reputation, and it's good to have someone you can look up to like that."
Davis, who's been hosting roasts since his law school days, said his mission for the Voyles roast is for people to walk away saying, "That was fun." And Davis, who'll emcee, said Voyles may have a point about people paying to see his roasters. "These people are coming to let him have it," Davis said.
Unlike a trial, Voyles is taking his roast preparation lightly.
"I just have to sit there and be humiliated. So that's easy," he said. "It's more fun when I get a chance to humiliate them.
"I get a rebuttal," Voyles said. "Normally in a criminal case, I don't get a rebuttal."•
Please enable JavaScript to view this content.