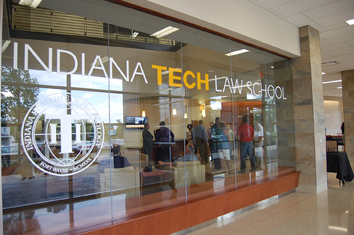 In the aftermath of abysmal bar exam results, Indiana Tech Law School is offering free additional test preparation courses to ready its first graduates for a second try, but observers say the school may need to do more than have students study harder.
The school, which enrolled its first class in August 2013, has provisional accreditation and must improve its bar passage rate to gain full accreditation. The task could become harder for Indiana Tech since the American Bar Association is looking at raising the passage percentage requirement for all law schools.
Dean Charles Cercone offered little explanation for the 8.3 percent bar passage rate or how the law school will proceed. He said he put together an internal memorandum explaining what caused the low rate and shared that with the Indiana Tech administration. He declined to discuss its findings but said university leadership was satisfied with the "reasonable explanation of what happened."
He did note more bar exam prep courses and doctrinal classes are being offered to the graduates and 3L students. However, he maintained the school was not going to change its experiential curriculum touted as giving students practice-ready skills.
Cercone also angrily lashed out at the media, claiming the coverage of the results had exposed test takers by name and branded the members of the charter class, unlike the graduates of other law schools in the state. Refusing to answer questions about the qualifications of the students in the Class of 2016, he said enough damage had been done to their reputations.
"I'm not going to say anything bad about the students or their credentials," Cercone said. "This is something they will have to carry around the rest of their professional lives."
Kyle McEntee, executive director of Law School Transparency, said the Fort Wayne school will have to identify and correct the cause of the problem by examining the curriculum and the student body.
"Without an honest assessment, the school is not going to solve whatever the problem is," McEntee said. He questioned whether someone who blames the media was the right person to make the assessment.
IL reached out to former faculty, staff and graduates. Many did not return calls or declined to comment.
The exam
Indiana Tech Law School has always had its skeptics, but the bar exam results brought a fresh round of scrutiny after only one of 12 test takers in its initial graduating class of 20 passed the Indiana July 2016 exam.
By comparison, the preliminary passage rates for first-time takers from Indiana University Maurer School of Law and Notre Dame Law School were 86 percent and 82 percent, respectively. Indiana University Robert H. McKinney School of Law had a preliminary rate of 67 percent. Valparaiso Law School was still finalizing its numbers.
Indiana Tech's rate may climb. Cercone said five failing test takers appealed to the Indiana Board of Law Examiners. Another graduate is awaiting the results of a bar exam taken in another state. But even if the appeals are successful, the law school's passage rate will remain far below the state's overall rate for first-time takers of 68 percent.
Retired Indiana Chief Justice Randall Shepard noted so few Indiana Tech students took the exam that drawing conclusions is difficult, but one-in-12 is a "dreadful statistic." He speculated that Indiana Tech, like other law schools, will devise a plan to help the graduates who sit for the bar again and to boost its overall rate in the future.
"It is certainly very harmful," said Shepard, who led the ABA Task Force on the Future of Legal Education. "It will put them in a tough recruiting position. It's a genuine challenge for them."
Cercone does not anticipate the ABA will take any action on the law school's provisional accreditation because of the July bar passage rate. Barry Currier, managing director of the ABA Section of Legal Education and Admissions to the Bar, said the association has not been in contact with the school but the Council and Accreditation Committee can review a law school's efforts to comply with ABA standards.
McEntee expects the ABA will use its authority to take another look at Indiana Tech in light of the bar exam results. He noted the Accreditation Committee has staked out a harder stance to monitor for abuse in legal education, and he believes it should take another look at the Fort Wayne school.
Character and fitness
Following the announcement of the bar exam results, Indiana Tech Law School convened a meeting with the entire student body. The school held a similar meeting after it was initially denied provisional accreditation in 2015, and professor andré douglas pond cummings talked to each student individually when the school's founding dean, Peter Alexander, resigned suddenly in 2014.
Cercone said the students are "absolutely supportive and enthusiastic" about the school and are committed to working together. "This is more of a media story than reality because all of them recognize that 12 students is not any kind of representation of our program," he said.
Graduate Jon Olinger, 52, still supports the law school though his dreams of becoming a lawyer have been delayed. He was halfway through the BARBRI bar review course offered by Indiana Tech when the Indiana Board of Law Examiners prohibited him from sitting for the exam.
Olinger said he and a handful of other Indiana Tech grads were prohibited because of character and fitness issues. Cercone, citing confidentiality, would not confirm or deny this.
For Olinger, the issue was debt. His wife suffered a health crisis, and with mounting medical bills he lost his business while in law school. He has since paid down the debt and hopes to take the bar in February.
The Indiana Board of Law Examiners, citing confidentiality and privacy rules, would not reveal the number of applicants who are required to appear before the full board because of character and fitness concerns. Bradley Skolnik, executive director of the BLE, did say a "very small percentage of applicants are denied for lack of requisite character and fitness."
Greenwood attorney Patrick Olmstead, who has represented lawyers before the Indiana Supreme Court Disciplinary Commission and offers advice for bar exam applicants facing questions of character, speculated the first Indiana Tech class may have been disadvantaged. They do not have alumni to vouch for them, and they were interviewed by attorneys who not only graduated from other established institutions but also may be unhappy about a fifth law school opening in the state.
"I hope the Indiana Tech kids do well," Olmstead said. "I hate to see anyone invest that much time and effort into such an endeavor and not even be given the opportunity to take the exam. If they fail the exam, that's a different issue."
Olinger said he is shocked by the low passage rate, but he is unequivocal that the curriculum at Indiana Tech Law School taught him and his classmates the skills they need to be lawyers. However, he hinted this may have caused a problem during the bar exam. Indiana Tech students were immersed in an experiential format, yet they had to take the same doctrinal-based bar exam as every other law school graduate.
Statistics on the class that enrolled in 2013 are not available, but subsequent classes indicate stronger students are going to Indiana Tech. According to ABA disclosures, students admitted in 2014 had a median GPA and LSAT of 2.85 and 148, respectively. Students who enrolled in 2015 compiled a median GPA of 3.42 and a median LSAT of 151.
Still supportive
Ruth de Wit, executive director of the Volunteer Lawyer Program of Northeast Indiana, had to adjust her plans after the bar results. She had been organizing a legal-aid recruiting event for what she anticipated would be a crop of newly licensed attorneys from Indiana Tech.
De Wit worked as an assistant to Alexander at Indiana Tech, leaving a few months after he departed. She is shocked by the outcome of the exam, but emphasized the volunteer lawyer program is still supportive of the school. She said the charter class was filled with bright people.
"I watched them become attorneys," de Wit said. "There wasn't anything about them that made me think they couldn't be attorneys."
Former faculty member Jack Roebel also was surprised not just by Indiana Tech's results, but by the statewide passage rate as well. He taught at the law school for one year and was impressed by the students, believing they would be good lawyers. He wrote recommendations and helped some get summer externships.
Seven Indiana Tech Law School students secured temporary positions at the Indiana Attorney General's office during their legal studies — five as paid clerks and two unpaid interns. Attorney General Greg Zoeller has been a strong supporter of the law school, having taught there as well as serving on the advisory board. In an email, his office said Zoeller "trusts that (the students) will not be dissuaded from pursuing a career in the law despite some of the challenges the law school has faced in the past months."•
Please enable JavaScript to view this content.