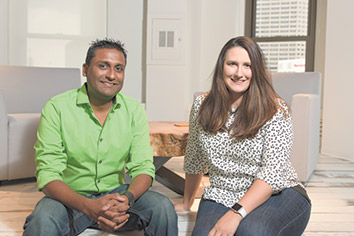 In a small, glass-enclosed office overlooking Indianapolis' Monument Circle sits a large book filled with hundreds of pages detailing every step in the journey toward closing a complicated legal transaction.
That book serves as a visual reminder to Haley Altman of her former reality as a transactional attorney and the moment she chose to take her legal career in a new direction.
Once a lawyer with Ice Miller LLP in Indianapolis, Altman recalled sitting in her office one night well into the early morning hours, working to ensure every document was in order for the closing of a $32 million deal later that day. In the midst of the late-night prep session, Altman discovered she had failed to ask her client for one signature — an oversight made worse because her client would be traveling the next day.
From that experience, Altman began to envision a product that would enable attorneys and clients to manage in one place the hundreds of documents that pass through their hands every time they work on a legal transaction to prevent oversights like the one she had just experienced.
From that vision, Doxly Inc. was born.
Doxly, founded in 2016, is a legal technology company that is designing a new software system to locate all transactional documents in one shared space. Through Doxly, attorneys and clients from both sides of a deal, as well as paralegals and any other involved parties, can each access documents and get real-time updates on the progress of the transaction from the convenience of their personal computers.
So far, four law firms across the country and a venture capital firm have opted into Doxly. Ice Miller is the only participating firm that has an Indiana office, Altman said. The firm represented Doxly in its financing transactions.
Through the initial version of the Doxly software, attorneys can manage a transaction from beginning to end in one computerized workflow. Features include a document upload center, a document viewer, manual and DocuSign signature functions, and a real-time to-do list that outlines each party's tasks in the transaction, said Moses Dwaram, vice president of engineering.
Doxly also offers different user views to customize the software to the specific needs of attorneys or clients, Altman said. For example, clients likely care most about where they need to sign, so signature information would be more prominent in their view.
As she was developing Doxly from idea to product, Altman received the support of High Alpha, an Indianapolis-based venture studio, as well as Nextlaw Labs, a company created by law firm Dentons to invest in and develop new legal tech companies.
 Fernandez
The concept of Doxly was attractive to the Nextlaw Labs investors because it hits on a legitimate need within the legal community, said John Fernandez, Nextlaw chief innovation officer and partner at Dentons — the need for a more organized workflow when dealing with complex legal deals.
Traditionally, the legal community has been slow to adopt new technologies, so Fernandez said supporting a company that is being developed by a lawyer for the needs of lawyers made sense for Nextlaw's goal of sponsoring technological innovation within the legal field.
Although every law firm customizes its transactional workflow to fit its unique needs, Altman said there is a basic universal checklist for legal transactions that all attorneys use.
"We're trying to reinvent how a transaction's done, but by mimicking a workflow that people are used to," she said.
Goodman
Aside from adding an element of organization to legal transactions, Fernandez said Doxly also enables attorneys to reduce client costs by cutting down on the time it takes to complete a deal, a change that transactional attorney Eric Goodman said was enticing.
Goodman, an associate with Ice Miller, said using the software has allowed him to reduce the time it takes to complete what he calls "low value" transactional tasks.
In the past, those tasks — which may be more menial or less important to the overall process — often have been assigned to paralegals, which meant clients had to pay for the paralegal services. But with Doxly, less important tasks can be completed quickly and conveniently, which means that attorneys can do the tasks themselves, thus saving the client money, he said.
Goodman acknowledged that it will likely take some time for longtime practicing attorneys to embrace the new software system, but he said younger lawyers will likely be receptive to the idea. The need for new technology to help facilitate lengthy transactions is widely accepted throughout the legal community, he said, so the largest inhibitor of Doxly's growth will be differing views about the importance of technology among generations.
But Doxly also has an inherent element of free advertising, which Goodman said could help the company grow. Although only four law firms have purchased Doxly, they share the software with every other firm and client they work with on a transaction.
"Once enough people see it and are comfortable with how it works, it will have a large enough value proposition today that it will be attractive to people," Goodman said.
The Doxly software is already being updated for future growth. Altman's team is currently developing new features that will allow users to create closing books and draft all transaction documents within the Doxly system.
Looking long-term, Altman said she wants to see Doxly grow into a client-management system where attorneys can keep track of all documents clients file in between individual transactions.
Then, Altman said her ultimate goal for Doxly is for the product to become practice-management software that will enable attorneys to manage all portions of their firms in one shared place.
"If everyone's using a system that helps them get to closing faster, you'll be able to do more transactions, and potentially people that don't traditionally have access to legal technology or law firms will be able to be more exposed," she said.•
Please enable JavaScript to view this content.