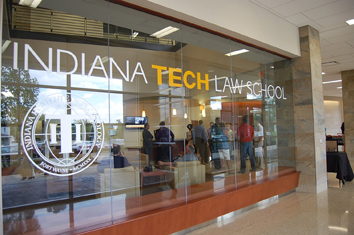 Indiana Tech Law School will close at the end of this school year, the Fort Wayne institution announced less than one semester after graduating its first class.
The school announced on its website it would close June 30, 2017, after the end of the current academic year.
The school said 71 students were enrolled.
 "This was an extremely difficult decision for all involved," Indiana Tech President Arthur Snyder said in a statement. "Over the course of time it has become apparent that the significant decline in law school applicants nationwide represents a long term shift in the legal education field, not a short term one. Specific to Indiana Tech, the assessment of the Board and our senior leadership team is that for the foreseeable future the law school will not be able to attract students in sufficient numbers for the school to remain viable."
The statement said Indiana Tech had lost nearly $20 million in operating the law school that opened in 2013 and had gained provisional accreditation from the American Bar Association.  Of its inaugural class of 2016, just three of 13 people who took the bar exam in Indiana and another state passed.
This story will be updated.
Please enable JavaScript to view this content.