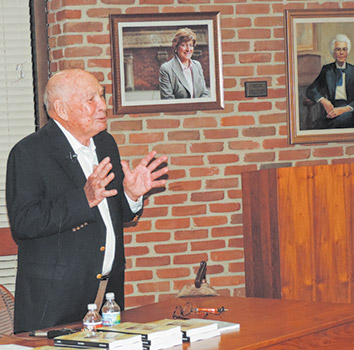 As a young man growing up during the Great Depression, Andrew Cecere's greatest passion was writing, carefully crafting words and phrases to bring the stories in his head alive on paper.
But when it came time for him to select a career that could support his young family in the 1940s, the Pittsburgh native said he felt obligated to find a more traditional job that would provide a steady income. So instead of becoming a professional writer, Cecere opted to enroll in law school, began his legal career in 1949, and retired 55 years later.
Throughout his long career as an attorney, Cecere, who practiced in Richmond, never gave up on his dream of publishing a novel. And now, with two books released in his name within the last year, the 94-year-old can finally say his greatest dream has become reality.
After years of work and perseverance, Cecere's first work, a novel called "The Avenue," was published by RoseDog Books in late 2015. "The Avenue," which draws on some of Cecere's personal experiences, follows the lives of two first-generation Americans growing up on The Avenue, an area of Pittsburgh that predominantly housed Italian immigrants and is reminiscent of Larimer Avenue in the real-life Pittsburgh neighborhood where he grew up. In the book, one of the men chooses to leave The Avenue in search of a better life, while the other chooses to stay, and both begin a journey of climbing the American social and economic ladders.
Before becoming an attorney — and later a published writer — Cecere was deployed with the U.S. Marine Corps during World War II, when he served in the Southwest Pacific, Okinawa and in north China after the Japanese surrender. When he returned from the war, he enrolled in the University of Michigan Law School in 1946 and moved to Indiana after passing the bar, selecting Richmond as his home after previously living in the eastern Indiana city while attending Earlham College.
During his legal career, Cecere worked both as Richmond city attorney and in private practice for the firm Bowen Cecere & O'Maley. He spent his days writing, but not with the creativity he wanted.
Instead, Cecere was crafting briefs, bond agreements and other legal documents, paying close attention to each individual word that went on the page to ensure he clearly and accurately complied with the letter of the law. There was little imagination involved in his legal writing, Cecere said, but he still found ways to tap into his creative side.
When he wasn't at the office, Cecere often spent his free time filling dozens of legal pads with hand-written stories about the real world around him and the world of fictional characters born inside his mind. Often, those musings would be printed in the local newspaper, the Richmond Palladium-Item, but Cecere still held on to his dream of one day seeing his name on the cover of a book.
That's where Richard Holden came in. A self-published author and longtime friend of Cecere, Holden became an indispensable resource on the attorney's journey to authorship. He helped his friend electronically transcribe his writings and aided him in his search for a publisher, eventually guiding him on the path of self-publishing.
After the release of "The Avenue," Cecere suddenly became a mini-celebrity, with the Kirkus Review giving the book a positive response and readers around the country asking him to lead book talks and sign autographs.
"Frankly, I had an ability to put words together," Cecere said of his literary success.
Still basking in the success of his first novel, Cecere approached Holden again in 2015 for help and published his second work, a book of short stories called "A Habit for Words" that was released in 2016.
Many of the writings that found their way into "A Habit for Words," were the same pieces that had been published in the Richmond Palladium-Item. Often, those works offered politically progressive views in a traditionally conservative city, Holden said, with Cecere acting as a voice for racial equality during the Civil Rights Era and an advocate for stricter gun-control policies.
"But everybody enjoys Andy," Holden said with a laugh. "There's no ill feeling."
Cecere's legal career also influenced "A Habit for Words." Two of his short biographies focused on a local judge and attorney who practiced in Richmond for the entirety of their careers, similar to his own lengthy career.
"Andy writes in a lawyerly way – eloquent, powerful and stirring," Holden said.
Although Cecere's career as an attorney was successful, publishing his books was the fulfillment of his true passion that drove him to continue working toward his goals every day.
"At an early age, I developed a habit of questioning the meaning of words I heard or read, and I learned how they might be organized and placed together so that I could describe the people I observed, the places I visited, and the thoughts and ideas engendered from my reading about the happenings in the world, and to the past and present," Cecere wrote in "A Habit for Words."
"And then I wrote, concluding I had to write, if for the only reason, so that I could breathe and live."•
Please enable JavaScript to view this content.