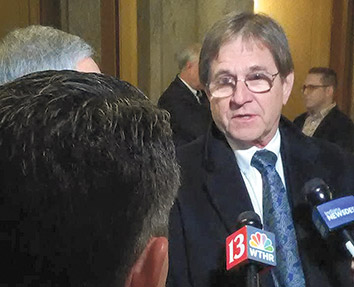 An attorney for Gov. Mike Pence argued Nov. 21 that Indiana's Access to Public Records Act should not apply to a governor's emails, prompting the plaintiff seeking those records to call the position chilling and reminiscent of the secrecy of the administration of President Richard Nixon.
"To inquire into the personal papers of the governor in this situation would intermeddle with the affairs of the governor's office," Joseph Chapelle, Barnes & Thornburg LLP partner, told the Indiana Court of Appeals on behalf of now-Vice President-elect Pence. "He is different than other state agencies and a co-equal branch."
Chapelle urged the judges to affirm a trial court decision that the governor's office had met the requirements of APRA when it responded to a public records request by furnishing emails that had been redacted. The redacted information includes how much Pence's office paid Chapelle's firm to pursue a challenge to President Barack Obama's immigration policy.
"Your point is the statute itself cannot get into (Pence's) personal papers?" Judge John Baker asked Chapelle, who replied, "Yes, your honor, I believe that would be our position."
Chief Judge Nancy Vaidik pressed Chapelle on his claim the governor should enjoy broad exemption from the public-records act. "Doesn't that swallow APRA?" she asked.
"It only applies to the governor and his immediate staff," Chapelle said. "APRA still applies to the other agencies of the state."
Judge Edward Najam asked Chapelle if he could identify text in APRA that "carves out the governor and treats the governor separately from the rest of the executive branch," and Chapelle replied that he couldn't.
"This is about transparency," attorney William Groth said after the appellate panel heard arguments in William Groth v. Mike Pence, 49A04-1605-PL-1116. He later referred to Chapelle's argument that APRA shouldn't apply to Pence as a "nuclear option" to prevent disclosure, and that such a ruling would "gut" the public-records act as it applies to the executive branch.
As a private citizen, Groth, a Democrat, sought records of Pence's emails with Texas officials concerning a Texas lawsuit that Indiana joined. Also redacted was a "white paper" that Texas officials supplied to Republican state officials Texas hoped would join its lawsuit, what Najam later characterized as a "lawsuit for sale" solicitation.
Texas' challenge to Obama's actions, which Indiana did join at Pence's direction after Attorney General Greg Zoeller opted not to join, ended in a 4-4 deadlock at the U.S. Supreme Court.
A Marion Superior judge ruled Pence had complied with the Access to Public Records Act, as did the Indiana public access counselor, when Pence's office supplied Groth emails with Barnes & Thornburg's legal fees, the white paper and other information redacted.
Representing Groth, attorney Gregory Bowes noted that when Pence vetoed a bill that would have exempted private university police from APRA's disclosure requirements, the governor said, "Hoosiers may be assured that my administration will always be vigilant to preserve government accountability and the public's right to know." Bowes said the statement mirrors the preamble of APRA, I.C. 5-14-3-1, "which promotes a policy of robust government transparency. That's what we're relying on today."
But Pence also has argued that a Supreme Court case that shielded lawmakers' emails from public disclosure, Citizens Action Coalition of Ind. v. Koch, 51 N.E.3d 236 (Ind. 2016), should apply to his communications as governor.
Chapelle said that even if APRA did apply to Pence, he could claim that the materials were exempt from disclosure due to attorney-client privilege, as work product, or under the deliberative process exemption in the law.
Chapelle said the white paper was exempt from disclosure because it was sent to Pence and others after a Republican governors' meeting at which Texas officials discussed suing the federal government. "It was obviously discussed at the governors' meeting — the legal basis for a challenge to the president of the United States on his executive order on immigration," Chapelle said.
Vaidik, though, questioned Chapelle about whether an attorney-client relationship existed between Texas officials and Indiana's governor. "Work product under APRA is the work product of your attorney, and if there's not an attorney-client relationship, then there's no work product here," she said.
Chapelle noted Texas' solicitor general entered an appearance for Indiana along with Barnes & Thornburg, Indiana's private counsel, when the case was argued in federal court.
Bowes claimed there was no attorney-client relationship between Pence and the Texas officials and that the other exemptions under APRA only exempt records dealing with interactions with other Indiana agencies. He also said the information Groth requested that was redacted are facts, not legal opinions or strategy.
Bowes also argued that even if an attorney-client privilege existed, confidentiality had been breached because Texas officials shared the information with people outside of the group of governors. "Once they send that information outside the relationship, they've lost that privilege," he said. "That's a critical piece if you're wondering about what the relationship was."
Vaidik asked Bowes why Koch didn't apply in this case. He said the ruling determined that APRA did apply to the Legislature, but that records could be exempted from public disclosure if they are considered legislative work product. He said Koch was a narrow decision that should not be applied in the current case involving Pence.•
Please enable JavaScript to view this content.