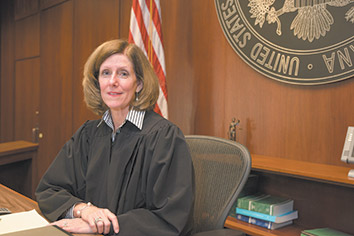 When Jane Magnus-Stinson isn't presiding over cases in one of the busiest federal district courts in the nation, she seems to be just as busy.
There's committee work — serving her alma maters on the Butler University board of trustees and the Board of Visitors at Indiana University Robert H. McKinney School of Law; and serving the United States Courts' public defender committee, its budget subcommittee, and multiple ad hoc committees of the 7th Circuit Court of Appeals. She also finds time for her college-age kids, friends, exercise, singing at church, occasional travel, and a couple of book clubs.
But her workload just increased. On Nov. 23, Magnus-Stinson began her seven-year appointment as chief judge of the U.S. District Court for the Southern District of Indiana.
"Just more, that's what I'm doing," she said in an interview. "I call it next judge up, and I'm the next judge up."
Leading by consensus
Magnus-Stinson takes over as chief judge following the expiration of Judge Richard Young's term as top judge.
"Even though my colleagues didn't vote for me," she joked, "I know they'll support me."
By statute, Magnus-Stinson becomes chief as the most-senior judge who hasn't served and who is 65 years old or less. She noted that in addition to Young, senior judges Sarah Evans Barker and Larry McKinney also have served as chief and continue to participate in court governance.
"My predecessor, Judge Young, has given me a great example in terms of consensus-building," she said. "We generally run by consensus and it would be my hope we continued to operate in that way."
But the buck stops with the chief judge in many respects. She'll have ultimate authority for budgeting and personnel decisions, and she's the executive to whom the clerk and chief probation officer report.
She speaks for the court and is the face of the court during public functions. She also will attend meetings of chief judges from around the country.
Magnus-Stinson said the court is aided by excellent staff, but she singled out one. "We have probably the highest-functioning district court clerk in the United States of America in Laura Briggs," she said. "It's a huge blessing and a huge relief to any chief judge to know we have such a competent clerk."
Boosting pro bono
Magnus-Stinson assumes the duties of chief just after the court in October implemented Local Rule 87, better known as the mandatory pro bono rule. When lawyers don't volunteer to represent indigent litigants, most often prisoners, the rule allows the court to appoint counsel to represent them. She said more work needs to be done to get lawyers to take these cases.
"I would say, no, we're not getting enough volunteers, and so consequently, it's good that we have the rule," she said, noting it was adopted in response to 7th Circuit remands insisting on court-appointed representation of prisoners in certain types of cases.
"I want lawyers to realize that it isn't every case" where a lawyer is appointed, Magnus-Stinson said. "We have hundreds of cases that would be potentially eligible, but we screen them" so that only those where a lawyer is clearly needed are appointed.
Since adoption of the rule, she said, the court has appointed lawyers in 84 cases, and reached out to more than 100 in an effort to gain representation in those cases. There have been three appointments under Rule 87 where no attorney volunteered to take the case. She said prisoner cases are among the fastest-growing case types and represent "the largest single slice of the pie" that district court judges are handling.
Magnus-Stinson likened the pro bono requirement to jury duty. "If you take a case, you get kicked off the wheel for a while," she said. "Once (lawyers) serve, they feel very rewarded."
Getting busier
Indiana's Southern District had the seventh-highest number of total case filings and fourth-highest number of civil filings of any of the 94 district courts for the year ending June 30, 2016. Meanwhile, the court has waited for more than two years for the appointment of a jurist to succeed Sarah Evans Barker, who took senior judge status in June 2014.
"The court is in a state of emergency according to the (U.S. Courts) Administrative Office," Magnus-Stinson said. "We've been, according to weighted caseload measures set up by the Administrative Office, short a judge for 20 years, but it's highly unlikely we'll get a new judgeship created."
And it also appears unlikely the U.S. Senate will appoint President Barack Obama's nominee to succeed Barker, Assistant U.S. Attorney Winfield Ong, despite his endorsement by both Indiana senators and his approval by the Senate Judiciary Committee.
"It looks like it will be another year or so before we get someone else on board," Young said.
"Other than communicate our needs to the people with authority, there's really nothing we can do," Magnus-Stinson said.
Times of change
Young said he's known Magnus-Stinson for more than 20 years. "Everything she's ever done, she's done well," he said. "She'll do a fantastic job."
It was during Young's term as chief that Magnus-Stinson was sworn in as a district court judge in June 2010, filling McKinney's seat after he assumed senior judge status. She was among eight new jurists in the Southern District under Young's tenure as chief. Judge Tanya Walton Pratt also was appointed in June 2010 to succeed Judge David Hamilton upon his appointment to the 7th Circuit; three new bankruptcy judges were appointed; and three new magistrates were named.
Young's tenure also brought budget cuts of sequestration during the economic downturn. "A lot of courts around the country had to lay off a lot of people," he said. "We were able to avoid that," by not filling staff vacancies, forgoing IT expenses and running a bare-bones enterprise.
"Part of the job of the chief judge is to encourage people to continue to work hard, that things will get better, and they did," he said. "We're finally up to a good funding level from the Congress."
With so much on her plate, Magnus-Stinson said she'd found some words of wisdom in one of her book club selections, Dan Harris' "10% Happier," which encourages busy professionals to discover the benefits of mindfulness and meditation.
"Respond, don't react," she said. "I like that. "It's a great judge skill."•
Please enable JavaScript to view this content.