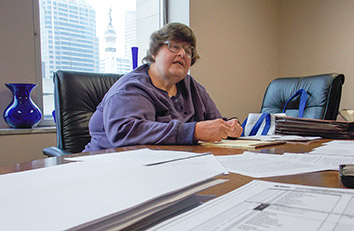 Her attorney calls her a crusader.
Actually, Suzanne Esserman is an ex-state employee who asserts she was terminated from her job for not wanting to, as she alleges, rubber stamp approvals for payment. She believes she was tossed onto the street for blowing the whistle and now she is fighting because, mainly, she wants to go back to work.
Since she was let go from the Indiana Department of Environmental Management in January 2014, she has filed two lawsuits in Marion County. One is appealing the decision from the State Employees' Appeals Commission which upheld her termination. The other argues Esserman's firing violated Indiana's False Claims Act and Whistleblower Protection Act.
In December, the Indiana Court of Appeals overturned the dismissal of her whistleblower complaint. The appellate victory means Esserman can continue her battle, but it doesn't guarantee she will win the war.
"I felt that being fired for being a poor employee was a slap in the face personally and professionally, and it made me mad," Esserman said. "By golly, there're just some things in life you just don't lie down and take and this was one of those things."
Following the Court of Appeals decision in Suzanne E. Esserman v. Indiana Department of Environmental Management, 4902-1605-PL-1129, IDEM declined to comment or say whether it would file for a rehearing or petition for transfer to the Indiana Supreme Court.
Employment attorneys say workers have to have a great deal of personal fortitude to bring a whistleblower case against an employer. The fight itself is usually difficult and expensive. Also, the workers can expect to be attacked by their former employer while they risk losing their job and possibly become painted as a problem employee, which will limit their future job prospects.
Legal strategy
Lapointe
In filing the whistleblower complaint, Esserman's attorney, Mary Jane Lapointe, took a unique step.
Typically, whistleblower complaints are brought in conjunction with the False Claims Act, which enables the government to recoup money that was fraudulently taken from public coffers. Esserman did not bring the action under the qui tam provisions of the Indiana False Claims Act, where she would sue on behalf of the state. Instead she filed solely as a whistleblower under Indiana Code 5-11-5.5-8.
Lapointe said the false claims complaint was not filed because here the government caused the alleged misuse of the taxpayer funds. Esserman had told her supervisors, and Lapointe had written letters and notified the Indiana Inspector General. "They knew about it," Lapointe said. "In fact, that was our claim — they were involved in it."
Esserman, who worked just shy of 25 years for IDEM, became concerned over payment practices in the agency's Excess Liability Trust Fund program. The ELTF division, which is primarily funded through a state tax on gasoline sales, reimburses for the cleanup of spills and leaks from underground storage tanks.
In fiscal year 2016, the ELTF program paid $33.1 million claims, according to Milliman Inc. The net unpaid liability is estimated to be $435 million, which represents claims payments that are expected to be made over 30 years or more.
Esserman's job was to review the claims for reimbursement from the outside contractors remediating the contamination. She contends when she asked questions about charges and requested invoices, time sheets and receipts, her supervisors stopped her from making inquiries and disciplined her for working too slowly.
"The main impetus was to get the money out the door," she said. "I never once heard anyone saying we need to safeguard taxpayer dollars. Not once."
After she was fired, Esserman sued, arguing she was terminated in retaliation for objecting to the claims process.
However, before the State Employees' Appeals Commission, IDEM officials testified they were noticing problems with Esserman's work before she was transferred to the ELTF program. Once at ELTF, supervisors said while her work was "well prepared, clear and usually accurate," she "lacked urgency, commitment and effort in completing her work in a timely manner."
Ultimately, they said, she failed to meet job expectations and work deadlines. The commission concluded IDEM was within its rights to terminate Esserman because the agency had accommodated her and given her opportunities to succeed.
The state successfully argued at the trial court level that I.C. 5-11-5.5-8 applies only to private employers. It reiterated that argument to the Court of Appeals, but Lapointe countered by highlighting the whistleblower statute.
While I.C. 5-11-5.5-7 details the circumstances under which the state cannot be sued in a false claims action, Section 8 contains no language prohibiting a lawsuit against the state. Lapointe asserted the General Assembly intended for the whistleblower statute to apply to any "employer," which includes the state of Indiana.
The Court of Appeals agreed and remanded the proceeding to the trial court.
Remedies for whistleblowers
Haskin
Attorney John Haskin of John H. Haskin & Associates LLC is not involved in Esserman's case but has represented employees in similar complaints.
"The government knows it can goof up," he said, explaining the purpose of the law is to provide protection so employees are not chilled from speaking up if they see something. "I would think that any employer would be on board with doing things right and correctly."
Currently he is representing a woman in a retaliatory termination complaint against her former employer. The case, Colette D. Jackson v. Health and Hospital Corp. of Marion County, a/k/a Eskenazi Hospital, 1:16-cv-3072, charges she was fired after raising concerns about Medicaid and Medicare being wrongly billed for hundreds of patients.
Jackson, too, is suing only under the federal and state whistleblower statutes because she does not have the documentation to support a false claims action.
Haskin said other statutes protect workers against retaliatory firing but only the False Claims and Whistleblower Protection Act allow remedies for the plaintiffs. Specifically under Section 8, relief can include reinstatement of employment, double the amount of back pay and attorney fees.
But often these types of cases end not in front of a jury but by mediation with a confidential settlement and no admission of liability. The settlements are fair, Haskin said, but "not the full stick of butter."
Since Esserman left IDEM, Pinnacle Actuarial Resources Inc. examined the ETLF program's procedures in 2016 for processing claims. The final report described the claim submittal review process as "complicated and time consuming" but it also noted the completed reviews were "very accurate."
IDEM said it is currently assessing the recommendations made by Pinnacle to streamline the process and "will include appropriate stakeholders in implementing changes to the program."
Esserman plans to continue to fight. She has twin goals of bringing what she sees as the agency's misdeeds into the public light and also of returning to work.
"I'd be happy to go back in any capacity the state wants me," she said.•
Please enable JavaScript to view this content.