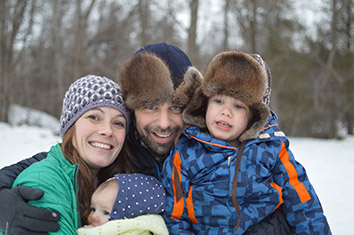 A lawyer couple whose unsuccessful lawsuit sought to end the state's storage of blood taken for newborn health screenings say they still hope to find venues to challenge those practices. Their fundamental argument: The state should not own people's genetic information from birth.
Jonathan Little and Jessica Wegg were so dismayed by Indiana's retention of newborn blood — in many cases for decades — that they traveled to Wegg's native Canada late last year for the birth of their second child, Clara. Wegg and Little said they had no idea when their 3-year-old son Macs was born in Indiana that his blood would be stored for 23 years. They also didn't know that the state would store blood and results of their son's newborn genetic health screening, as the state does with an estimated 2.2 million such records from people born in the state since 1992, IL has learned. In some cases, the information may be held in perpetuity.
"Most people in Indiana don't even know that their blood is on file," Little said of people born here from 1992 to 2013.
"After it's served its public health purpose," Wegg said of newborn blood, "it should be destroyed."
Things were different for the couple in Canada. "What's unique about Ontario is they give you the option to have the physical (blood) samples returned to you," Wegg said. "In 47 states, they're taking the blood and they're not giving you a choice, and I think it's naïve to think they're not using it for something else."
State health officials and experts counter such suggestions, saying medical research and public health benefits outweigh concerns about privacy of medical information derived from newborn blood. But opponents of government ownership of such information argue the programs aren't transparent and carry untold genetic privacy risks and the potential for abuse.
Indiana State Department of Health spokeswoman Jennifer O'Malley said in an email the 2.2 million records held after newborn blood screenings include multiple tests in some cases, so the figure isn't representative of the number of people whose records were stored after birth. Indeed, the number appears to be greater than the number of babies born in the state since 1992. According to an IL analysis of available state birth records, an estimated 2.13 million people were born in Indiana between 1992 and 2016.
O'Malley said the 2.2 million records include those stored in electronic and paper form.
Screen, then store
The Department of Health screens newborns for dozens of genetic conditions from cystic fibrosis to sickle cell anemia and stores the results of those screenings. Along with dried blood spot cards — some dating to 1992 — the department also maintains a computerized database that contains the results of screenings for more than 930,000 people born here since 1992, O'Malley said.
"The information contained in the ISDH database is not a genetic profile. It contains demographics, names of health care providers, the conditions screened for and the results of those screenings," Ken Severson, media relations coordinator for the ISDH's Office of Public Affairs, said in an email.
O'Malley said newborn screening test results in the database and stored dried blood spot cards are "de-identified," though the department can identify them by cross-referencing numbers to names. She said third-party access to the blood spot cards or the database may only be granted by a request approved by the newborn screening program. "The only people who can access the public-facing portion of the database are health care providers whom the parent has engaged for medical care … in order to provide follow-up care for patients," she said. "While some requests have been denied, ISDH does not track that number."
She said just two outside requests for access to blood cards have been approved — from the Allen County coroner for a child fatality review, and from a doctor who had been asked by parents to obtain the sample.
Little noted that the couple's 2014 lawsuit that sought a class action to destroy stored blood cards from newborn health screens, A.B. Doe, et al. v. Jerome Adams, Indiana State Health Commissioner, et al., 49D01-1409-CT-31867, never entered discovery before the Indiana Court of Appeals affirmed dismissal on interlocutory appeal, holding the couple lacked standing. Little and Wegg said they remain concerned about answers to questions they never got to ask the state about the program.
What's on file?
Indiana Code 16-41-17-10 requires the health department to develop a system for using, for epidemiological survey and research purposes, any dried blood spot cards from the newborn screening program, Severson said.
From 1992 until June 2013, those DBS cards were to be warehoused in boxes for 23 years. In June 2013, the state changed its storage protocol. Now, newborn blood screen cards are stored for just six months then destroyed, unless parents "opt in" and agree to allow the sample to be used for medical research. In that case, the blood is stored for three years then destroyed. Statistics provided by ISDH show 45 percent of parents "opted in" since June 2013.
"The three-year timeframe was determined to be the best option to ensure the cards would be usable," O'Malley said. She said some cards stored since 1992 are in poor condition.
While ISDH changed its policy for children born after June 2013, it continues to store blood spot cards collected before that for 23 years. Parents and adult children may request ISDH destroy their card, and the health department said all such requests are honored. But there is no mechanism for a parent or adult child to request the results of their genetic tests be removed from the database.
"ISDH has a 23-year retention policy for newborn screening records kept on paper (prior to June 2013) and is evaluating how to apply that policy to the electronic database," Severson said.
Risk vs. benefit
Orentlicher
David Orentlicher, a professor at Indiana University Robert H. McKinney School of Law and adjunct professor at the IU School of Medicine, believes storage is a good idea that serves a vital purpose. "We probably don't do enough storage generally," he said. Results of research may yield new treatments for disease or identify public health concerns. "My guess is it would be hard to find examples of someone who was harmed because their (newborn blood screen) was stored.
"There is some level of distrust of the government, no doubt about it," he said. "But I think there is a real risk that people underestimate the benefits and overestimate the risks."
But registered nurse Twila Brase, president and co-founder of Minnesota-based Citizens' Council for Health Freedom, said there's ample cause for concern. She said blood samples deteriorate after six months so that only the DNA is usable. Common fears include the information being made available for law enforcement purposes or in ways that could discriminate against people who tested positive for a genetic condition at birth.
"The next legislature, and the next legislature after that may change their minds about how this can and shall and must be used," Brase said.
"In a perfect world, (newborn blood screening) would be the same as it is for adults — in order to take your DNA, they cannot take it without your consent," she said. "It should go back to private testing, and never actually arrive in the hands of the government."
Brase noted projects around the country where newborns' entire genomes are being sequenced, and some academics have studied expanding newborn blood screenings to include whole genome sequencing.
"One of the big questions that should be asked is, 'What will children think when they turn 18 and they have no genetic privacy because you sequenced them as a newborn?'" Brase said. "That's a big thing in genetics right now — the right not to know, and the right not to be known."
However, Orentlicher cautioned that while concerns about privacy may be valid, they also can stand in the way of valuable medical research.
"There are always risks to privacy," he said. "We do need to worry about it, we do need to have safeguards. … The important question would be how the risks compare to the benefits, and I think the benefits usually outweigh the risks, especially where (newborn blood information) is de-identified."•
Please enable JavaScript to view this content.