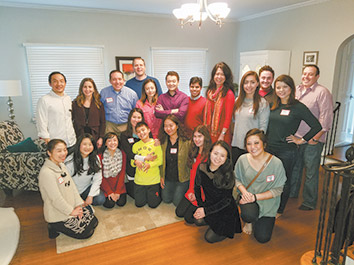 When people discuss diversity in the workplace, they may traditionally speak in terms of black and white. But as American businesses, including law firms, continue to attract workers from different parts of the world, other minority groups, particularly Asians and Asian-Americans, say employers need to expand their definitions of "diverse" to include all ethnic backgrounds.
Across the country, Asian attorneys have fared best in post-recession hiring at large law firms, making up the largest percentage of minority groups in partner and associate positions, according to National Association for Law Placement's 2016 Report on Diversity in U.S. Law Firms. In 2009, 2.2 percent of partners at large law firms were Asian, and that number rose to 3.13 percent by 2016, according to the report. Representation was even higher among associates, where 9.28 percent were Asian in 2009 compared to 11.25 percent in 2016.
In the post-recession economy, Asians were the only minority group to experience constant growth in partner and associate positions at large law firms each year, while black and Hispanic attorneys followed a roller coaster-like cycle of growth and decline.
However, the situation is less promising for Asian attorneys in Indianapolis, where they make up the smallest percentage of minority partners, only 0.58 percent. Black attorneys, by comparison, are 0.87 percent of all Indianapolis partners, while Hispanic attorneys have the largest minority representation among partners at 1.17 percent.
Many Indianapolis Asian and Asian-American legal professionals have seen growth in Asian attorneys taking other types of legal jobs, such as government work or judgeships, rather than stepping into law firm work. For example, Mike Witte, executive director of the Indiana Supreme Court Disciplinary Commission, said there are six Asian-American judges in the Indiana judiciary. While that number might seem small, Witte said it's a six-fold increase compared to 1984, when he became the state's first Asian-American judge.
There is no clear answer why Asian-American attorneys make up only a small percentage of Indiana's legal community, though Witte said traditional migration patterns could be a contributing factor.
Historically, Asians who come to the United States settle on the coasts, then move toward the center of the country over the course of generations, Witte said. That was the case with his family — his great-grandfather arrived in San Francisco in 1915, and his family slowly began the process of moving toward and planting its roots in mid-America.
Thus, as more minority groups, including Asians, continue to move into the heartland of America, representation of those cultures across all fields, including the law, will likely grow, Witte said.
While there is no definitive answer as to why Indianapolis' representation of Asian attorneys at large law firms lags nationwide data, local Asian and Asian-American attorneys have a clear consensus on the best way to boost Asian representation across all legal professions: increase awareness of the need for a legal voice for Asian cultures.
Since he came to Indianapolis in 2005, Nick Huang, an attorney with Harrison & Moberly LLP, said he has seen "dynamic growth" in the city's Asian community, and with that growth has come a growth in the Asian community's need for legal representation. Their needs are as varied as any other ethnic population's, but can be as simple as ensuring that members of that community, especially those who were not born in America, understand the basics of state and federal laws to keep them out of trouble, Huang said.
When these litigants seek legal help, they often go looking for attorneys who are also Asian-American or Asian nationals, he said. However, their search often comes up short.
"We've got this demand, but there are only a few of us who are really taking advantage of such a huge population," Huang said. "They need help, but there's just not enough of us to go around."
Some law firms, such as Harrison & Moberly, are already taking steps to diversify their workforces to match with the continual diversification of Indianapolis' population, Huang said.
For example, Christl Glier, a partner at Ice Miller LLP, sits on her firm's Diversity and Inclusion Committee, where she tries to be a voice for the Asian and Asian-American communities. Those communities have a different history in the United States than other minority groups, Glier said, so she sees a need for a concerted, deliberate effort toward recruiting more Asian attorneys to ensure that the needs of Asian communities are not overlooked.
But aside from direct law firm recruitment efforts, Asian attorneys in Indiana also see another way to encourage law students and other attorneys considering leaving the Hoosier state to stay: create an Asian legal community. Recently, Indiana launched its own chapter of the National Asian Pacific American Bar Association, which provides networking and cultural events for attorneys of all Asian backgrounds, including eastern countries such as China and more western countries such as India.
Recently, APABA-IN hosted a Chinese New Year potluck during the last weekend in January to celebrate the popular and well-known Asian holiday. The group is also planning to host a banquet this year to promote networking with other bar associations, including other minority bar associations.
Melissa Lin, president of the APABA-IN board, said the goal of the organization is to build connections and allow Asian attorneys to support each other in their work across a variety of legal fields. Although Glier is new to the group, and the bar association itself is still getting off the ground, she sees a potential for APABA-IN to raise awareness and meet the needs of Indianapolis' Asian communities.
The efforts to raise awareness of Asian culture in the Hoosier state extend to law schools. In Bloomington, Indiana University Maurer School of Law has an Asian Pacific American Law Student Association. Likewise, the IU Robert H. McKinney School of Law has an Asian Law Students Association.
Although APALSA is more of a social group than a legal group, Boyu Wang, a 2L at IU Maurer and APALSA president, said her organization has recently begun participating in the statewide Asian Pacific American Bar Association's networking events.
Anecdotal data suggests that Asian law students at Indiana schools may be inclined to go to coastal or more diverse cities to find work, but Wang doesn't plan on following that path. Instead, she has attended Indiana's diversity job fair to find summer work at companies that value a diverse workforce, and she plans to continue using such resources to find a job where her unique perspective as a Chinese-born attorney will be valued.
If she gets into the legal field and finds that the Asian community is underrepresented, Wang said rather than leaving Indiana, she intends to try to remedy the problem by creating more awareness of the Asian community through her work, much like what she does now as president of IU Maurer's APALSA.•
Please enable JavaScript to view this content.