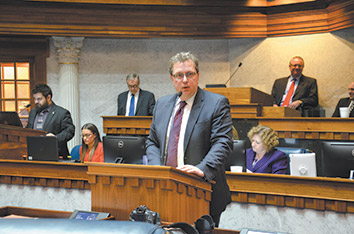 Indiana Sens. Brandt Hershman, R-Buck Creek, (top) and Mike Young, R-Indianapolis, (above) are among a small group of lawmakers who got law degrees after election to the General Assembly. (IL Photo/Olivia Covington)
Imagine: You spend your days within the walls of the Indiana Statehouse, discussing legislation in committee and engaging in passionate and often heated floor debates. At the end of the day, you head a few blocks over to the Indiana University Robert H. McKinney School of Law, where your focus shifts from making laws to analyzing the legal precedent already in place.
For a few Indiana legislators, this scenario was their reality when they made the decision to enroll in law school after spending at least a decade in the General Assembly. While most attorneys working as lawmakers had already completed their legal educations before their elections, a handful chose to take the opposite approach.
Among the latter group are Republican Sens. Brandt Hershman and Mike Young, from Buck Creek and Indianapolis, respectively. Hershman was elected to the state Senate in 2000 and earned his law degree in 2013. Young, first elected to the Indiana House of Representatives in 1986 and later to the Senate in 2000, finished law school in 2009.
For Hershman, law school had always been on the horizon, but life took him down a different path early in his career. After initially working as a newspaper reporter, the current majority floor leader sent a letter to President Ronald Reagan's chief of staff and landed a writing job in the incoming George H.W. Bush administration.
When he returned to Indiana from Washington, D.C., Hershman channeled his political science degree from Purdue into his work on congressional staffs and campaigns. But while he enjoyed the challenges of legislative work, Hershman's interest in constitutional law that began as a student kept his desire to earn a law degree alive.
"It was just something that struck a chord with me," Hershman said.
For Young, the decision to go to law school was the direct result of his work in the General Assembly. After being assigned to the Corrections and Criminal Law Committee in 2006, Young realized that he didn't completely understand all of the legal language found within the bills he was tasked with reviewing. For example, he frequently read bills about common law, yet didn't understand the common law concept. Additionally, the Latin terms frequently used in legal documents often tripped him up.
"Frankly, I didn't like that somebody did know something that I didn't know," Young said.
He, like Hershman, enrolled in IU McKinney's night program and began the process of balancing professional, educational, family and legislative responsibilities.
During the fall semesters when the General Assembly is not in session, both legislators said they enrolled in more courses and devoted more of their time to their legal studies, with Hershman even studying abroad on multiple occasions.
But during the spring semester, the task of making time for both their studies and their responsibilities to their constituents — not to mention their families — often made for long days that seemed to drag into longer nights.
"It was a challenge to say the least," Young said.
For Hershman, the days often began with a drive down to the Indiana Statehouse from his home near Lafayette, followed by evenings spent at the law school and capped off with a late-night drive back north, all to be repeated the very next day.
Like many students, Young said he occasionally fell behind on his law school reading as he tried to juggle his professional, personal and educational responsibilities. He can recall one instance in a tort law class in which he was not caught up on all of the reading, yet in a stroke of luck, his professor asked him to speak on a case he had already finished reviewing, sparing him the embarrassment of not knowing an answer.
But what the senators lacked in time to devote to their studies, they made up for in their legislative expertise. Former Indiana Supreme Court Justice Frank Sullivan Jr., who is now a professor at IU McKinney, taught Hershman in law school and said the legislator's unique perspective on the law made for more robust classroom discussions.
For example, the first year of law school is often devoted to common law, which most students believe is made by court decisions, Sullivan said. However, statutes also play an important role in developing common law, Sullivan said, and legislators like Hershman and Young naturally recognize that fact.
"His or her entire life is comprised of statutes, and crucially, if there's ever a conflict between common law and statutes, statutes win," Sullivan said. "The Legislature has it within its power when it passes a statute to displace any common law to the contrary."
Both Young and Hershman agreed that their legal educations have rounded out their perceptions of the lawmaking process, with Hershman noting that when he reads judicial decisions regarding Indiana law, he has a better understanding of the rationale behind the decision.
Similarly, Young said he is now able to think more critically when he is reading proposed legislation and analyze the potential judicial impact that legislation could have.
That ability is crucial as fewer attorneys choose to work in the General Assembly, Sullivan said. The Indiana Legislator Database lists 20 attorneys currently in the Legislature.
"Whether you're for or against a bill, legislators who were lawyers could spot things in advance that just wouldn't work right and get those things cleaned up," he said.
When they're not in the General Assembly crafting Indiana laws, both Young and Hershman find time to practice law.
Young's work focuses on helping poorer people with a good cause, such as a spouse who can't afford to pay a lawyer a significant sum to defend him or herself in divorce proceedings.
"These are the type of people who say, 'I never get a break,'" Young said. "Hopefully with me, they don't lose as much."
Hershman serves as general counsel for his wife's consulting firm and does what he calls legal "odds and ends" on the side.
Sen. Mike Delph, R-Carmel, who also obtained his law degree after being elected to the General Assembly, declined to comment for this story.•
Please enable JavaScript to view this content.