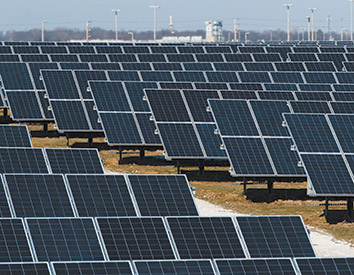 Legislation that threw shade on homegrown solar power energized Hoosiers so much that the bill's author stripped its most politically charged provisions, but even the rewired bill left some solar advocates hot.
"I've had more constituent contacts on this bill this session than any other bill," Senate Minority Leader Tim Lanane, D-Anderson, said during a Senate Utilities Committee hearing Feb. 23 on Senate Bill 309. In its original form, solar users said they would have been required to sell all the power generated by their solar panels back to their utility company, from which they would have to repurchase the power at retail cost.
"I would say there are many people who feel like what we're doing here today is pulling back on a promise we made to them," Lanane said, "and also a lot of people are feeling like we're pulling back on a policy to encourage alternative fuel usage in Indiana."
Sen. Jim Tomes, R-Wadesville, said a standing-room-only crowd greeted him at a town hall meeting, largely because of SB 309. "What I've put into this is a lot of sleepless nights," Tomes said Feb. 23.
A revised SB 309 that conditionally grandfathered current users passed the Senate 39-9 on Feb. 27. Sen. Brandt Hershman, author of the bill, said in an email that he told stakeholders after the bill was introduced that he intended to amend it to address concerns, and he did so. When his bill came before the Senate Utilities Committee, he testified the most controversial provisions were gone. "There is no 'buy-all, sell-all' in this bill. … The only real issue here is how many people may sell their excess power back to the utility and at what rate they will be paid."
Despite the changes, homeowners, school superintendents, church leaders, alternative-energy supporters and others lined up to plead unsuccessfully with senators not to slash future incentives. They said investments in solar systems are based on assurances the state will honor incentives like net metering that help pay for the systems.
Hershman and backers of the bill sought to label net metering as a subsidy, saying under the arrangement that solar producers receive the retail cost of energy without paying for transmission and other costs. Solar proponents countered they must pay connection fees to their incumbent utility, even if they use no power. They also said utilities could provide no data that solar generators receive a subsidy, and solar power's benefits to the grid in Indiana have not been studied.
"If utilities believe a subsidy exists, the burden of proof is on them," Citizens Action Coalition Executive Director Kerwin Olson testified. "They've created this false narrative that net metering is a subsidy and everybody's utility bill is going up because of solar panels on everybody's roof." He warned the legislation "will unilaterally kill and end net metering in Indiana in five years."
Utilities and industrial and commerce groups favor the bill, which would allow the sun to set on private users' ability to obtain net metering once utilities obtain 1.5 percent of their total energy from these systems. Future net-metering users also would receive a credit of just 1.25 times the wholesale cost a utility pays to purchase power. That would reduce the amount that net-metering customers receive for the energy they provide by more than half.
Hershman, R-Buck Creek, testified the revised net-metering rate in SB 309 was arbitrary and his own number. He also later walked back remarks he made to a Senate committee that without action, net metering would disappear under current law.
Opponents noted Hershman's support from the utility industry. According to the Indiana Secretary of State campaign finance records, Hershman received more than $20,000 in contributions during the past four years from American Electric Power entities alone — more than any member of the General Assembly.
"I've received campaign support from a wide variety of Hoosiers, and I've been told by a diverse variety of people that it is because they find me to be a thoughtful, consistent and fair legislator who listens and seeks to bring people together in cooperative policy solutions, even if we don't always end up agreeing on every issue," Hershman said in an email.
Shifting horizons
Like more than 40 states, Indiana adopted net metering to encourage alternative sources of energy such as solar and wind. But just as SB 309 voids rules in place since 2004 for new solar users starting in five years, it also makes it easier for utilities and large-scale users to "co-generate" alternative energy such as solar, wind and biomass.
Mentel
"It's a classic example of the direction solar is heading," said Taft Stettinius & Hollister LLP attorney Mike Mentel, whose practice in the firm's Columbus, Ohio, office is heavily focused on solar energy. "It's a battle of the economies of scale, I think." As solar technology improves and becomes less expensive, "It's becoming more efficient for utility companies to get into the game, so to speak," he said.
Hershman said these parts of SB 309 have been overlooked and notes it also creates "a consumer's bill of rights. … Indiana is one of a number of states looking at these issues, but I think SB 309 represents one of the most balanced pieces of policy under consideration nationally."
Price
Barnes & Thornburg LLP partner L. Parvin Price, a one-time consumer counselor for the IURC, said SB 309 is a good measure to get lawmakers focused on the future of solar and other renewables. He said institutional-scale development of solar energy will require a coordinated approach among the public and utilities, and he believes the IURC could balance the interests of utilities with the public, given legislative direction.
But Bose McKinney & Evans LLP partner Nikki Shoultz said SB 309 has made advising clients a challenge. Given net metering and tax credits for some solar users, "The climate before Senate Bill 309 was pretty favorable. I think Senate Bill 309 calls into question whether that will remain the case.
Shoultz
"If I'm advising a client that has dollars at stake, unfortunately I'm telling them they need to wait and see what happens," she said, noting the firm has clients that who either want to deploy solar systems or supply the components and workforce to install them.
Only around 900 Indiana utility customers participate in net metering, but commercial solar development is on the rise. According to the U.S. Energy Information Administration, renewables were the source of approximately 7 percent of electricity generated in the state in November 2016. While wind is the greatest share of Hoosier renewables, 38 commercial solar installations generated 129.5 megawatts of electricity in 2015, according to the EIA. That's an amount sufficient to supply about 134,000 households based on average use in Indiana.
Price noted the example of Indianapolis Power and Light installing one of the nation's largest solar arrays near the Indianapolis International Airport. "The bottom line here is that was a utility who recognized the potential of reducing the cost of generation by putting in a solar array."
Also realizing that potential is Indiana Municipal Power Agency, which provides power to 60 member community utilities from Bremen to Tell City. "Our goal is eventually to have (a solar array) in each of our communities," said IMPA Senior Vice President and General Counsel Peter Prettyman. IMPA last month broke ground on a 17-acre solar farm for Greenfield.
Shoultz said while Indiana feels its way forward in dealing with solar and other alternatives, she said it isn't doing so in a vacuum. "We're at a very interesting time," she said. "I think the energy policy that's going to be set in Washington will undoubtedly make its way to Indiana and impact the degree to which renewables are deployed."•
Please enable JavaScript to view this content.