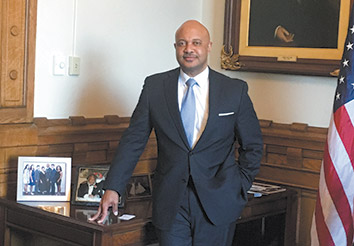 Given his lengthy career as a northern Indiana prosecutor, not much about being the state's top attorney has surprised Curtis Hill. As he nears the end of his third month as attorney general, the Republican said much of his time has been spent evaluating the current state of the Office of the Indiana Attorney General to determine what his next steps should be.
So far, Hill is pleased with the talent and initiatives he's encountered in the AG's office, though he's still in the planning stages of what work will come next. Right now, his focus is on building relationships with his staff and other state leaders.
Hill described the transition from former Attorney General Greg Zoeller to his administration as a story where he is coming into the middle of many chapters in the office's books. There are lawsuits to resolve, consumer complaints to attend to, unclaimed property to account for, the list goes on. The new attorney general recently sat down with the Indiana Lawyer to discuss his first months in office, his future plans and his take on judicial issues facing the nation:
Q: What accomplishments do you have under your belt after your first months in office?
A: We recently had a follow-up meeting with the Ten Point Coalition, which is very, very important to me. We want to make sure the attorney general's role is not just within the walls of the Statehouse, but we take a leadership positon and do community activity, and the Ten Point Coalition represents one of the strongest opportunities to do that. We want to work with groups like Ten Point, (but) not just in the Marion County area or central Indiana.
Q: How do you envision your role in the court system and working within the judiciary?
A: We want the courts to look at the AG's office and to be able to rely on our office for skilled arguments and solid persuasion, and part of my responsibility is to make sure we have solid relationships and good people in our offices to ensure that that occurs. It's (also) part of our responsibility to defend legislation in court, if necessary, and a really solid way of defending legislation is to be of assistance to legislators on the front end, if they so desire.
Q: You've taken on an "activist" role early on, testifying in the Legislature and speaking out in favor of U.S. Supreme Court nominee Neil Gorsuch. Will that activism be a regular part of your time in office?
A: I didn't come down here to be a wallflower, so I think that an important aspect of leadership in this attorney general's office is to provide opinions, guidance and leadership when it is necessary. So, if I see something that I believe is appropriate for us to speak out on, or in support of, or even in opposition to, I think that's important. I took a responsibility when I ran for office to defend freedom and support families, and that's a very wide brush, but I think it's important to step into areas in a constructive manner.
Q: How will some of Zoeller's initiatives, such as the Prescription Drug Task Force, fit into your work?
A: I look to have a more implementation model. I think that, for example, the Prescription Drug Task Force is a very timely thing. I'd like to see that develop into greater, stronger ideas on recommendations to the Legislature. We have not just a prescription drug problem, we have a drug problem of an enormous magnitude. So, I think at least one of the things we want to do overall is make sure that we recognize that there are overarching substance abuse problems and then try to focus on the areas individually that we need to and try to address these problems from an enforcement, treatment and primarily prevention attitude.
Q: What about your own initiatives?
A: One of the areas that I'm very concerned about is cybersecurity. Your phones have now become computers, and every day we see something new about hacking … so we're examining ways in which we can be engaged in that process and be of assistance to Indiana citizens regarding protecting their private information, and also be in a position to counsel (on) what types of things to do to prevent being victims.
Human trafficking is one that has been at the forefront of the AG's office, and we'll continue to address issues of human trafficking and trying to be very definitive in terms of the types of trafficking aspects and provide guidance and support for law enforcement personnel.
One thing that is very important to me coming from my background is the rule of law and support for law enforcement, and I want to make sure the attorney general's office is widely known throughout the state as being supportive of law enforcement officers, prosecution and the rule of law. We need to hold people accountable for their conduct and behavior that's anti-social or that creates a dangerous situation, unsafe situation or, in some cases, just a nuisance situation for those who merely want to live, play and work here in Indiana and not have to be bothered by bad behavior.
Q: In recent years, Indiana has joined lawsuits challenging the federal government. Would you consider doing the same?
A: Absolutely. I think one of the advantages of the attorney general's office that's really been illuminated in the last several years is the strength, power and authority of attorneys general to work on state sovereignty and to recognize the role of state government and the role of federal government and where the two intersect. It's the attorney general's responsibility to enforce the provisions of the 10th Amendment of the Constitution, and I take that very seriously, so I think that there will be a role of continuing to examine those issues of federalism. My standard is to see, "Does it affect Indiana?" If it affects Indiana in a negative way, then that's certainly something that we're going to take a hard look at. If it affects Indiana in an indirect way, we're going to look at that. What we're not going to do is look at it from a purely political standpoint.
Q: What are your thoughts on the Trump administration's orders regarding LGBT and immigration issues?
A: I think when the president rolled back the … Department of Justice (and) Department of Education standards or guidelines that they had issued (on transgender restroom use in schools), I think that was a positive thing because I had thought that previously, the Department of Education and Department of Justice sending out non-binding guidelines to states and public education was inappropriate, regardless of what the substance of the issue was. With the immigration policies, I think, clearly, the president has the authority to make determinations or do things, providing executive orders, with regard to immigration. I think it's important that those orders be clear and understood, and I think we're also learning a process, and they're learning a process, that sometimes you can stumble and trip up, and sometimes the best thing to do is pull it back, start over and do a re-do.•
Please enable JavaScript to view this content.