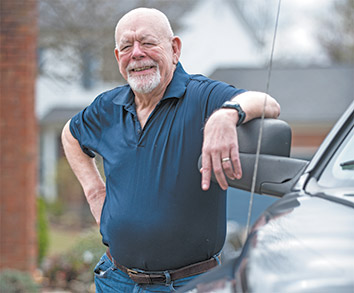 New Albany attorney Dave Scott wanted to prove a point when he strapped himself behind the wheel of a 1999 Ford Explorer that was pushed down an embankment, violently rolling over multiple times. Just to be safe, he later buckled into another Explorer that again was tipped over and sent careening roof over wheels, rolling three times.
"The theory of the case was that there were devices or designs available that would have reduced or eliminated or prevented the injury to the occupant in the vehicle," Scott said of an older case and a similar current case where he's representing clients severely injured in rollover crashes.
Setting out to prove his theory, Scott modified the Explorers with the help of Terre Haute trial lawyer and friend James O. McDonald. They installed roll bars inside to reinforce the vehicle's roofs and swapped out the driver seats. They used a seat and seat belt from a Chrysler Sebring convertible that had cinching restraints, then crash-tested the vehicles, flipping them down a steep grade on McDonald's farm, once with McDonald using a Bobcat forklift to initiate the roll.
"He is so knowledgeable about things of that nature that I was confident he knew what he was doing, and that proved to be correct," McDonald said. Scott's theory, McDonald said, was, "If you can keep your butt in the driver's seat and not have vertical escalation, you will not end up with paraplegics" and spinal injuries due to head and neck contact with the roof in rollover crashes. McDonald said Scott walked away from the crashes with only a small cut from broken glass. "It took all of a Kleenex" to clean up, McDonald said.

"That's the takeaway, as far as I'm concerned," McDonald said. The test, he said, "is perfectly appropriate if the person is knowledgeable enough. … We absolutely believed it would be admitted into evidence."

But Scott's tests, conducted in August 2009 and February 2010, have never been admitted in court, and Chief Judge Jane Magnus-Stinson in the U.S. District Court for the Southern District of Indiana last month agreed with a defense motion to exclude the tests and a paper based on them that was published in the International Journal of Crashworthiness.

'Unethical and immoral'?

A defense expert went beyond questioning the reliability and relevance of the Explorer rollover crash tests in a current case where Scott is representing a client severely injured in a Mini Cooper rollover crash. The expert testified the paper based on the test was "unethical and immoral" and should never have been published because it involved a human subject rather than a crash test dummy.
Schiferl

Frost Brown Todd LLC member Kevin Schiferl is defense counsel for Mini Cooper maker BMW in the case, and he also was opposing counsel to Scott years earlier when he represented Ford in an Explorer rollover case where Scott sought to introduce evidence from the tests. Schiferl remembers his initial reaction years back upon learning Scott had participated as a human subject in his own rollover crash test.

"In a single word? Flabbergasted," Schiferl said. "I myself believe in zealous advocacy, but there's a line between zealous advocacy and active involvement in non-scientific pursuits to support that advocacy.

"In 29 years of doing this, neither I nor any of my colleagues I have spoken to" have encountered evidence presented of "a human guinea pig involved in crash testing," he said.

Magnus-Stinson granted the defense motion to exclude the evidence. She held in Marsha Ruddell Brown v. BMW of North America, LLC, 1:14-cv-931, "The demonstrations were conducted by a lawyer, not engineers or any other experts in the automotive safety field, and they were done for the specific purpose of litigation," in the earlier Explorer case. She further wrote, "Because significant differences exist between the rollover demonstrations and Ms. Brown's accident, introducing this evidence to a jury would only cause confusion and delay."

Scott defends the tests and said they speak for themselves. He acknowledges he's not an engineer, but he said he regularly attends SAE International conferences and holds computer crash test re-creation certifications. He keeps up to date on research and safety and has focused his legal work on cases involving issues of crashworthiness.

He said the paper was published precisely because it involved a human subject in a rollover test, which he believes has never been done.

In his tests, he first conducted theoretical Explorer rollovers using computer modeling, looked for existing product designs that would have minimized injuries in a crash, then designed the test to include synchronized video of the rollovers from several points of view inside and outside the vehicle.

"I went about it the same way an engineer would go about it," he said.

"I think it is a unique situation which I doubt will happen again where a lawyer winds up being involved in a paper like that," Scott said.

 
Attorney Dave Scott's rollover crash test videos show him in the driver's seat of an SUV retrofitted with a cinching seat belt restraint system and a rollbar reinforcing the vehicle's roof. (IL screenshot)

Times change

Scott takes exception to his test being called unethical or immoral and said he has history on his side.

He recalled as a child his father's stories of meeting Dr. John Stapp, an Air Force pilot who retired a colonel and was a pioneer in high-speed safety testing in the 1940s and 1950s. "He was his own crash test dummy," Scott said of Stapp. Called "The Fastest Man Alive," Stapp was known for being the subject of a tests measuring force on the human body. Perhaps most notably, he was strapped to a rocket sled that was stopped in less than five seconds after hitting speed of more than 630 mph.

"There's a problem anytime you're doing research with finding out exactly what happens with a live human being," Scott said. He believes that's particularly true of using a crash test dummy in a rollover test, because he said the dummies' necks are typically more rigid than those of humans.

Scott said conducting a rollover test with a crash test dummy at a recognized testing facility is cost prohibitive and could easily run into six figures. Many of those facilities also have contractual conflicts with automakers that could limit their ability to conduct independent tests.

After more than 46 years as a trial lawyer, Scott said he's trying to wind down his law practice, but will continue to advocate for vehicle safety. He hopes his crash tests will make a difference in that regard, even if not in the courtroom.

"If things work out the way I want them to, I will continue this research in crashworthiness generally," he said.•
Please enable JavaScript to view this content.