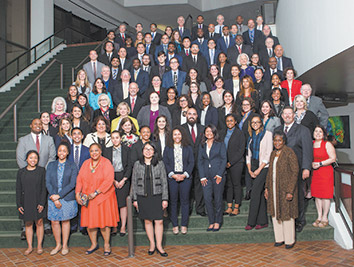 Law student Diego Wu's dream job is working as a law clerk in a judge's chambers, but he never dreamed of what judges told him they look for when they evaluate candidates for those typically one- to two-year positions.
"Judges really want to find out something through either your resume or your cover letter that's personal," said Wu, a 3L at Indiana University Robert H. McKinney School of Law. They're looking for glimpses into a clerk candidate's interests, hobbies and backgrounds, and how they might mesh with staff.
"They really talk about how they want to pick clerks that could be like family," he said. In a competitive profession that prizes academic achievement and experience, Wu said the "tell me about yourself" aspect of selling yourself as a potential clerk is something he never would have considered.
Wu picked up those and other pointers in February at the American Bar Association's Judicial Clerkship Conference in Miami. About 80 law students met with judicial officers from around the country in a program that's mission is increasing diversity among law clerks.
Marion Superior Judge Heather Welch co-chaired the conference in which former Indiana Justice Frank Sullivan Jr., now a professor at IU McKinney, also is active. Court of Appeals Judges Cale Bradford and Margaret Robb also attended this year's event.
Welch herself was a clerk for the Lake County Prosecutor's Office for former prosecutor Jon DeGuilio, now a federal judge in the Northern District of Indiana's South Bend division. She also served an externship with Northern District Magistrate Judge Andrew Rodovich.
"I got very lucky in my career," Welch said. "I feel like I had such great mentors, and I want to mentor (law students) too."
Welch said clerks and judges do become like families and form connections that can last a career. She challenges her clerks to sit in on discussions on summary judgment, for instance, draft proposed orders, and work out the sometimes-thorny legal questions. She credits her clerks for helping move cases out more quickly and efficiently. Clerks gain critical analytical, reasoning, writing and practice skills they can apply in their future careers.
Law students and judges from around the country gathered for the annual Amercian Bar Association Judicial Clerkship Conference earlier this year in Miami. Marion Superior Judge Heather Welch co-chairs the national event whose goal is to increase diversity in the ranks of court clerks. (Photo © 2017 Powell Photography)
"The two most important things are, one, you get some true, practical legal experience … and the other is you really get to build a close relationship with the judge," Welch said. "We might as well train them now and teach them good habits."
Welch said law schools don't offer a lot of practical experience and provide little information about the roles and duties of clerks or the potential career paths that may begin with clerkships. She said the ABA program is one way to bridge that gap and connect diverse students to those opportunities.
According to the Leadership Council on Legal Diversity, African-American, Hispanic, Asian and other minority groups remain underrepresented among judicial clerks. LCLD reported in 2015 that among all law clerks, 82.7 percent were white. Six percent were African-American, the highest representation of any minority group, according to statistics from 2013. Among federal court clerks, 82.9 percent were white. Federal clerks earn a base salary of $52,329, with higher pay based on experience or locality.
"The American Bar Association has been pleased to support the ABA Judicial Clerkship Program for 17 years," President Linda Klein said in a statement. "The Program reinforces the association's commitment toward creating a more diverse judicial and legal profession."
Students at the conference heard speeches from leading voices in the judiciary, including some who broke race and gender barriers. Groups of students also were paired with judges to work on a research problem — a complex copyright matter written by Sullivan. Students had access to LexisNexis and were given a challenge: "They're ultimately going to draft a memorandum telling the judge what they think should happen in the case," Welch said.
Bradford said the conference "is a terrific program for law students to work one-on-one and as a group with experienced judges to simulate the research and drafting of a legal opinion. I continue to be heartened by the quality and enthusiasm of the students as well at the commitment and energy of the participating judges."
McKinney 2L Zach Mahone said Sullivan talked him into going to the conference, and he's glad he did. Mahone's been a summer associate at Faegre Baker Daniels LLP, where he'll return this summer. He's aiming for a career in transactional law, handling business and real estate matters, but he said the conference expanded his horizons.
Mahone
Getting to know judges and how they work was enlightening, he said.
"You build them up to be an intimidating force," Mahone said. "You kind of fear a judge. … Seeing what judging was like was a really big insight from the conference.
"Before, it wasn't on my radar," he said. "If I can make it work, I definitely want to give clerking a shot."
Robb said she's participated in the program for years because it has real goals and objectives for improving the bar for all. "There are many students who do not have the opportunity to extern at appellate courts or even consider it a possibility. This program makes that very real and even if it does not ultimately come to fruition, it teaches skills that are invaluable to a successful career. I am honored to be part of it."
Wu, who's interned for Chief Judge Jane Magnus-Stinson in the U.S. District Court for the Southern District of Indiana, said he also learned more about the competitive nature of landing clerk positions. Not every judge may be hiring a clerk, but there are often hundreds of clerkships available. That makes networking critical. Having a relationship with a judge may not lead directly to a clerkship, but a judge's referral could help a candidate promote him or herself for other opportunities.
He said the conference prompted him to cast a wider net, with a slightly different angle, in his search for his dream job. "You need to connect in a much bigger way than just a work relationship," Wu said.
Welch plans to continue working to increase diversity among law clerks nationwide. She'll co-chair the Judicial Clerkship Conference again for the third straight year in 2018, paying forward her formative experiences as a clerk.•
Please enable JavaScript to view this content.