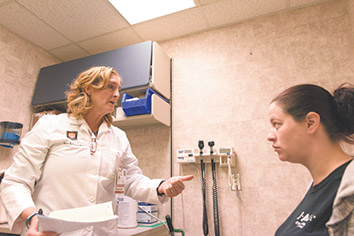 As a family nurse practitioner/forensic nurse examiner, Barbra Bachmeier lets her patients decide what she can and cannot do.
The 54-year-old pulls shifts in the emergency room of Indiana University Methodist Hospital, often treating individuals who are victims of interpersonal violence such as sexual assault and domestic abuse. Severely traumatized, these patients are given the ability to choose what part of their bodies they will allow to be examined and what part they will not. They can stop the exam at any time, and they can walk away without reporting the incident to the police.
The philosophy of empowering her patients transfers into Bachmeier's practice as an attorney. Working solely in the area of adult guardianships, she gives her clients the freedom to make their own choices.
"I like taking care of people," she said.
Bachmeier's decision to go to law school came about because of her work as a nurse. More and more in the emergency room, she encountered children who were abused and adults who had been battered or sexually assaulted. The difficult work initially made her want to understand the victims more and eventually led her to volunteer as a guardian ad litem.
In the fall of 2001, she moved to the Wolverine State and enrolled in the Western Michigan University Cooley Law School. She has since established a solo practice but she continues to work in the emergency room to help pay the bills.
Bachmeier also continues to volunteer as a guardian ad litem for the Hamilton County GAL/CASA Program.
Shelley Haymaker, director of the program, noted many people want to help these children but often they find the heartbreak too much and leave the program. Bachmeier has stayed, handling one case at a time and following it through until it is closed.
Describing Bachmeier as a strong advocate for children, Haymaker said she will bring everyone together to formulate a plan as to what can be done to get the youngster out of limbo.
"Barb has a very good mix about her," Haymaker said. "She's not overbearing but she does make sure people are doing what they're supposed to do."
When she is talking about the obstacles that crop up in her legal work helping incapacitated adults or during the treatment of her patients in the hospital, exasperation can creep into her voice at times. In navigating those hurdles, she outlined a straightforward approach of "you're either part of the problem or you're part of the solution."
Bachmeier aims to empower her medical patients and legal clients and give them freedom in making decisions. (IL Photo/Eric Learned)
That disposition may come from her 29-year service in the U.S. Army National Guard. She joined fresh from high school, following a friend into the military because she had no other plans. "Best decision of my life," Bachmeier said.
Her later deployment to the Balkans interrupted her law school studies and pushed back her graduation to January 2007. Then as she was establishing her practice, she was called to active duty again, this time going to Iraq. She returned home in 2009.
Settled back in Indiana a year later, Bachmeier joined Holly Renz of the Madison County Sexual Assault Treatment Center to remove an obstacle for rape victims. The state had stopped covering the cost of the anti-viral medication that can help prevent HIV, leaving assault patients having to pay $4,000 or more themselves for the month's dose.
The pair began prodding the Indiana General Assembly in 2010 to restore state funding. This session, they were finally successful with Senate Bill 279, which provides reimbursement for HIV prophylactic medication. The bill is now sitting on the governor's desk.
Seeing rape victims having to travel to Indianapolis from rural parts of the state, Bachmeier realized another obstacle: nurses at some of the smaller hospitals did not have the training to do physical exams. Medical professionals had to travel to either Indianapolis or Rensselaer to receive the training. Getting the time off work, in addition to paying the cost to take the course and covering the gas and hotel expenses, created a barrier.
So she secured funding through Sigma Theta Tau International Honor Society of Nursing and helped developed an online version of the Sexual Assault Forensic Examiner certification course. The curriculum includes medical and legal material that will teach nurses how meet the needs of these victims. Topics range from specimen collection and sexual disease testing to legal considerations and judicial proceedings.
Reflecting her own background, Bachmeier sees the course as also potentially benefitting defense attorneys, prosecutors and social workers. She maintains it can help lawyers who handle these cases better understand the medical and health care aspects of treatment and care.
The online course seems to highlight Bachmeier's approach of letting her patients and law clients make the decisions. She will ask questions, probe into social concerns, offer information and comfort while letting the victim have control.
"It's all about the patient," she said.•
Please enable JavaScript to view this content.