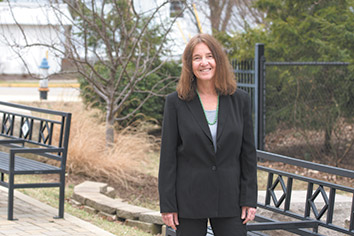 Jamie Andree has dedicated herself to providing legal representation to low-income Hoosiers for more than 30 years — first in working on public benefits issues and later as a tax lawyer. She's a nationally recognized expert in this field, and she trains other legal aid attorneys throughout the Midwest. She's been director of the taxpayer clinic since ILS applied for an IRS grant to establish and fund it 10 years ago. Many law students have worked in the Bloomington office over the years, and her wisdom, humility and savvy have inspired many to enter public service.
What has been your most memorable case?
It's hard to pick just one. One important case was Clevidence v. Sullivan, which was a class action I filed in federal court in the 1990s. It challenged, as a violation of federal law, the state's failure to keep low-income Medicaid recipients on the program when determining whether they were eligible in a new category. The state settled the case and made the changes we requested. I believe it helped thousands of poor people keep their health coverage and favorably impacted more individuals than any other single case I've handled.
How has the practice of law changed since you began?
There were very few women practicing law when I started, and very few women on the bench. Particularly in rural areas, it was unusual for low-income people to come to court with a lawyer in a civil case that wasn't fee-generating. It changed the balance of power, so not everyone was pleased. Some judges refused to sign fee-waiver orders. We were also very low-tech — no computers or cellphones and no internet. You had to go to the law library and open big, heavy books to find answers.
What do you learn when mentoring someone?
Sometimes I think I learn more than the person I'm mentoring. I'm forced to think about why I do something in a particular way and whether that's the best way. Mentoring others makes me focus on how I can improve my own practice.
Why did you become a lawyer?
I went to law school with the intention of becoming a legal aid lawyer.
What's something about you not many people know?
For about 10 years, mostly in the 1990s, I spent much of my free time writing fiction. A half-dozen or so of my stories were published in small literary magazines. I hope to resume writing fiction when I retire.
What can be done to encourage lawyers to take more pro bono cases?
It's tough to generalize because we all respond to different incentives. Some lawyers want recognition, and others do not. Doing pro bono work means representing a person or family who would otherwise have had no legal help. It is very satisfying to make that kind of a difference in someone's life, and conveying that message may entice some lawyers to try pro bono work.
What attracted you to working in legal aid?
As an undergraduate, I volunteered for an organization that provided services to people experiencing poverty. I learned that a tenacious advocate could make an enormous difference in whether someone had housing or food or could meet other basic needs. I was thrilled when I found out that lawyers could get paid to do that kind of thing.
Why is it important to be active within legal and community organizations?
People working together are almost always more effective than when they are alone. These organizations can help identify systemic problems and improve the odds of reaching a solution.
What do you do to unwind?
Exercise and music. I started running shortly after I began practicing law. It was an excuse to get out of the office. I've played piano my whole life, and I get together most Sundays with a clarinetist friend and make beautiful music.
What advice would you give your younger self?
Don't be in a rush. Try to appreciate every moment to its fullest, even those moments which don't seem to offer much basis for appreciation. Time passes much faster than we realize. As Joni Mitchell sang, "Take your time, it won't be long now till you drag your feet to slow the circles down."
 
Please enable JavaScript to view this content.