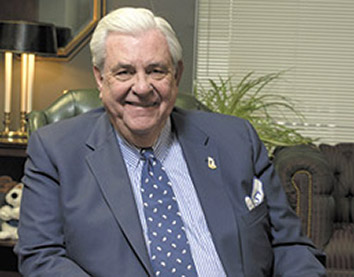 Judge Michael Barnes knows he will likely be remembered for his role in the landmark U.S. Supreme Court case Barnes v. Glen Theatre Inc. As St. Joseph County prosecutor, he charged the owners of two establishments with obscenity. The Supreme Court in 1991 established the parameters for First Amendment speech restrictions in the context of nude dancing. The case even was turned into an off-Broadway play in 2013. Judge Barnes spent 20 years as prosecutor, where he started the first prosecutor-based victims' assistance program in the state and created a domestic and family violence unit in the prosecutor's office. He became a Court of Appeals judge in 2000 and has authored more than 2,500 majority opinions. He's affirmed the largest personal injury award in Indiana and set standards for trial courts in child in need of services cases.
What advice would you give your younger self?
Be active in one's community, be that with a not-for-profit, politically and/or church-related functions. One needs divergent interests. Makes a better person and a better lawyer.
Why did you want to be a judge?
I thought I could offer some guidance and assistance to both bench and bar in addition to fairly and equitably deciding cases.
What will the legal profession look like in 15 years?
Difficult to project. Certainly we will see continued technological advancement, more pro se litigants, and a continuing restructuring of the profession as we once knew it. I think particularly these circumstances will affect client relationships, fee arrangements and every other aspect of our profession.
What needs to be done to make the legal profession more diverse, especially in leadership roles?
We must continue to encourage all minorities to consider being involved in our profession. Our CLEO (Conference for Legal Education Opportunity) program, recruitment of and mentoring for minority lawyers are crucial aspects of efforts to get these lawyers involved. We then must convince them of the value of their leadership and provide ample opportunities for them to do so.
What was your most memorable job before becoming an attorney?
I ran a jack hammer for a road construction crew that removed and then replaced portions of concrete highways in Illinois. It was grueling work, but I wouldn't trade the experiences I had, particularly with my road crew, for anything. I also baled hay and cut corn out of soybean fields — UGH!
What can be done to encourage lawyers to take more pro bono cases?
I think we're getting better at it. The Pro Bono Commission and efforts of both the state and local bar associations have been exemplary. We simply must continue to reach lawyers' consciences through awareness and involvement.
How has the practice of law changed since you became a lawyer?
Technology! Technology! Technology! I do feel that at some point we may want to assess where we are going in this area, why are we going there, and answer the unpopular question, "Because we can, does that mean we should?"
What do you do to unwind?
I am a complete Cleveland Indians and Notre Dame football and basketball junkie. I listen to all and watch most. When I'm in South Bend, I attempt to attend any ND home game.
What has been your most memorable case?
I suspect the one many older lawyers may remember is the Alan Matheney case. He absconded from a prison work crew here in Indy, returned to Mishawaka and beat his ex-wife, Lisa Bianco, to death in the street in front of their home while his two young daughters watched. He was on a DOC work-release program at the time, and the crime, given its cruel nature, was headlined around the country. He was convicted, sentenced to death, and executed.
Why did you become a lawyer?
I wanted to help people solve their problems. As a young prosecutor, I wanted to do well for my community and for victims of crime.
 
Please enable JavaScript to view this content.