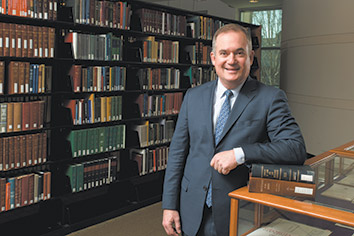 Doug Brown is known professionally for his contributions to economic development, which includes representing the Indianapolis Motor Speedway in obtaining $100 million in improvements for the racing facility. He's currently working with the Indiana Transportation Association on its effort to expand public transit funding to better serve disadvantaged urban and rural populations. Doug is credited with leading the Public Affairs Group's growth to become the largest Indiana-based public affairs firm. He's performed countless hours of pro bono service for several organizations, including the International School of Indiana, the Ivy Tech Foundation and St. Mary's Child Center.
What has been your most memorable case?
I would probably opt for the successful licensing of what is now Indiana Grand Racing and Casino. After more than a decade of withering opposition, several trips to trial and appellate courts, and numerous hard-fought regulatory and legislative battles, we finally won the licenses. Since then, Indiana Grand Racing and Casino has paid hundreds of millions of dollars in state and local taxes, contributed millions of dollars to worthy charities and employed tens of thousands of deserving Hoosiers. That outcome feels good to this day.
What attracted you to your practice area?
I have always loved helping people be successful, and a business practice lends itself to that. Over time, more and more of my business clients began having greater and greater interaction with federal, state and local government. So, in order to help them be successful, I had to learn how to help them interact successfully with government. Today, I spend roughly half of my time acting as outside general counsel to my business clients, and the other half serving their public affairs needs. It is perhaps a somewhat uncommon combination, but it evolved very naturally.
Why did you become a lawyer?
I have always cared deeply about our nation, our state and our communities. Good, committed lawyers have been integrally involved in most social advances throughout history. Since I can remember, I have felt that being a lawyer would be the best way for me to help improve things.
What's something about you not many people know?
I was a high school and collegiate pole vaulter.
What was your most memorable job before becoming an attorney?
During most of law school I worked as a law clerk at the Indiana Supreme Court Administrator's office and attended school at night. At the court, my job was to help make recommendations, on behalf of the administrator's office, concerning how the court might consider deciding the cases before it. This experience gave me invaluable insight into the workings of the Supreme Court and the evolution of common law that is so important to our society and rule of law.
What advice would you give your younger self?
Without passion for a cause, generally little is accomplished. However, no matter how passionate someone is, they also have to be able to recognize and grapple successfully with the practicalities of a situation in order to get something important done. In many ways, successful lawyers operate at this intersection of passion and practicality. I could have benefitted from a more nuanced understanding of this balance as a young lawyer.
What are the advantages and drawbacks of always being accessible to clients and working anywhere, thanks to technology?
When I started practicing law in 1985, generally if a lawyer was not at his or her law office desk, they were not working. This is because lawyers only communicated on their office phones, or by letters typed on their office letterhead, and these things could only occur at the office. I immediately started making my home telephone number available to my clients so that they could reach me outside the office, and I could in turn avoid being at my office desk 24 hours per day, seven days per week. I was immediately struck by how much my clients appreciated that. Today, with cellphone and email technology, lawyers and their clients can be anywhere on the planet and still communicate effectively. So now our clients know that we are there for them whenever we need to be, and we are not tied exclusively to our office desks. To me this is liberating, both for us and for them, and helps forge and maintain a stronger lawyer-client relationship.
How has the practice of law changed since you became a lawyer?
Technology has dramatically changed (largely for the better) the mechanics of how law is practiced, as has the sophistication of consumers of legal services. However, the fundamentals of practicing law have not changed. If you truly care about and zealously serve your clients and your community, you will succeed as a lawyer.
What do you do to unwind?
Quality time with family, live music, travel, golf and boating.
What do you like the most and the least about being an attorney?
I probably least like the contentiousness and decline in civility that seems to exist in society generally, and in our profession specifically. But, I think that, deep down, everyone wants to feel like they matter and are contributing to something of value. As an attorney, I am blessed to feel that way every day. If you ask me, that is a pretty hard recipe to beat.
 
Please enable JavaScript to view this content.