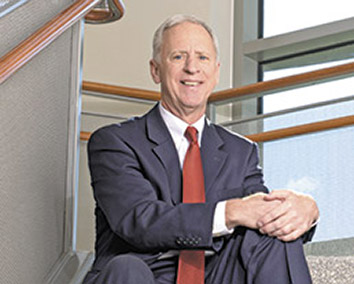 Those who work with Lee Christie call him the "Case Whisperer" due to his ability to settle cases. He won a $30.5 million verdict on an injury case that the defense initially offered to settle for $300,000. Lee has generated more than $100 million in verdicts and settlements for his clients in his career and earned a reputation for excellence in the courtroom. He's also a mediator, handling more than 3,500 cases since 1992. Lee's counsel is often sought as an educator on legal skills and to mentor young lawyers.
What do you like the most and the least about being an attorney?
I love the interactions with my clients, my partners and assistants, as well as the attorneys I work with and against. I hate that I don't always win!
What are the advantages and drawbacks of always being accessible to clients and working anywhere, thanks to technology?
The advantage is more work can be accomplished, and the disadvantage is more work is expected to be accomplished.
What do you learn when mentoring someone?
In trying to teach a mentee, I learn how much I really don't know. Mentoring keeps you active and involved in the changing needs of younger attorneys and the legal system.
What will the legal profession look like in 15 years?
I am concerned there will be less personal interaction. Civil litigation will be in danger due to continuing tort reform issues, which will limit individuals' rights to pursue recovery in courts for damages caused to them.
What was your most memorable job before becoming an attorney?
I was security at the governor's residence for Govs. Otis Bowen and Bob Orr. The stories I could tell.
What attracted you to your practice area?
I was attracted by the fact that Buddy Yosha, of Yosha and Cline, offered me a job. Then it became about helping individuals who needed our assistance in obtaining a recovery for their harms and losses.
What advice would you give your younger self?
Slow down and keep everything in perspective. Don't dream about something and not act upon it. Get out and do it.
Why is it important to be active within legal and community organizations?
By giving back through the various associations and organizations, you learn what it means to be a lawyer. We owe it to those who are not as fortunate or lucky as we have been. No one gets to this point on their own.
How has the practice of law changed since you became a lawyer?
Overall, it is about the same. We are fortunate in Indiana to have a great plaintiffs' trial organization (ITLA) and a great defense trial organization (DTCI) which has allowed the plaintiffs' civil tort litigation practice to continue being a wonderful job to try and help people who need it.
What's something about you not many people know?
I am still playing in the Indianapolis Lawyers Softball League. The Pokers still rule!
What has been your most memorable case?
Representing a man who was rendered a quadriplegic by a garage door company who did not properly train their technicians. By obtaining a jury verdict on his behalf, we were able to provide him and his family with financial security for his health needs and peace of mind.
 
Please enable JavaScript to view this content.