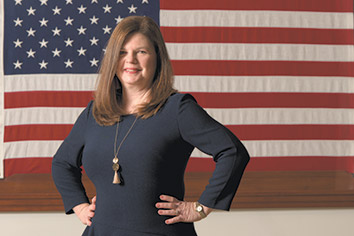 Julie Conrad is responsible for providing advice and counsel on a variety of labor and employment issues to Eskenazi Health's nearly 4,400 employees. Before joining the health system, she sharpened her skills in private practice, where she litigated employment cases at all levels. Julie has been a driving force behind Eskenazi Health's innovation and growth. She also oversees its award-winning Medical-Legal Partnership program and provides legal support to Indianapolis EMS. She was involved in the creation and expansion of the Wishard Volunteer Advocate Program — the first court-approved, volunteer advocate program in Marion County — which is now overseen by the Center for At-Risk Elders Inc. Julie is a trusted mentor to others and is highly regarded for her legal advice and leadership.
Why did you become a lawyer?
It was my father's suggestion. He was a civil engineer who worked in municipal government, and I wanted to follow in his footsteps. Since I was a history major, he told me a law degree would be helpful. It's interesting that, although I spent many years in private practice, I ended up working for a municipal corporation — just like my father.
What attracted you to working in-house?
I liked the idea of working with a group of people toward a common goal and mission. I also was interested in learning more about, and having an impact on, the business side of operations. I feel I have been able to achieve both of those goals in my in-house position.
What needs to be done to make the profession more diverse, especially in leadership roles?
As a woman, I feel strongly that my role is to mentor, develop and prepare younger women lawyers to move into leadership roles — either within my organization or in the community. I have tried to do that by encouraging involvement in bar activities and nonprofit organizations, where one can develop leadership skills. I think women lawyers could do a better job of supporting and championing one another.
What do you do to unwind?
Walking on a rail trail near my house. I also recently began backpacking. In the past two years, I have taken two backpacking trips in the White Mountains of New Hampshire with my older brother. For me, backpacking is meditative.
What do you learn when mentoring someone?
Mentoring can provide you with a window into what motivates and drives the younger generation. I've learned so much from my mentees, it is really a two-way street. It also has given me an opportunity to reflect on my own career and life, and share some lessons learned.
What can be done to encourage lawyers to take more pro bono cases?
I think the best way to encourage pro bono work in general is to provide a variety of opportunities. For example, at Eskenazi Health, we collaborated with several area law firms and corporate in-house legal departments to provide pro bono legal services to our underserved patient populations. These services range from creation of end-of-life planning documents to handling guardianship proceedings to assisting on family law issues. We have also sponsored one-day free legal clinics on various topics, utilizing volunteer attorneys. We try to make it manageable for the volunteer attorneys by offering training, working with the firms to screen cases beforehand, and providing subject matter experts for support. All our projects are fairly time-limited, so the lawyer's time commitment is not onerous.
If you are willing to be creative, there are countless ways to provide pro bono services in our communities. I think the key is making it easy for the attorneys.
How has the practice of law changed since you became a lawyer?
It moves at a much faster pace. The amount of email I get a day is overwhelming at times. When I started, it was snail mail — you always knew you had a few days before you received a phone call from the other side. Dictation was also popular, but I was never a fan.
What do you like the most and the least about being an attorney?
I love it when I am able to solve someone's problem, or at a minimum, create a game plan for them. If someone feels good leaving my office, that's a win. I'm not a fan of the adversarial aspects of practicing law, especially when advocacy turns into incivility.
What was your most memorable job before becoming an attorney?
I wouldn't say I had any particularly memorable jobs before becoming an attorney. During law school, I worked as a law clerk for the city of Bloomington's legal department. At the time, all the lawyers in the department were female, which was probably a bit unusual. I learned a lot about local government working in that job, and had some great female role models.
What's something about you not many people know?
I was a dancer, and taught tap, ballet and jazz dancing classes in my youth. I was also a member of the Grand Rapids Children's Ballet.
What are some tips for achieving a work-life balance?
Be flexible, don't worry about doing it all, and ask for help. When my children were younger, I didn't have the ability to volunteer on a regular basis in their classrooms, like some of the other moms. However, I could organize a holiday party or volunteer on a field trip a few times a year. I did what I could do, and tried not to feel guilty. I'm also lucky to live in a community where my friends and neighbors are willing to chip in and help when I need it. I always reciprocate when I can. It really does take a village! In my opinion, solid organizational skills are also essential to work/life balance.
What advice would you give your younger self?
Maintain the connections I made earlier in my career. I was lucky to work with some fantastic lawyers in the past, but as I moved to different organizations, I did not always keep in touch. I now have a better appreciation for the importance of a strong professional network and regret I did not put more effort into keeping some of those relationships intact.
Please enable JavaScript to view this content.