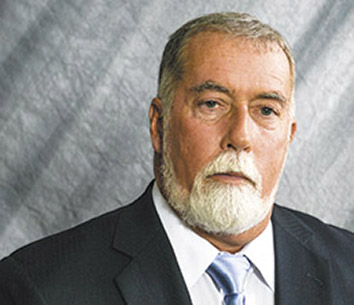 Buddy Downs is one of the state's leading authorities on municipal finance. He's chaired the firm's municipal finance group for 26 years and has served as bond counsel on hundreds of financings for major shopping centers, airlines, city halls, convention centers and other entities. Buddy is a strong ally of his clients and is a great mentor to many lawyers at Ice Miller. Buddy is a founding fellow of the American College of Bond Counsel, formed in 1995. For more than 30 years, he has provided pro bono work to Accelerate Indiana Municipalities, formerly known as the Indiana Association of Cities and Towns. He currently serves as president of the organization's foundation.
What are the advantages and drawbacks of always being accessible to clients and working anywhere, thanks to technology?
Obviously, it can interrupt your personal life, but clients are generally considerate about that. You probably should find another line of work if you don't want to respond to clients' emergencies.
What attracted you to your practice are?
My firm suggested I start there, and I simply loved it and the clients.
What advice would you give your younger self?
Be more patient with others.
Why did you become a lawyer?
It was always my interest from grade school.
What needs to be done to make the profession more diverse, especially in leadership roles?
I have always believed in a society, and a legal culture, where people are judged on merit and what is inside.
What has been your most memorable case?
I can't pick just one. As a deal lawyer, I might say Circle Centre in Indianapolis, Toyota in Gibson County, AK Steel in Spencer County and the coal gasification plant in Knox County. Each negotiation, or dispute, is different.
What do you like the most and the least about being an attorney?
The intellectual challenge is what I like most. Improper behavior is a pet peeve.
What was your most memorable job before becoming an attorney?
Perhaps a trading post in New Mexico.
How has the practice of law changed since you became a lawyer?
Technology, perhaps a loss of civility.
What's something about you not many people know?
I've completed 162 triathlons.
What can be done to encourage lawyers to take more pro bono cases?
I'm not sure I have an answer.
Why is it important to be active within legal and community organizations?
To learn, to grow and to mentor.
Please enable JavaScript to view this content.