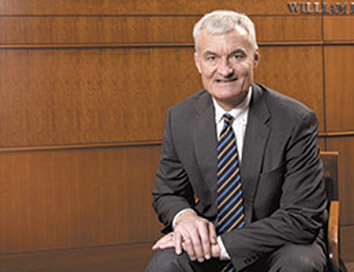 Tom Froehle gave up a busy corporate and public finance practice in 2008 to become chief executive partner of Baker & Daniels. The skills and leadership he gained in that position helped make successful the formidable task of later combining two large law firms. He led Baker & Daniels through its merger with Faegre & Benson in 2012 and focused on integrating both firms' infrastructure and personnel. Under his leadership, the firm has expanded, opening new offices and growing existing ones. Tom has encouraged the firm to embrace technology and changes occurring in the legal industry. He's represented many companies entering and expanding in Indiana, including Honda Manufacturing of Indiana, and helped to negotiate a long-term lease with the Indianapolis Colts.
What was the most challenging part of the law firm merger?
We were very fortunate to have very similar cultures, so we haven't had the challenges that other law firm mergers have faced. We used the merger to evaluate many of the systems and practices, and looked for a "third way," rather than choosing the Faegre & Benson way or the Baker & Daniels way. That has resulted in many positive developments, but required all of our people to be courageous about facing change. Leading through change was our greatest challenge.
What attracted you to your practice area?
To be candid, I didn't really know what public finance was when I graduated from law school. I was fortunate to be connected to a tremendous mentor in David Johnson, who was instrumental in my development as a public finance lawyer. I enjoyed the ability to see the results of our work — primarily through the development and construction of public and public/private projects. I was attracted to the idea that if we found solutions to various problems, everyone could win.
How has the practice changed since you became a lawyer?
It's hard to know where to start. Practices continue to become more specialized and the profession has become more of a business. The pace of the practice has changed tremendously, with the advent first of fax machines and Federal Express, then email and text messaging. Certainly in the last 10 years, the competitive environment has changed dramatically as well. Lawyers need to better understand their clients and the industries in which they compete.
What do you like the most and the least about being an attorney?
There are a lot of things to like about being an attorney. We get the chance to work with really smart people on interesting projects, to work in teams, to help solve problems, and to do all that with lots of flexibility and autonomy. With that said, after 30 years, I still don't like keeping track of time in six-minute increments.
What is something about you not many people know?
I really love the mountains. I am a regular visitor to Colorado and the western national parks, and recently climbed Mt. Kilimanjaro with my daughter and three of her friends.
Why did you become a lawyer?
My uncle was a lawyer and I admired him. I liked how his law practice created opportunities for him to be involved in businesses and in his community. I viewed being a lawyer as an opportunity to be part of an honorable profession, but also to be entrepreneurial and give back to the community.
What will the legal profession look like in 15 years?
The profession is changing at a faster pace than it ever has. I think technology will play an increasingly larger role in the practice. At the same time, I truly believe lawyers will always be important to our economic and governmental system because of the knowledge, judgment and problem-solving skills we bring.
The future is very exciting, and as our world evolves and becomes increasingly complex, lawyers will continue to play critical trusted adviser roles to clients.
What needs to be done to make the legal profession more diverse, especially in leadership roles?
I wish there were an easy answer. More generally, we need to position the legal profession as an attractive career, both to be able to recruit new entrants to the profession, but also to retain diverse professionals. Through intentional actions and inclusive practices, law firms need to make sure our newer, diverse lawyers have opportunities to engage, both with clients and the firm. We have seen some success teaming with clients to provide significant experiences for diverse lawyers. With regard to leadership, we must be more intentional about identifying diverse lawyers for future leadership roles and offering experiences that position them for leadership. We have positioned our affinity resource groups to provide members with meaningful leadership development, visibility and exposure opportunities. Although we are making some progress, we cannot be content with small successes. We need to strive to make the profession much more diverse and will need to be more innovative to do so.
Why is it important to be active within legal and community organizations?
Most of us have been fortunate to be lawyers, and along with that, to be blessed with more than our fair share of opportunities. That creates a real sense of obligation to contribute back, both to the profession and to our community. Lawyers play critical roles in those organizations and are natural problem solvers that help them accomplish their goals. Apart from that sense of responsibility, involvement in these organizations is personally rewarding and usually a great chance to meet good people and have fun serving together.
What advice would you give your younger self?
I would say to recognize that every challenge is an opportunity, and to be confident that even when not always clear, if you trust your instincts, things will likely unfold as they should.
What do you do to unwind?
I have become pretty addicted to exercise and find that to be a great stress reliever. My entire family has a passion for IU sports. I also like to be outdoors, and my wife and I try to find time to get outside regularly, whether hiking, skiing or biking.
What do you learn when mentoring someone?
I have always believed the best way to learn something is to teach it, and the same goes for mentoring. I always learn more from mentoring, whether it be about the different ways people learn and develop, the different perspectives people have, or better ways to relate to people. Watching and listening to how other people approach their work is always instructive to me.
Please enable JavaScript to view this content.