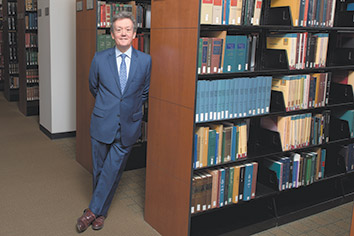 Mike Harrington is one of the top executives at Eli Lilly and Co., rising in the ranks since joining in 1991. He's been a leader at the company on diversity initiatives and is a champion for ensuring the legal field is a welcoming place for people of all backgrounds. The company has been rated a top company for LGBT employees, Latinos and women. He devotes time to mentoring students in high school, college and law school, and mentees appreciate his approachability and feedback. He is co-chair of the Civil Justice Reform Group and a board member for the National Center for State Courts and the Leadership Council for Legal Diversity. Mike encourages and arranges service opportunities for Lilly employees, including helping first repsonders prepare personal legal documents.
What needs to be done to make the legal profession more diverse, especially in leadership roles?
There is no single solution. Mentoring and training programs are necessary but not sufficient. We need to expand the pool of diverse and talented young people who choose to go to law school. The competition for that talent is taking place in high school and college. We are losing that competition, so we end up with a pipeline coming into our profession that is less diverse and less talented than it otherwise would be. Once people are in the profession, there is an obligation on those of us who hire lawyers to ensure we are demanding diverse teams of the best professionals. We need to build relationships with individual attorneys and make sure that within their firms they are getting credit for the work they do for us.
What will the profession look like in 15 years?
It strikes me that the profession is changing at an increasing rate. Certainly, it will become more diverse. But equally pressing is the need for the profession to find solutions for the huge number of people engaged in litigation in our state courts pro se. These litigants are not well-served by the system today — although it is improving. The profession needs to embrace change and creativity. Young people are going to apply technological and social tools to address problems of access to justice.
What was your most memorable job before becoming an attorney?
I worked in a small local hardware store. I learned what it was like to serve customers. Much of the skills I use every day I learned in that hardware store.
What's something about you not many people know?
At this point in my life, I am having a great time!
What can be done to encourage lawyers to take more pro bono cases?
Senior leaders in the profession need to make it clear that we value pro bono work. We need to model the behaviors we seek and reward them.
What attracted you to working in-house?
In private practice, I was engaged in business litigation of various types. Eventually I became less interested in the mechanics of the litigation itself and more interested in the business decisions that drove the litigation. It was that curiosity about business that led me to an in-house role.
What do you learn when mentoring someone?
Mentoring gives me the opportunity to fully formulate and articulate many of the things I have learned over the years. Often, we learn from our experiences long before we can express clearly what we have learned. I am often surprised what I say when I force myself to express what I have learned to another.
Why is it important to be active within legal and community organizations?
I have been very fortunate in my career to benefit from great legal and community leaders who came before me. Many of them coached and trained me. Others left a legacy in the community by building organizations that make Indianapolis such a wonderful place to live. I take a great deal of satisfaction from contributing to our community and our profession by playing a role in these organizations.
What do you do to unwind?
I enjoy playing golf, traveling and spending time with my family.
What do you like the most and the least about being an attorney?
The best thing for me about being a lawyer is the enormously bright and talented people I get to work with every day. The lawyers at Lilly are amazingly talented and constantly find solutions to problems that are difficult. Also, the business leaders that I have the privilege to advise are brilliant people with tremendous values. It's a rare privilege to work with the people I work with.
What advice would you give your younger self?
I would tell myself to relax a bit more and enjoy the journey.
Why did you become a lawyer?
I wanted to be an advocate. I didn't know any lawyers before I went to law school so I assumed that being an advocate meant being a litigator. What I have enjoyed most is being an advocate outside the context of litigation, either as part of a business or in the public policy arena.
 
Please enable JavaScript to view this content.