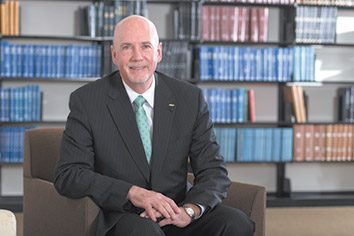 Ken Isley's passion for agriculture started on the farm he grew up on in Iowa. He's been with Dow AgroSciences since 1989 and he's dealt with litigation, corporate and financial law, commercial law, and intellectual property issues. He's been a valuable mentor to many at Dow as well as through his work with the Indianapolis Starfish Initiative. Colleagues say Ken is always positive and maintains a sense of humor, even in challenging circumstances such as licensing deals or negotiating with government agencies.
What needs to be done to make the profession more diverse, especially in leadership roles?
We need to be more focused and intentional on recruiting diverse candidates and providing them with mentoring and development opportunities. We also need to recognize and address our own unconscious biases and ensure that others do the same.
What advice would you give your younger self?
Spend time and attention developing relationships with mentors, colleagues, clients, contemporaries and others to develop and maintain an ever-evolving personal and professional network. Set aside time to keep up with developments in the law, but also focus on enhancing my communication and leadership skills. Be genuine, confident and assertive.
What attracted you to working in-house?
I started working for Dow at the time Dow and Eli Lilly combined their agriculture businesses to form DowElanco. I was interested in the opportunity to work closer to the business in an ag company. The fact that the new company was going to be headquartered in Indianapolis only increased by interest. I have really enjoyed working at the intersection of law, business, technology and agriculture. It has been, and continues to be, a very dynamic environment.
What do you learn when mentoring someone?  
I have truly enjoyed my formal and informal mentor relationships. It is a great opportunity to develop relationships and interpersonal and communication skills. It is a great way to build trust and develop empathy for others.
What are some tips for achieving a work-life balance?
Different techniques for balancing work with life are effective for different people. Earlier in my career, this was a major source of stress. Frankly, I have given up trying to balance work-life issues as if they are separate, compartmentalized parts of my life. What has worked for me with my current job, and the advancements in information technology, is to integrate my work with the rest of my life. To be successful in this area, I have needed to develop discipline and the ability to focus, and I recognize that I have been blessed to have an understanding family.
Why did you become a lawyer?
I wanted to pursue a challenging, dynamic and rewarding career, and the legal profession definitely meets all of those criteria. During my first job out of college working for Alpha Gamma Rho National Fraternity, I received some great advice from one of our alumni who was an attorney. I followed that advice to take the LSAT and attend law school at the University of Iowa.  
What was your most memorable job before becoming an attorney?
Farmer. I grew up on a family farm in central Iowa, and I have always had a passion for the small town, Midwestern farm life and culture. I worked on a farm and at an ag retailer while in law school, and I have stayed involved in production agriculture throughout my life.
Why is it important to be active within legal and community organizations?
It is a way to stay connected, give back to others and build a sustainable personal and professional network. I am passionate about giving back to our local community, and I am very focused on issues of food insecurity and education. I currently have the privilege of serving on the board of the Starfish Initiative, a local charitable organization that connects mentors with economically disadvantaged high school students.
What do you do to unwind?
I enjoy spending time with my wife of 28 years, Kristen, and our four children. I also enjoy working on our hobby farm raising Simmental cattle outside of Brownsburg, playing golf, attending sporting events (e.g. Colts, Pacers, ISU Cyclones, Iowa Hawkeyes) and participating in activities related to our church and community.
What's something about you not many people know?
I was co-director of Student Legal Services at the University of Iowa when I was in law school. It gave me an early opportunity to meet with real clients, solve interesting legal issues and appear in court. This role fueled my desire to continue to pursue a career in law.
Please enable JavaScript to view this content.