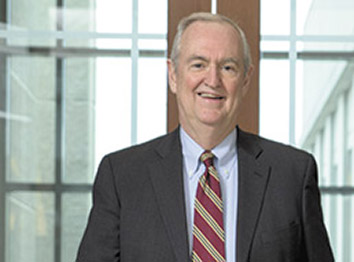 Bill Moreau is a lawyer you want on your side, whether he's representing his higher education or government relations clients, a pro bono client, or working to end homelessness. He successfully argued and negotiated the landmark case challenging the validity of the Chicago-Gary Airport Compact in 1998. In Indianapolis, he's credited with helping to reduce homelessness, previously chairing the board of directors of the Coalition for Homelessness Intervention and Prevention. He established a legal assistance program for homeless veterans. And since 2001, he's been advocating for an "engagement center" for those experiencing homelessness and mental health or drug issues. This year, the Albert G. and Sara I. Reuben Engagement Center opened in Indianapolis.
How did you get involved with efforts to end homelessness in Indianapolis?
In 2000, Mayor Bart Peterson was the first big-city mayor to commit to developing a 10-year plan to end homelessness. He asked me to lead the yearlong, community-wide effort to draft Indianapolis' "Blueprint to End Homelessness." I turned him down, so he pulled out his secret weapon: my father, a retired Army colonel, who was leading the homeless veterans group, HVAF. No one says "no" to the colonel. Homelessness has been cut in half since Bart made the issue a city priority, and thankfully Mayor Joe Hogsett has re-energized our efforts.
Why is it important for cities to have engagement centers like the one that recently opened in Indianapolis?
Shelters are understandably not set up to accommodate homeless people in the throes of an active drug or alcohol episode, so these folks are typically sent to jail or the ER. Some stay out and literally freeze to death. Diverting them to a safe place where they can get connected to treatment providers will not only save and change lives but save millions of taxpayers' dollars.
What has been your most memorable case?
I represented our son's best friend, pro bono, in a hardship appeal against the IHSAA. He was the victim of unspeakable abuse as a ninth-grader and all his teachers and counselors agreed he should repeat ninth grade. He developed into an excellent basketball player. Right before his senior year, the IHSAA ruled he had exhausted his eight semesters of eligibility. They forced this young man to provide the details of his abuse repeatedly through their appellate process, only to reject his appeal. They forced us to sue them. When Judge Ora Kincaid heard the testimony, he was so appalled I thought he might throw the entire IHSAA leadership in jail. Basketball was the young man's only path to college, and today he is a highly successful businessperson with a wonderful family. (Note to IHSAA: The preceding was my opinion, but I'd be delighted if you'd sue me.)
How has the practice of law changed since you began?
In 1981, I had my own secretary, who took dictation. We wrote actual letters on heavy stationery. We gathered in the law library to do our research. We did 90 percent of our work in the office and only 10 percent at home. No cellphones, no internet, no emails. "Marketing" was considered ungentlemanly. Yes, I am a dinosaur.
What advice would you give your younger self?
Yeah, you're skinny as a rail now, but when you're 64, your waist size will exceed your inseam. (This would have seemed so horrible, it might have had some effect!)
What was your most memorable job before becoming an attorney?
Working on environmental and energy issues for Sen. Birch Bayh, an American statesman and personal hero. I fell for this cute colleague of mine — yes, a secret office romance — and we were married in the senator's hideaway office in the U.S. Capitol. Thirty-seven years later, we have three children and four (going on five) grandchildren.
What can be done to encourage lawyers to take more pro bono cases?
In a law firm setting, encouragement begins at the top. If the senior partners walk-the-talk by providing an environment that nurtures pro bono, the younger lawyers will get the message. As a first-year litigator at the old Bingham Summers firm, pro bono permitted me to get trial and appellate experience quickly because Bob Shula would accept ACLU cases and assign them to the young litigation associates. At Barnes & Thornburg, the redoubtable John Maley runs our pro bono efforts, and no one walks-the-talk more visibly than he. I tell our associates, "Pro bono will give you first-chair experience long before we'd otherwise let you."
What attracted you to your practice area?
I was trained as a litigator and appellate lawyer, but my practice has changed to include so many areas these days. To quote the great Frank Sullivan, "Lawyers are problem-solvers," so mine is a client-driven practice that permits me to bring in colleagues from throughout our amazing firm. I chair our higher education practice, the result of being the only lawyer on the Purdue board of trustees for 12 years. Working with colleges and universities has become a passion of mine because I can help them navigate through the many complex issues they face, and their administrators and general counsel are bright, ethical, mission-driven professionals.
What are the advantages and drawbacks of always being accessible to clients and working anywhere, thanks to technology?
I was trained to be responsive, but, geez, that definition has certainly changed. As much as I might long for 1981 (supra), our clients deserve lawyers with the same 24/7/365 attitude they live by.
What do you do to unwind?
Fishing, preferably with my grandsons.
What do you learn when mentoring someone?
I always receive more than I give.
Why did you become a lawyer?
I graduated from Purdue planning to be the next Woodward and Bernstein. It was as a cub reporter that I realized being in the fray is far more fulfilling than observing it.
Please enable JavaScript to view this content.