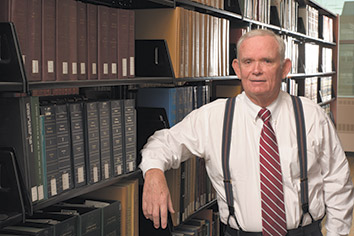 When it comes to preeminent appellate attorneys in Indiana, Karl Mulvaney's name is one of the first to come to mind. He has argued more than 130 appellate cases and has been known to refuse to take a position or make an argument that he does not believe in. His colleagues joke that he's a "boy scout" because of this stance. He is gracious and collegial, which was recognized by the Indiana State Bar Association with its Litigation Section's Civility Award. Karl works with law students to promote professionalism and ethics. His phone is always ringing with people seeking advice, and he's happy to offer novel suggestions to offbeat problems or advocate on behalf of another attorney.
What are some tips for achieving a work/life balance?
Work will sometimes overwhelm you, and you will need to work hard during such times. Push the ball forward as much and as efficiently as you can each day during those times. When you have a break in your schedule, try to take advantage of it. But don't wait for a break in your schedule, go ahead and schedule time off, and if things pop up, work hard and take that scheduled time off.
How has the practice of law changed since you became a lawyer?
Books! We are using books less and less and less because of the advent of computerized information. That said, the availability of legal information and electronic filing have been big and positive changes.
What attracted you to your practice area?
Becoming an appellate lawyer was somewhat of an accident. I thought I would become a deputy prosecutor upon graduation, but when a law clerk job opened at the Indiana Supreme Court during law school, I jumped at the chance. After a year or so, when I started to apply for jobs outside the court, Chief Justice Richard M. Givan asked me to stay on as the assistant court administrator, and five or so years later as the administrator. In 1991, Bingham Summers Welsh & Spilman asked me to come over and head up a new Appellate Department with Nana Quay-Smith. It was the work at the Indiana Supreme Court which gave me the interest in appellate and legal ethics work.
What will the legal profession look like in 15 years?
I expect there will be even less and less paper. For someone who spent many years slogging through large docket books at the Indiana Supreme Court as the court administrator and going through Decennial Digests doing legal research, the advent of the computer age has been a welcome advancement. E-filing in Indiana has streamlined a lot about my practice. I would expect that disposition times will continue to go down, which is a great benefit to litigants, and society generally. There will likely be more video conferencing as well as hearings to further streamline litigation.
What needs to be done to make the legal profession more diverse, especially in leadership roles?
Mentoring is a key. Programs such as Indiana's CLEO (Conference for Legal Education Opportunity) provide some impetus, but law firms, bar associations and individual lawyers need to invest time with individuals who show interest or aptitude in becoming lawyers. As lawyers, we need to reach back and help others begin their journey. I was certainly the recipient of lawyers and judges being willing to offer encouragement and to take a chance on a young, green kid. I will not list the people who helped me along the way for fear of leaving someone out, but I am forever grateful for their wise counsel and encouragement.
Why is it important to be active within legal and community organizations?
There are many bar associations and community groups that do so much for people. Being part of such groups that are committed to the rule of law or making life better for others, or that help others through tough times, can be a great source of satisfaction.
Why did you become a lawyer?
Up to my last year in college I was energized by the prospect of being a high school history teacher. Through the years, I had admired an uncle who was a very successful assistant district attorney in New York City who later became a criminal defense attorney. My admiration for what he did in public service and then as a defense lawyer was probably the biggest influence.
What are the advantages and drawbacks of always being accessible to clients and working anywhere, thanks to technology?
The good news is that while you are on vacation you may have the ability to prevent an unnecessarily stressful situation that could confront you upon your return. My wife Janet is pretty understanding when I feel I need to spend a few hours here and there while we are on vacation to deal with these situations. Obviously, the drawback is that some situations may be overly demanding of your time while on vacation, but I try hard to get things under control before leaving so that such situations are the exception.
What has been your most memorable case?
There have been many that I will certainly remember. One involved representing two women injured in the rollover of a dangerous small sport utility vehicle and prevailing through the U.S. Supreme Court. Another involved the last three weeks of October 2008 where I appeared in a federal district court, two state trial courts, the Indiana Supreme Court and the Indiana Court of Appeals on an early voting issue. With all the briefing, hearings and oral arguments, sleep was very limited.
What do you learn when mentoring someone?
You learn about the dreams and aspirations of people. It is humbling when others think enough of you to ask for advice.
What do you like the most and the least about being an attorney?
The thing I like most is being able to work with the great lawyers at Bingham Greenebaum Doll in our effort help individuals and organizations through litigation and helping them make decisions on how to proceed. The thing I most dislike is dealing with uncivil lawyers.
What advice would you give your younger self?
I would probably offer the advice of some of my mentors — two former Indiana chief justices — Richard M. Givan and Randall T. Shepard. Don't forget your family. Try to make it home for dinner with your family. Take vacations for a change of scenery and to recharge. A legal career is a marathon — don't run it like a sprint. Be a good listener — you will learn a lot. I would probably also offer what I have told my own children — work hard and good things will happen; maybe not today, maybe not tomorrow, but they will happen. And have a positive attitude in whatever you do. Finally, I would say that professionally you should "get in the game," not just for clients, but for the good of the legal system and your community. Doing pro bono legal work or nonpaying legally related work for bar associations and other groups can be a very satisfying aspect of your career.
Please enable JavaScript to view this content.