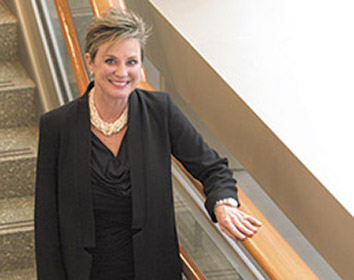 Marti Starkey has practiced in the areas of wills, trusts and estates for more than 35 years, serving clients with dignity, compassion and integrity. She knows her area of the law at the highest level. Marti has served on the state's Uniform Law Commission under every governor since being appointed by Gov. Evan Bayh in 1990. She has been a mentor for many young lawyers, including Lisa Adler, the firm's current managing partner, whom Marti hired directly out of law school. Marti, the daughter of small-business owners, created the Starkey Entrepreneurial Woman Award 15 years ago to recognize female business owners doing great work.
What are the advantages and drawbacks of always being accessible to clients, thanks to technology?
There are very few advantages to being accessible to clients 24/7, and I do not allow this in my life. The need to separate the professional from the personal is very real, and through the years, the attorneys who appreciate this balance are able to work longer and more effectively. Why is it important to you to recognize female business owners?
For too many years, female business owners were not recognized for their sacrifice and courage. They were unable to even get lines of credit or loans from the bank for their good business ideas. In the 1990s, when this realization hit me hard, I decided that I must do something to honor the courage, tenacity and selflessness of women business owners.
What's something about you not many people know?
After one of my huge fiduciary litigation cases in the mid-1990s, I was very "burned out," and I decided that I was going to give up the law and move to Seaside, Florida, with my daughter, to pursue my painting and to sculpt. My dad discouraged me, saying that I needed to "pace myself" and continue to pursue my calling in the law. That was 20 years ago, and I am grateful for his sage advice.
What do you learn when mentoring someone?
I learn about their strengths and weaknesses, and then I try to play to their strengths and encourage them to work hard and treat clients with great respect.
What do you do to unwind?
The best way for me to unwind is to exercise. My favorite is to take a long walk, work out on the elliptical or ride my bicycle. It also relaxes me to play with my grandchildren, and I do that every chance I get.
What needs to be done to make the profession more diverse, especially in leadership roles?
This is happening with the passage of time and with the courage of many diverse people who stepped out of their comfort zone to do what had not been done before. Those of us who pioneered this change need to continue to encourage the younger attorneys and help them believe that they can make a difference.
What has been your most memorable case?
My most memorable case was a fiduciary litigation case with the situs of the Trust in Cleveland, Ohio. My co-counsel were from Rancho Mirage, California; Chicago, Illinois, and Cleveland, Ohio. We traveled all over the country taking depositions. Although it was a fiercely fought litigation battle that spanned a few years, in the end, we were able to accomplish all of our client's goals. It had every trust and estate issue you can imagine. I hired five of the best fiduciary practice experts in the country. Despite the hard work, we had a very fun time litigating the case.
What attracted you to your practice area?
My first law firm, now called Cohen & Malad, required that their beginning lawyers do all areas of the law. I quickly saw that I liked the trust and estate area and that it suited me. It was meaningful to be there for clients who were grieving over the death of a loved one. I felt that I could use my natural gifts most effectively in this area of law.
What was your most memorable job before becoming an attorney?
I loved working as my church's youth leader and as a Young Life leader during college and before starting law school. That has been more than 40 years ago, but I still stay in contact with some of the then-high school students.
What are some tips for achieving a work/life balance?
The best advice I can give is to develop boundaries for your law practice and for your family. Your immediate family should always come first. When I was a single parent of a young daughter and practicing law, I reminded myself every morning to first be the best mother I could be and to be the best lawyer I could be, and then I set about working as hard as I could each day to accomplish those goals.
What advice would you give your younger self?
I would encourage myself to stay true to my faith, to continue to make my quiet times with the Lord each morning in prayer and reading the Bible of utmost importance (no matter how busy the practice of law gets). I would also quote my sweet Grandma Kieser, who always said, "Oh so soon a life will pass, and only what we do for the Lord will last."
Why did you become a lawyer?
I felt that it was one way in which I could uniquely give to other people and help improve their lives.
What will the legal profession look like in 15 years?
The legal profession changes very slowly, which can be a good thing. I believe that the ability to work from anywhere is changing the way that we will work and will give more freedom.
 
Please enable JavaScript to view this content.