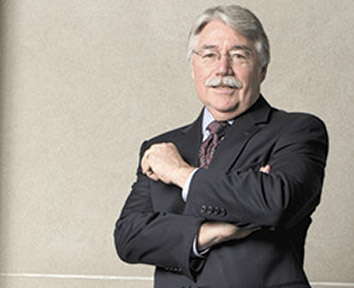 Greg Zoeller spent eight years (2009-2016) as Indiana attorney general, taking on consumer fraud, prescription drug abuse, sexual and domestic abuse, and advocating for states' rights. Prior to Indianapolis hosting the Super Bowl in 2012, Zoeller successfully pushed for legislation to increase the scope of the state's human trafficking laws. He helped establish "March Against Hunger," a competition among law firms and lawyers to collect food and money to fight hunger. He worked in the White House as Vice President Dan Quayle's assistant and spent 10 years in private practice before joining the attorney general's office in 2001. He's currently working to bring a World Trade Centers Association organization and facility to Indianapolis, and as part of his practice, he will focus on governmental mediation.
What stands out from your time as attorney general?
The cases involving constitutional issues of federalism stand out as significant in helping define the limits of federal authority and powers of the state. The SCOTUS decisions on Voter ID, state marriage licenses and the Affordable Care Act stand out. The initiative in creating a prescription drug task force to address the opioid addiction epidemic in 2011 also marks my term in office.
Why did you become a lawyer?
Growing up as a Catholic, I was taught that serving others was what we were called to do with our lives. Representing a client's interests as a lawyer seemed to speak to that calling for me when I thought of what I wanted to do with my life.
What will the profession look like in 15 years?
I've long been an advocate for a greater use of alternative dispute resolution as part of the practice of law, and in the next 15 years, the legal profession will have to incorporate more creative solutions than our default system being litigation focused.
What needs to be done to make the legal profession more diverse?
The greater need for creative solutions to resolving disputes will require a more diverse legal profession. Most companies and other professions are seeking a global workforce which, by definition, is more diverse, and that must be true of our legal profession.
What attracted you to public service?
I was attracted to public service as a direction for my legal career as a means to serve others on a larger, representative scale. Governing is hard work, and I have always had great respect for those who dedicate themselves to this service at some real sacrifice and little thanks.
What do you like the most and the least about being an attorney?
There is some honor in being an attorney, and I enjoy being asked if I can help with some problem or become involved with a worthwhile cause. While I laugh at lawyer jokes, I regret that the profession is not as respected and trusted as it should be.
What advice would you give your younger self?
Keep a personal journal of the significant experiences in your life so you can refresh your memories and share them with your children and grandchildren.
What do you learn when mentoring someone?
Mentoring is truly a learning experience. Working with someone, usually younger, but always with different life experiences, helps me see the perspective of others and provides a source of creativity in seeking agreement to complex matters.
What do you do to unwind?
If I'm in a happy mood, which is often, I like to listen to Chicago-style blues music. When I'm anxious or worried, there is no better way to unwind, for me, than fly-fishing.
What are some tips for achieving a work/life balance?
It's important to understand that the work of an attorney is part of your life; you've been taught to "think like a lawyer," so it can't be kept out of your personal life with family and friends. Sharing the positive parts of work at home, and some negative parts, is healthy, but catch yourself if you start cross-examining one of your children.
What's something about you not many people know?
I studied computer science at Purdue, and while it taught me mental discipline and something about the rapid changes in technology, it is now more a background in the history of computers with punch cards, programming in FORTRAN and less data-storage capacity than my mobile phone.
Please enable JavaScript to view this content.