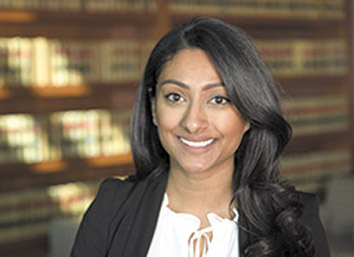 Jenai Brackett recognizes the importance of mentoring diverse law students. Jenai, whose practice focuses on complex business litigation and white-collar crime defense, works with students through the Leadership Council on Legal Diversity program and sits on her firm's Diversity and Inclusion Committee. She is one of a few associates firmwide to be on the committee. A member of the Indianapolis Bar Association's Young Lawyers Division's Executive Board and YLD's Civic Committee, Jenai has planned service events for the group's members, including adopting a family in need and volunteering with Gleaners Food Bank.
What needs to be done to make the legal profession more diverse, especially in leadership roles?
There needs to be a focus on pairing diverse young attorneys with more seasoned attorneys who will not only be their mentor, but be their champion. I have been fortunate to have a number of champions, and they have been invaluable resources and continue to support me as I progress in my career. As more diverse attorneys continue to fill leadership roles, it is vital that we lift and guide the next generation of diverse attorneys through the paths that have been cleared for us and which we continue to widen.
Why did you become a lawyer?
I entered college not knowing exactly what I wanted to do, but knew that I wanted a career that was challenging and rewarding. I did various internships in college to identify my interests, and was fortunate to land an internship in a law school legal clinic. There, I gained valuable insight into the legal profession, and, through meaningful discussions with law students on their plans after graduation, I quickly began to appreciate the versatility of having a legal degree. And, six years after passing the bar, I can say I made the right decision!
What will the legal profession look like in 15 years?
Aside from changes that technology will undoubtedly make, I see a legal profession where our legal community is representative of the melting pot in which we live. I am hopeful that the percentage of diverse attorneys who not only enter the legal profession, but who also succeed to the highest levels, is proportional to the percentage of the population's diversity. Recognizing the challenges, I am still encouraged. I appreciate the commitment and conviction my firm has to create an environment of diversity and inclusion that is a central and permanent part of the culture.
What's the best advice you got from a mentor?
Be fearless. We all face challenges in the practice of law, but my mentor taught me the importance of being confident, continuing to persevere and recognizing that every challenge is an opportunity for growth.
What are the advantages and drawbacks of being accessible to clients and working anywhere, thanks to technology?
I love to travel and enjoy practicing law, and technology has allowed me to provide quality client service regardless of where I am in the world. Of course, that flexibility and accessibility also means that vacations include a fair share of checking and responding to emails. But, my experience is that writing a brief from the beach almost always beats writing it at a desk!
What attracted you to your practice area?
Early in law school, I discovered I wanted to be a litigator. In my first few years of practice, I sought after and worked on a variety of matters throughout multiple practice areas, and commercial litigation soon became my preferred area in which to work. As a business litigator, I enjoy the fast-paced nature of my practice and the complexity of my cases. Above all, I enjoy getting to learn about our clients' businesses, how they operate and how we can serve as a resource for them going forward.
What was your most memorable job before becoming an attorney?
For a time, I worked as a server at a BBQ restaurant in Texas. I seriously miss saying "y'all" and the daily doses of sweet tea, brisket and cream corn!
Where do you see yourself in 20 years?
I love living in the moment, so it is hard to say. But I definitely see myself continuing to practice law, and continuing to be fulfilled and happy in all aspects of my personal and professional life. Hopefully in 20 years, I will have traveled the world extensively and checked off items on my bucket list like cage diving in Cape Town, hiking Mount Kilimanjaro, seeing the Northern Lights, and convincing my husband to take an Alaskan cruise.
Please enable JavaScript to view this content.