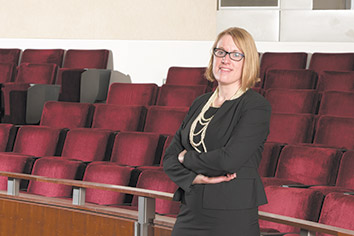 Kayla Britton has the skills and expertise typically seen in someone practicing longer than her nearly seven years. Her talents have been recognized by the firm and appreciated by her clients, who often seek her out as the contact person on a project or task. The restructuring lawyer has been named to FBD's pro bono honor roll each of the past four years, working on guardianship projects or preparing end-of-life documents for local first responders. Britton is an avid supporter of the firm's Women's Forum for Achievement and has served as a mentor for junior associates. She's currently the president of The Arc of Greater Boone County, which provides training and support for individuals with intellectual disabilities.
Why did you become a lawyer?
Growing up, I frequently found myself advocating for others and standing up for those who needed help. Being a lawyer was a natural extension of the desire to help others. I also wanted an intellectually challenging profession, and I wanted to write as much as possible.
What will the profession look like in 15 years?
My hope is that the legal profession will continue to become more diverse and will ultimately look like the rest of society. Working remotely will continue to increase, particularly as millennials begin to grow into leadership roles and flexible work schedules become more of a professional norm.
What are the advantages and drawbacks of being accessible to clients and working anywhere, thanks to technology?
Technology has provided more flexibility to the practice of law. As a result, I am able to attend my children's after-school activities and doctor's appointments, and I am home for dinner and bedtime. Conversely, constant availability means that you never mentally leave the office. As many have observed before, technology has both promoted and defeated so-called work-life balance.
What's the best advice you got from a mentor?
Zealous advocacy does not mean objecting to everything the opposing side does. Being a good lawyer does not mean being needlessly obstructionist. The best lawyers know when it is time to fight and when it is time to build consensus.
What attracted you to your practice area?
My practice is intellectually challenging, as we must be able to understand any industry and any type of business. We must be able to anticipate and respond to the wide-ranging needs and goals of numerous stakeholders in the cases we handle. The best restructuring lawyers advocate for their clients while working to build consensus to achieve an equitable resolution. I love that my practice affords me the ability to develop these skills.
What can be done to encourage lawyers to take more pro bono cases?
Service to the community must become the culture of the profession. As each firm teaches its young lawyers that pro bono service is encouraged (and even expected), the culture will slowly shift. Providing ample resources to assist lawyers in the discharge of their pro bono cases will help alleviate some fear in taking cases outside a lawyer's normal practice area.
What do you do to unwind?
As cliché as it may be, I spend time with my family. Nothing reduces stress like reading to my toddler.
What do you learn when mentoring someone?
I first learned that mentoring is harder than it seems, making me appreciate my mentors even more. Mentoring also helps me develop leadership and teaching skills. Working with and coaching a younger professional promotes humility, as I am reminded that my way of doing something is not the only way.
Please enable JavaScript to view this content.