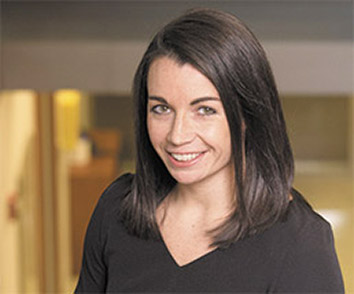 Those who work with Caitlin Byczko say the intellectual property attorney produces work that is well beyond her level of experience. A majority of Caitlin's work is before the Trademark Trial and Appeal Board, and she has become the "go-to" person among the firm's offices with questions about the ins and outs of practicing before the board. She and two partners defended one proceeding through to a final decision, which is rare in the TTAB world. Caitlin is active in the firm's recruiting process and women's initiatives, and takes pride in mentoring other attorneys.
What will the legal profession look like in 15 years?
I think it will look pretty different. In my practice area in particular, we are trending away from the hyper-formal lawyering of the past and moving more toward being an extension of the client's business itself. Our clients are looking for recommendations in plain English that are provided with an understanding of their businesses and objectives. I do not think the legal profession will necessarily be informal, but I imagine that I will see a lot less uses of "herewith."
What's been your most memorable case?
That's a tough one. I think it would be defending a trademark infringement litigation in the Central District of California that was focused around mobile dog walking services. It was the first time that I had ever led a mediation in federal court, so I remember it very vividly.
What's the best advice you got from a mentor?
Take accountability for your mistakes, but don't always assume that you did something wrong. It basically means that when a problem arises, one should assess the situation in its entirety before assuming blame. A lot of young attorneys, I think women in particular, have a tendency to unnecessarily self-blame. This advice has helped me to remember that everyone messes up sometimes and some situations are entirely out of my control.
What needs to be done to make the profession more diverse, especially in leadership roles?
The first step is admitting that we need more diversity in the legal profession, particularly in leadership roles. If all of the important decisions are consistently being made by a group of people from the same place, with the same life experiences, and same income, we are doing ourselves and our profession a disservice. I believe that the legal profession is naturally becoming more diverse as younger generations enter the profession, but there are certainly ways to further efforts toward diversity. We need to focus on making sure that the people in the room are an accurate reflection of the diverse community around us.
What attracted you to your practice area?
I was primarily attracted to IP because it was constantly changing and I knew that there would be a lot of chances to have a lasting impact on the way the law was shaped. I also really enjoy the subjective nature of trademarks, copyright and domain name disputes. There are a lot of unknowns in these types of disputes. While that can make the practice all the more frustrating, it also makes it very exciting. As an IP attorney, I get to work with clients from all over the country and world on new and exciting projects. A lot of my draw to trademarks and copyrights was also a product of my environment. When I started at the trademark group at B&T, I knew that I had found my place — everyone was incredibly passionate about their work.
What was your most memorable job before becoming an attorney?
During the summer in college, I used to waitress and bartend at my great uncle's hotel in rural Ireland. It was very long hours, but the experience was amazing. I interacted with people from all over the world and learned a lot along the way. Plus, I can make a mean Irish coffee.
What can be done to encourage lawyers to take more pro bono cases?
Most lawyers I know (myself included) fall into the "I'm way too busy for …" trap. Unfortunately, I think many times pro bono efforts can get included in that trap. But pro bono cases can be great experience for young attorneys. I learned a lot by assisting with pro bono cases as a law clerk and young attorney. I think it is important to try to match attorneys with pro bono cases and clients that they are passionate about. As attorneys, we also need to remember that our profession is one that bestows a lot of privilege, and we should focus on assisting our community as part of our everyday lives.
What do you do to unwind?
I love to work out, so I unwind by doing CrossFit. A lot of people don't understand how intensely working out can be relaxing, but it works for me. It helps to keep my mind clear. My husband and I also enjoy taking our dog on "family" walks around downtown.
Where do you see yourself in 20 years?
Hopefully in 20 years I am a successful partner at Barnes & Thornburg, helping clients that I respect and enjoy. I have many goals for the next 20 years and I hope that I can complete them all while still traveling the world with my husband and raising a family.
Why did you become a lawyer?
I knew from a pretty young age that being a lawyer was the best fit for my personality and skill set; but I wasn't always convinced that I would enjoy being a lawyer. Thankfully, I do. It sounds corny to say that I became a lawyer to help people, but it is true. I became a lawyer to counsel people and advocate for people in an area of law that I am extremely passionate about.
 
Please enable JavaScript to view this content.