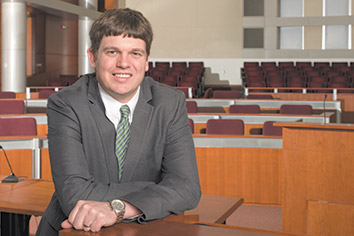 Since joining the firm, Colin Connor has made a direct impact on the firm, for his clients and on Indiana case law in the areas of workers' compensation and insurance issues in environmental remediation. His colleagues describe him as responsive, diligent and operating with the highest ethical standards. Colin has impressed clients with his fortitude, talent, kindness and professionalism. He's currently the secretary of the Indianapolis Bar Association's Environmental Law Section and president of the board of directors of the Mapleton-Fall Creek Development Corp.
What's one key thing you've learned from your involvement in leadership development programs?
The most important thing I have learned is how important it is to stay involved in your community no matter how busy your professional life may be. In addition, you never know what kind of connections you will make that could change your professional life. The largest client I have brought to the firm first contacted me because a Google search showed that I held a leadership position in the Indianapolis Bar Association's Environmental Law Section.
What's the best advice you got from a mentor?
Although I do not know him personally, a phrase Justice Robert Rucker used in a speech to my Leadership Development Class has always stuck with me. He said the key to leadership can be summed up as "Show up. Shake up. Speak up." You cannot expect people to select you as a leader solely because of who you are, but if you make your presence known and volunteer when tasks are given, you will quickly demonstrate to those in positions of power that you are ready, willing and able to lead.
What's been your most memorable case?
My most memorable case involved my first Indiana Court of Appeals and Supreme Court of Indiana decisions. We represented a medical provider who had constantly been underpaid by insurers for its treatment of workers' compensation patients. The Worker's Compensation Board of Indiana had ruled in favor of the insurers. While other medical providers just accepted the Worker's Compensation Board's decisions that were not supported by law, we successfully appealed to the Indiana Court of Appeals. The Court of Appeals' published decision was affirmed by the Indiana Supreme Court in Ind. Spine Group, P.C. v. Pilot Travel Ctrs., LLC, 959 N.E.2d 789 (Ind. 2011).
What needs to be done to make the profession more diverse, especially in leadership roles?
More programming needs to be targeted toward college and pre-college students from groups that are underrepresented in the legal profession. I have friends who participated in the Law School Admission Council's Prelaw Undergraduate Scholars Program, which is a four-week summer program that is targeted to minority college students. The program teaches the skills needed to succeed in law school and in a legal career. These sorts of programs should be much more prevalent.
What attracted you to your practice area?
I practice in three main areas: environmental, insurance coverage and health care. Environmental law interests me because it is constantly evolving and impacts how we and future generations will live. Insurance coverage interests me because as insurance touches so many aspects of life, no two insurance cases are the same. I was attracted to health care law because my wife is a nurse and my father-in-law is a physician.
Why is it important to be active within legal and community organizations?
I would not be where I am today without the help and advice I have received from others throughout my life, so I believe that it is important to pay it forward. Also, lawyers are trained problem-solvers, so we offer valuable insights to the organizations with which we volunteer.
Where do you see yourself in 20 years?
In 20 years, our two young daughters will most likely be out on their own, so I can see me and my wife going through empty nest syndrome. We love to travel, so I could see us taking a long trip to Eastern Europe or Sub-Saharan Africa. Professionally, I see myself as a partner at Plews Shadley Racher & Braun. I love the connections I have made with my colleagues and the firm's clients, and love the idea of practicing at one firm for my entire career.
What are the advantages and drawbacks of being accessible to clients and working anywhere, thanks to technology?
A major advantage is flexibility. My wife and I both work full time, so technology has provided me with the opportunity to balance work and home life better as I am able to work late at night or on weekends to make up for any "normal" work time I may miss during the day due to family obligations. A drawback, however, is that people assume you are always accessible. You have to strike a balance between being responsive and setting boundaries.
What was your most memorable job before becoming an attorney?
In high school, I worked at Paco's Cantina in Broad Ripple. Paco's was a Mexican restaurant with a full bar that was open 24 hours when I worked there. I worked the 6 a.m. to noon shift on the weekends, so needless to say there were quite a few characters who would stumble in after being out all night. I learned how to effectively interact with a wide array of people and how to act quickly on my feet.
What do you do to unwind?
I may be just a tad obsessed with sports: both playing and following. As a life-long Cubs fan, it was a dream come true to attend a Cubs World Series game at Wrigley Field last year and then to ultimately see them win their first World Series in 108 years! Having been born and raised in Indianapolis, I am a huge Pacers and Colts fan. Also, as a double IU-Bloomington graduate, I am a big fan of all Indiana University sports.
Please enable JavaScript to view this content.