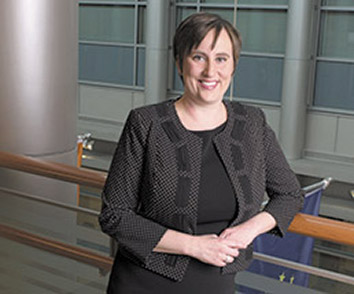 While childhood allergies kept Amy Cornell from traditional work on her family's farm, she's found a way to make an impact on the agricultural industry. The agribusiness and real estate attorney has spent her career advocating for Hoosier farmers, working at the Indiana State Department of Agriculture, Indiana Farm Bureau and on former Gov. Mike Pence's agricultural transition and policy team. She's described as the "complete package," and one who gives as much consideration to the human element of an issue as she does the factual side. She currently is president of the Agribusiness Council of Indiana.
Why did you become a lawyer?
I grew up on a sixth-generation, 2,700-acre row crop farm in Illinois. However, I was highly allergic to everything on the farm. So much so that during harvest my dad and I could not be in the same room until he showered and changed clothes. It wasn't until my senior year at Purdue University that I started getting interested in agriculture. I had an interviewing class where the instructor encouraged us to interview our family members about things we didn't know much about. I interviewed my dad about our farm. That simple assignment changed my entire career path. I realized my childhood was blessed. My dad's job was cool. And somehow, someway, I had to get into agriculture. I went to law school with the dream of helping farmers and agribusiness.
What do you do to unwind?
It usually takes me a couple of days to truly gear down and unwind. I like to spend that time with my husband, Matt, and our daughter, Savannah. Our favorite place to vacation is northwest Arkansas. Woooo, Pig Sooie!
What will the profession look like in 15 years?
That's hard to say. But I hope anyone considering the profession understands the true impact one can have. For so many of us in this field, the most rewarding work happens outside of a courtroom.
What was your most memorable job before becoming an attorney?
My first job ever was walking beans on our farm. I was terrible at it. I would leave some weeds in the rows so I would have something to do on the walk back. Since you walk different rows on the way back through the field, it completely defeated the purpose of being out there. My parents re-assigned me after a few summers.
Why is it important to be active within legal and community organizations?
I use those connections as learning tools; a way for me to learn and a way for me to educate others. Less than 2 percent of the population is engaged in the direct production of agriculture. But we all benefit from it.
Where do you see yourself in 20 years?
I love the diversity and complexity of agriculture law and policy and hope to continue to grow as a leader in those fields. I am passionate about Hoosier farmers and agribusiness and like to think my work will be part of what helps those farmers and businesses thrive.
What are the advantages and drawbacks of being accessible to clients and working anywhere, thanks to technology?
My firm provides a lot of flexibility because they know that technology allows me to get my job done anywhere I have cell service. The downside is that it can be hard to unwind even on planned vacations. It is a conscious effort not to check my email while sitting at the beach with my family.
What's been your most memorable case?
I successfully lobbied for increased property protections of agricultural land in 2014. The legislation essentially afforded farms the same protection under the trespass law as dwellings. Farmers no longer need to post "no trespassing" signs to protect working agricultural lands. Additionally, if a trespasser causes property damage there is potential for increased penalties depending on the amount of property damage caused.
What needs to be done to make the legal profession more diverse, especially in leadership roles?
Diversity is a complex and emotional issue, but one that is so important. Becoming a transracial adoptive mom has taught me sometimes the most important things we can do are to listen and encourage. 
What's the best advice you got from a mentor?
"Don't get too comfortable." One of my closest mentors and friends, Tony Hahn, always had a way of helping me see I was right where I needed to be, but didn't hesitate to encourage me to continue to stretch and grow. Research has shown that women tend not to apply for jobs unless they are 100 percent qualified while men apply when they meet only 60 percent of the qualifications. It took me awhile to hit my stride and realize that policy and lobbying were a better fit than a full-time traditional law practice. Tony helped convince me to take that leap.
Please enable JavaScript to view this content.