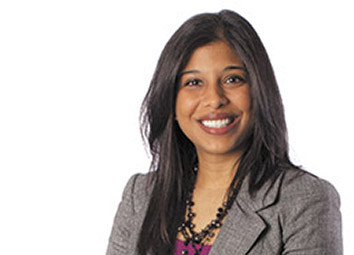 Trisha Dudlo has made mentoring — both the youth in her community and new lawyers – a top priority. Her door is always open, and she makes time to listen, advise and lead by example. The family law attorney is a passionate advocate for young people and volunteers with Teen Court in Vanderburgh County. Trisha co-chaired the 2016 Law Day Celebration and has been active in the Evansville Bar Association since she moved to the area six years ago. She's helped launch new initiatives for the EBA's Diversity Committee and is currently vice-chair of the bar association's Women Attorneys Section.
What attracted you to your practice area?
I currently practice in family law and litigation. In law school, everyone always tells you that things will just click for you one day and it will all start to make sense. My moment came in my second year when I took family law, and then juvenile law, with Professor (Jennifer) Drobac. I have been hooked ever since.
What's the best advice you got from a mentor?
The best advice that I received from a mentor (a professor in law school) was that the issues are never just as basic as right and wrong and that cases can be built or broken in how well you listen. The same mentor also advised me on the importance of taking regular vacations and maintaining a work-life balance.
What will the profession look like in 15 years?
In 15 years, I am hopeful that the legal profession will include more diversity and mirror our diverse population in the United States. I am hopeful that everyone is able to find legal representation that best understands and serves their community.
What's been your most memorable case?
So far, my most memorable cases have been about third-party custody and the rights of nonparents after the dissolution of long-term relationships. The area of family law is undergoing so many changes because the dynamics of families are changing. It is a really exciting time to be practicing family law.
What do you do to unwind?
I have a 2-year-old daughter, so I don't ever really get to relax. However, spending time with her and sharing her interests is really fun and exciting.
What was your most memorable job before becoming an attorney?
I was a summer lab assistant to my chemistry professor in college. The job taught me to think analytically and problem-solve issues on a bigger scale. It was my first opportunity to really practice thinking on my feet.
What needs to be done to make the profession more diverse, especially in leadership roles?
There is a lot of work to be done in the legal profession to increase diversity and inclusion. There are so many diverse individuals that can make such significant contributions to the practice of law. Important steps that firms and businesses can take to enhance diversity and inclusion include participating in on-campus interviews at law schools, setting up mentorship programs to support lawyers, and providing in-house seminars to educate staff and lawyers to make the environments more inclusive.
Why is it important to be active within legal and community organizations?
Historically, lawyers have been the ones to effectuate change and provide leadership in their communities. It is important for lawyers to continue serving in those roles, both to promote change and lead their communities, but also to serve as an example to others on how to advocate for issues in a diplomatic and respectful way.
Where do you see yourself in 20 years?
Hopefully with a successful law practice where I continue to help people. I hope to be traveling and spending time with my family and continuing my involvement with the community.
Why did you become a lawyer?
There was never really a moment where I decided to be a lawyer. I always wanted to help people and in college, I eventually realized that a law degree provides a lot of different opportunities to accomplish that goal.
What are the advantages and drawbacks of being accessible to clients and working anywhere, thanks to technology?
The advantage of being accessible to clients from anywhere is that I can be flexible and more available to my daughter. It certainly helps to promote a greater work-life balance for me. The drawback, however, is that it is harder to set boundaries for clients and harder to separate work from personal time.
What can be done to encourage lawyers to take more pro bono cases?
As attorneys, we have a responsibility to provide a voice to people who otherwise would not have a voice. The pro bono work that I have done has been some of the most fulfilling work of my career. The best thing we can do is make sure that lawyers are in environments that are supportive of them taking more cases.
Please enable JavaScript to view this content.