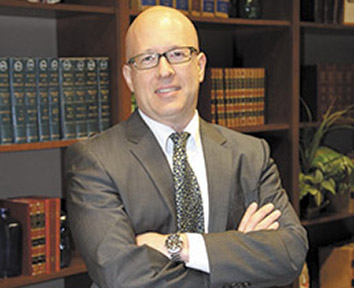 Jared Haller has spent his legal career helping clients who face injustice or are considered the underdog. After working in the Marion County Public Defender Agency for several years, where he provided "the best representation money can't buy," as one colleague explained, he joined Indiana Legal Services in Fort Wayne. There, he began representing clients needing expungements, an area in which ILS had not yet practiced. Jared also helped to create the Second Chances Expungement Initiative two years ago with several legal aid programs in northeast Indiana. The program, now called the Second Chance Project since it expanded to include a specialized driving privileges clinic, is being viewed as a model for potentially creating similar programs around the state.
What's been your most memorable case?
My most memorable case was a jury trial with a particularly gifted colleague at the Marion County Public Defender Agency. Our client was tried in absentia; but in spite of this (and some bad facts), the verdict was not guilty.
What's the best advice you got from a mentor?
When I was a law student working at the Marion County Public Defender Agency, a judge I particularly admire told me that nothing is more important than a lawyer's reputation for integrity. She was right.
Where do you see yourself in 20 years?
Twenty years ago, I was a doctoral candidate at the University of Colorado-Boulder. I was single; I was childless; and I had never stepped foot in Indiana. It seems foolish to predict where I might be 20 years from now.
Why is it important to be active within legal and community organizations?
I value organizations like the Allen County Bar Association and the American Inns of Court because they offer opportunities to learn from judges and lawyers who possess far greater wisdom and experience than me.
What will the profession look like in 15 years?
In 15 years, technology will have changed the practice of law. Change is inevitable; because today, legal representation is too expensive (and pro se litigants are unrepresented, not self-represented).
What attracted you to working in legal aid?
Because my family enjoys great material and emotional comfort, I feel I have a special duty to assist others who are less fortunate.
What was your most memorable job before becoming an attorney?
After graduate school, I was a staff writer at a subsidiary of UnitedHealth Group in San Francisco. Writing for a living was a wonderful experience.
What can be done to encourage lawyers to take more pro bono cases?
I am a member of a task force that is recruiting volunteer attorneys to staff a specialized driving privileges clinic. We are splitting representation into two segments so that one group of lawyers can make a finite commitment of time instead of an open-ended obligation.
What do you do to unwind?
I enjoy fishing with my 14-year-old son, regular date nights with my wife of 18 years, and visits to the gun range with friends.
Why did you become a lawyer?
I went to law school because I missed higher education. My wife says it was a midlife crisis (because I was 45 when I graduated). My wife also jokingly says that a red Ferrari would have been less expensive.
Please enable JavaScript to view this content.