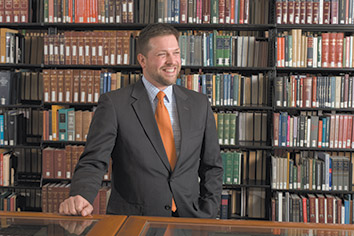 James Hamstra has the distinction of being the Indiana State Fair Commission's first general counsel and chief information officer. There, he negotiated many deals, including bringing IUPUI basketball to the Coliseum and overseeing more than 1,000 contracts. Now with tech company MOBI Wireless Management, he advises the company on all legal and compliance matters, strategic partnerships and global operations. His MBA comes in handy in his work, allowing him to go beyond his role as legal counsel and make recommendations on business processes. James regularly provides pro bono representation. Once, he and his wife bought a client a car after winning a motion to unfreeze the woman's bank account.
What's the best advice you got from a mentor?
When I was considering applying for law school, Jim Strain (2014 Distinguished Barrister) taught me a great lesson about attorney-client privilege and never putting a person you care about in a position to reveal information they should not know. It's vital to be able to share lessons and frustrations from work with my wife, sons and friends without violating confidentiality. Another mentor, Sam Hodson, taught me to shut up when things are going your way by kicking my shin under a table during a meeting with the IRS.
What will the profession look like in 15 years?
The increasing availability of information (e.g., Apple's Siri and Google mobile apps) and the rise of machine learning (e.g., IBM's Watson) will continue to reduce the barriers to legal knowledge and transform the public's knowledge of the law. The legal profession will have to adapt to a different set of expectations and likely an increase in erroneous self-diagnoses and extrications from deeper rabbit holes. As a result, counseling and an understanding of the root causes of issues are becoming critically needed.
Why is it important to be active within legal and community organizations?
It's gratifying to see the impact your efforts can make on improving the lives of people you have never met — and how that impact creates even further positive ripples. Many times, I have been better prepared to offer counsel at my day job because of the challenging situations I have worked through while serving on these boards.
What needs to be done to make the legal profession more diverse, especially in leadership roles?
Actively recruit younger attorneys and law students to serve in meaningful leadership roles. I have been the youngest member of nonprofit boards and executive management teams many times, and it was always a fantastic growth opportunity. As I've gotten older, I try to pay that forward in my own recruiting. If nurtured, younger generations bring fresh perspectives and insightful questions that are essential for astute analysis and sound decision making. Albert Einstein observed, "We cannot solve our problems with the same thinking we used when we created them." Engaged early exposure will change the leadership diversity trajectory. When I'm in a room where everyone looks like me, I'm probably in the wrong room.
What was your most memorable job before becoming an attorney?
I framed houses as a carpenter the summer before I went to Wabash College. Hauling sheets of plywood until I could barely stand and trying not to fall off the tops of walls I was walking on as I nailed them together made me take my studies seriously. Plus, my future wife drove me to the emergency room after a nail split my forehead open. That was a rather memorable date night.
What's been your most memorable pro bono case?
I rarely appear in court and one time coincided with child care plans (and back-up plans) falling through. So, I had to argue to overturn a default judgment and unfreeze a caregiver's bank account with my then-2-year-old son on my lap and his 4-year-old brother sitting next to me with his head between his knees and his posterior pointed directly at the judge. Thankfully, it worked.
What do you do to unwind?
I love swimming laps. It's a meditative space where I have to detach from computer screens and can let my mind wander. Many of my most creative and compassionate thoughts begin while in the pool. Some of those end up in drafts of the screenplays I write.
What can be done to encourage lawyers to take more pro bono cases?
Set expectations and tell stories. If the practice of law is to remain a profession and the public opinion of lawyers is to be improved, it will be from attorneys serving others in times of need. When that happens, justice must be truly celebrated, with very little emphasis on the lawyer. People are drawn to be a part of a positive force that is greater than themselves, and we don't all look good in capes and spandex.
Why did you become a lawyer?
I came to love smaller, technology-oriented firms early in my career when I worked for Walker Information and Hurco because of the pace of change and speed of decision-making. Many corporate legal issues are actually business issues, and my limited ability to contribute pushed me to earn a JD/MBA so that I could more fully analyze obstacles and opportunities to help ventures succeed. Being at the intersection of law and business has positioned me to take on business-critical problems, negotiate crucial transactions and lead key transformational initiatives. I have deeply enjoyed wearing multiple hats and being able to work on operations, technology and business development assignments, which has helped me grow as a lawyer and business leader by forcing me to challenge assumptions and learn new skills.
What attracted you to working in-house?
When I served as outside counsel, it seemed like I only saw matters that were so toxic or technical that people would pay substantial sums for someone else to make them go away. I found myself wishing I could have been involved earlier to prevent things from getting to that point. Being in-house has allowed me to be more proactive and leverage my MBA. I like putting things together far more than pulling them apart.
Please enable JavaScript to view this content.