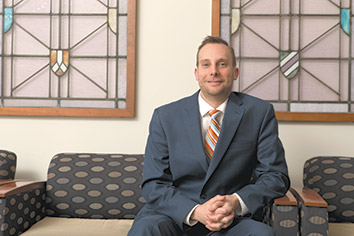 Erik Long is one of the "go-to" people in Indiana in the area of school finance, where he's been involved in financings for capital projects and refunding transactions, as well as traditional tax-exempt financings. He's a member of the National Association of Bond Lawyers, where he sits on a subcommittee that looked at the legal guidance available regarding electronic media and disclosure related to the municipal bond industry. His clients appreciate that he knows the law and can communicate it in plain English. Erik has been a longtime volunteer with School on Wheels, providing one-on-one tutoring for homeless children, and has led successful drives to collect supplies for the students.
What's the best advice you got from a mentor?
First, manage your practice; otherwise, your practice will manage you. Second, be a better lawyer today than you were yesterday.
What needs to be done to make the profession more diverse, especially in leadership roles?
I think it takes a conscious effort on the part of our managers, decision-makers and policy leaders to take a more holistic view of the value of a variety of life experiences and viewpoints. By its very nature, diversity in thought almost requires diversity in gender, race, ethnicity and orientation. Just in the last five years, I already see this kind of a shift in private practice. I notice less attention to the "on-paper" success of current and prospective lawyers, and more of a focus on taking a deep dive into one's experiences and circumstances and how those inform one's abilities as lawyers and as leaders.
Where do you see yourself in 20 years?
I have a pretty simple vision: First, to counsel school corporations and other political subdivisions on their capital and operating needs. Second, to continue dedicating my time and effort to my local community. Finally, to continue enjoying all that the Hoosier state has to offer, from Steuben County to Posey County.
What attracted you to your practice area?
Ever since law school, I was drawn to the transactional side of the legal profession. With public finance, I was drawn to the fact that my work would produce tangible results – the construction of bond-financed facilities – which helps build communities. I also had a great experience interning at the Statehouse while in law school; I continue to find value in staying informed of governmental actions and guiding clients through both legal and political processes.
Why did you become a lawyer?
Honestly, the legal profession was not even on my radar when I received a bachelor's degree (in marketing). I reached a juncture in my life where I wanted to find a more personally fulfilling career path that would build upon my existing abilities. Additionally, I knew that I had passion and talent in skills such as reading and writing, analysis of issues, and the governmental process. True story: I made the decision to enroll in law school with my wife while on a picnic dinner overlooking a lake.
What will the legal profession look like in 15 years?
I think we will continue to be amazed at how much technology will simplify the everyday logistics of attorneys, which will be helpful since attorneys will continue to face pressures of lower fees and higher efficiency. We will probably be dictating full pleadings into our phones, which will be automatically spell-checked, cited, formatted and ready for submission.
I actually also predict somewhat of a shift back toward the "old fashioned" way of practicing law — more in-person touchpoints — as technology leaves clients yearning for more authentic and meaningful attorney/client relationships.
What was your most memorable job before becoming an attorney?
Directly out of college, I entered a management program for a major car rental company. By the time I left for law school, I had managed a handful of branches around central Indiana and gained a great deal of experience feeling like a small business owner, as I was truly responsible for the operations, finances and marketing of each branch. And I met some great friends along the way.
What are the advantages and drawbacks of being always accessible to clients and working anywhere, thanks to technology?
The blessing of technology is the ability to practice and to be responsive to clients 24/7, which makes it possible to have the flexibility to operate from home late at night, or to see a client's emergency email and be able to provide relief no matter where you are. The curse is the constant draw to check that ding on your phone when you're focusing on the other important aspects of your life.
What's been your most memorable case?
I worked with a single school client over the course of a couple of years on a number of transactions totaling nearly $100 million, all geared toward the same end result: the construction of significant high school additions aimed at 21st century learning and college/career readiness. I'm actually sort of jealous of the open, flexible, collaborative and visionary working spaces I helped finance.
What do you learn when mentoring someone?
You can learn a great deal about stepping into the shoes of other people, finding out what makes them tick and how it's different from your own perspectives. This is especially true when looking at generational differences, but it's also truer than many believe among our own peer groups. I think in order to get the best out of people, they need to know that they are safe and secure with you. Mentoring is one of the best ways to cultivate that type of relationship.
Please enable JavaScript to view this content.