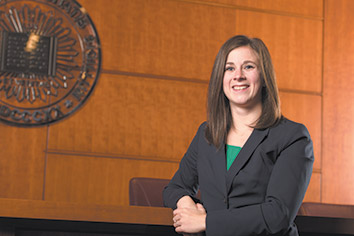 Mallory Long impresses those around her with her intelligence, hard work and initiative. She's been working with the Indiana Business Law Survey Commission on a massive project that brings together various provisions of Indiana's five principal business entity statutes, which led to a 150-page bill in the Legislature this session. She also worked on a rewrite of the state's notary laws. Both bills were signed into law by the governor. Those on the commission praise her research and interpersonal skills, and Secretary of State Connie Lawson calls her a "valuable asset to the state of Indiana."
What attracted you to working for the government?
I was initially drawn to working for the government because of the great work-life balance. However, I have remained in state employment because working for the government offers the unique chance to work on meaningful projects that can, and oftentimes do, impact the lives of the residents of Indiana and anyone who interacts with the state. Legal jobs within the government provide the ability to have a hand in shaping the laws that directly affect me and the people around me.
Why did you become a lawyer?
For a long time, I wanted to be a biologist. I always loved science class and found the life sciences to be especially interesting. However, after graduating with a degree in biology, I was unsure of what career path I wanted to take. After evaluating my career options with a biology degree, I couldn't find anything that truly excited me and was uncertain of what I wanted to do. I decided to attend law school because I knew that a law degree would be helpful regardless of the direction I decided to take and would open up many opportunities.
What's the best advice you got from a mentor?
There are two pieces of advice that stand out. The first is to always do what makes me happy — to take jobs that I would enjoy and to not focus on what I think other people might want me to do. The second piece of advice is to remember to give back to the community.
What needs to be done to make the profession more diverse, especially in leadership roles?
Employers should develop a hiring strategy that allows the workplace to resemble the community in which it exists. One way to do this is to ask existing employees for referrals or to create relationships with local organizations like churches or other nonprofits that help connect candidates with employment opportunities. Another way to increase diversity is to recruit over a broader geographic area to attract a greater number of talented individuals from a wider variety of backgrounds.
What will the profession look like in 15 years?
I honestly don't know what the legal profession will look like in the future. However, I think the law itself will evolve. Recently, there have been some pieces of legislation making their way through the Indiana General Assembly that would clarify and simplify the laws. One example of this is a bill which would reorganize and make consistent certain provisions of the five main business statutes. The bill would also have the effect of repealing more of the Indiana code than it will create. I would like to see this simplification of laws become a trend.
What was your most memorable job before becoming an attorney?
For several summers, I worked at the Indiana University Science Olympiad Summer Fun Camp. This was a weeklong camp for middle school and high school students held on the campus of Indiana University that included instruction in a broad range of science topics to prepare students to compete in the National Science Olympiad contest. There is nothing quite like seeing a group of young students work together to build a solar-powered hot tub!
What do you like the most and the least about being an attorney?
As a government attorney, I enjoy being able to be involved with the process that makes and changes the laws in Indiana. I am proud that when we become aware of a problem or vagueness in the law, I can play a part in solving the problem or clarifying the meaning. One of the aspects I like least about being an attorney is the stigma that surrounds the profession.
What do you do to unwind?
In my free time, I enjoy participating in triathlons. The exercise is a great way to decompress after a stressful day. I also volunteer at a local stable that allows individuals with physical, cognitive and/or behavioral challenges to interact with horses and to help improve their lives through equine-assisted therapies and activities.
Where do you see yourself in 20 years?
Life can be full of surprises, so it's hard to predict where I'll be in 20 years. In an ideal world, I'd like to have a leadership role in state government, potentially as an elected official, where I can work to make life better for all Hoosiers. But wherever I am in 20 years, I hope to be able to say that I've enjoyed my job and that I've taken the time to enjoy my family and travel the world.
Why is it important to be active within legal and community organizations?
Big changes start small. Being active in legal and community organizations allows for an exchange of perspectives and ideas. You never know where the next great idea will come from.
Please enable JavaScript to view this content.