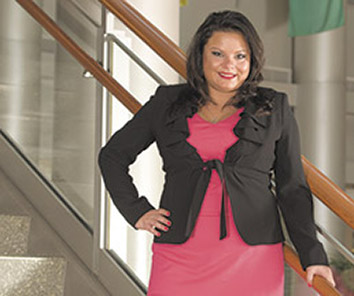 Shelbie Byers Luna started her legal career in Chicago, but knew she wanted to practice in Northwest Indiana, where she grew up. She's active in several bar associations, including the Women Lawyers Association, where she serves as president. The labor and employment attorney is passionate about the law, her clients and serving in the community, where she sits on the board of the Legacy Foundation and charter school Steel City Academy. Byers often serves as a judge pro tempore in Lake County and helped to bring the Indiana appellate courts to the region for oral arguments.
What's the best advice you got from a mentor?
A mentor told me early on in my legal career to take responsibility for my own success. What she meant by this was that no one would make sure I am getting the experiences I deserved, getting the feedback I needed and the tools necessary to advance my career, except me. I have to have a vested interest in seeking out learning experiences and seeking out feedback. I continually use both to propel my career and success.
What attracted you to your practice area?
I practice management-side labor and employment law. I think what originally attracted me to the subject matter was the subject matter. I truly enjoy learning and studying Title VII, FLSA, FMLA and other employment laws. Labor and employment law allows me to assist my clients in all aspects of their business, from counseling and advising to litigation and defense. There is never a dull moment, and I learn something new every week.
Why did you become a lawyer?
It is hard to identify a moment in time where I specifically decided that I wanted to be a lawyer, but from a very young age, I have been interested in the legal system and felt a calling to pursue this passion. My parents, Federico and Shirley Luna, encouraged me throughout my life to pursue all of my dreams. When I applied to law school, their support was unwavering. I would not be where I am today without their support, unconditional love and guidance.
What will the profession look like in 15 years?
I hope the legal profession continues to build on its foundation of civility. I am proud that I can zealously represent my clients and advocate on their behalf against my opposing counsels, but then also sit down with my professional colleagues collegially and civilly without any personal affront on a stance either of us made in a case.
Why is it important to be active within legal and community organizations?
Because I live and work in Lake County, it is important for me to give back to my community. I give back by taking active roles and leadership positions in organizations, such as the Legacy Foundation and the Women Lawyers Association, to name just two organizations I am passionate about making a difference — big or small — in the lives of others.
What are the advantages and drawbacks of being accessible to clients and working anywhere?I am literally connected 24/7. I regularly answer emails at all times of the day and night. It is hard to disconnect because I can literally practice law anywhere in the world so long as I have my iPhone and WiFi – that alone is an advantage and a disadvantage.
What was your most memorable job before becoming an attorney?
I worked as a legal secretary during college. Having the experience of witnessing a sole practitioner with a general practice afforded me many opportunities to at least narrow down areas of law that I was not interested in practicing after law school, namely bankruptcy, criminal and family law. After my 1L year, I was confident that labor and employment law was my calling. I just happened to have been blessed to land in positions that allowed me to pursue my passion and build my labor and employment practice.
What do you do to unwind?
I enjoy spending time with my friends and family, usually making them laugh or making for a really good story that we'd all laugh about later!
Why did you want to practice law in Northwest Indiana?
I grew up in Northwest Indiana, and have lived here all of my life. Naturally, when I thought about where I wanted to build my practice, Northwest Indiana, and Lake County in particular, was a perfect fit for me. I love practicing here because this is home.  
What needs to be done to make the legal profession more diverse, especially in leadership roles?
Women and minorities just need a chance because when we embrace diversity, we are able to make valuable contributions to the legal profession, to our colleagues and to our clients. Give us a seat at the table and see what we can accomplish together. The legal profession does not need to be an "us vs. them" system. Let's all help each other succeed. As a wise Latina woman, to borrow words from Justice Sonia Sotomayor, I know that my work ethic, my values and my life experiences bring value to our profession, and I am proud to recognize my diversity as a bridge and not a barrier.
Please enable JavaScript to view this content.