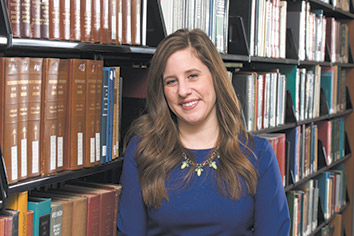 Lauren Sorrell is a talented attorney whose work ethic, leadership skills, sense of humor and community involvement separate her from others. She is a member of the firm's litigation and creditors' rights and bankruptcy practice groups, and is one of the chairs of the firm's summer associate program. One colleague describes her written work product as "outstanding" and says she is one of the best legal writers he's ever worked with. Clients are impressed with her attention to detail and timeliness and praise her positivity, even in times of high stress and short deadlines.
What needs to be done to make the profession more diverse, especially in leadership roles?
I hope to see more women in leadership roles in our profession as time goes on. While there's so much that needs to happen to achieve that goal, first and foremost, women need to support one another both formally through mentorship, networks and policies, and informally through friendship, encouragement and advocacy. Along those lines, mentorship is so important — setting an example, being a resource and an advocate, and providing support and guidance all go a long way toward promoting diversity and encouraging progress.
What's been your most memorable case?
I had the privilege of working on a large qui tam case over the past couple of years. It had it all — fascinating subject matter, a great client and a lot of moving parts that made it both interesting and challenging at every step. I've found cases requiring a long-term team effort and really allowing for a deep dive into all of the facets of what's going on to be particularly enjoyable and memorable.
Why did you become a lawyer?
It wasn't something I was set on from an early age. I actually didn't decide on law school until the end of college, when I was already studying for the GMAT. After some thinking and researching, I thought that the law would open the most doors for me professionally and allow me to work in a variety of industries and work environments. 
What will the profession look like in 15 years?
That's hard to imagine, since I've only been a part of it for five years myself! The legal profession seems to be always changing so quickly, as does legal education. I'd think and hope that we'll see a lot more diversity in lawyers and leaders over the course of the next 15 years. Additionally, I imagine technology will continue to change how we practice law, how we interact with and serve clients, and how we deliver work product.
What's the best advice you got from a mentor?
First, many people have emphasized to me the importance of the people we surround ourselves with professionally, and I've found that ringing true many times already in my career. Liking and respecting the people I work with enhances every part of my work life and makes a challenging job so much easier and more enjoyable. Second is to never be afraid to ask — both to ask questions and to ask for what you want or need. There have been so many occasions on which I've learned something completely unexpected, yet entirely relevant and important, or received exactly what I needed, simply because I took the time to ask the right questions of the right people. There is a lot of wisdom and experience — and so many resources — out there to be accessed and shared.
Why is it important to be active within legal and community organizations?
For me, there are a few primary reasons why I have an interest in being involved in a variety of organizations. First, it's important to look for ways to contribute — whether that be time and energy, a particular skill, etc. — particularly since I've been on the receiving end of so much support, encouragement and good fortune. Second, it's a way to engage with different activities, people and hobbies that are outside of my work and the normal days. I've always been interested in so many things, and volunteering and participating in a variety of organizations allows me to feed those additional interests and engage with different parts of my personality. Lastly, it's a great way to build a network and connect with the community, both the people and the city itself. 
What are the advantages and drawbacks of being always accessible to clients and working anywhere, thanks to technology?
What's great about it is the flexibility it provides — no longer are attorneys tethered to their desks, only able to be reached by an office phone. It allows for so many different work arrangements and environments, which adds diversity to the profession in a lot of ways. However, the drawback of always being accessible is, of course, always being accessible. Without a very intentional effort to do so, we never really leave work behind.
What attracted you to your practice area?
I really like research and writing, and didn't realize how much of litigation was made up of those two things until I started working. I also love the fact that, as a litigator in a firm with a broad scope of clients and industries, I'm always getting to work on a variety of types of matters in all sorts of areas. There's variety in substance, yet consistency in process, and I really enjoy that.
What do you do to unwind?
Aside from spending time with my husband, friends and family, I love reading, cooking, sports (in particular: Indiana Hoosiers, Chicago Bears, Chicago Cubs and the Olympics), being outside, swimming, listening to podcasts, enjoying all that Indy has to offer, and dreaming of our next road trip or travel destination (and what we'll eat there).
Where do you see yourself in 20 years?
I plan to have really mastered something professionally — to have become an expert in a particular area of the law or an industry. I'd love to have a family with my husband, to have traveled to all 50 states, and to teach a course or be involved in legal education in some capacity. I hope to feel content and energized in my professional and personal lives, and to still have the drive to learn.
Please enable JavaScript to view this content.