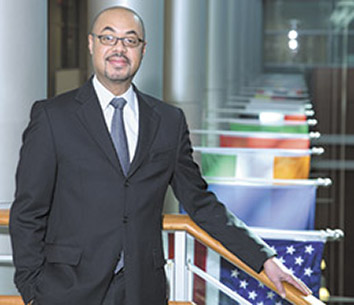 Brian Weir-Harden handles a wide range of white-collar criminal defense with a focus in antitrust law. He represented two executives under investigation by the Department of Justice for alleged violations of antitrust law regarding auto parts. Those executives were the only ones of the multiple people targeted to avoid prosecution. Brian is considered an emerging leader at the firm, where he has contributed significantly to internal activities. He's also a member of its Recruiting Committee. Brian recently became the Barnes & Thornburg board member for the Indiana Bar Foundation, an honor for which the firm's management thought Brian was best suited.
Where do you see yourself in 20 years?
I hope that in 20 years I will still be a partner at Barnes & Thornburg, working side-by-side with all of my current peers. This firm has been incredibly supportive of me in all of my professional pursuits, and I hope to repay the firm's support by being a productive and successful partner for an extended period of time.
Why did you become a lawyer?
My grandfather, who passed long before I was born, was a well-respected attorney in Jackson, Tennessee, and here in Indianapolis. In Jackson, back in the 1940s, he was the only African-American lawyer, and he almost exclusively serviced African-American clients. Growing up, I was told stories about his adventures as an attorney in Jackson and those stories stuck with me. I was told that he would walk to his office every day with his briefcase in one hand and a revolver in the other. He wanted the local chapter of the Ku Klux Klan to know he was not to be messed with. Stories like that made an impression on me when I was young and fueled my interest in practicing law.
What's the best advice you got from a mentor?
I have learned a lot from many mentors, but the most important advice I received was about perspective. I learned from my mentor, Larry Mackey, to be fully focused on the best interests of the client and not to get distracted by less important issues such as billable hours and partnership track. If you service the client to the best of your ability, everything else will fall into place.
Why is it important to be active within legal and community organizations?
I have had a lot of senior attorneys as mentors over the course of my legal career. However, I have learned just as much from my peers. Being involved in legal organizations gives me the opportunity to rub shoulders with and learn from senior, more-experienced attorneys and practitioners my own age. It is the best of both worlds.
What are the advantages and drawbacks of being always accessible to clients and working anywhere?
One advantage of constant accessibility and connectivity is that we, as attorneys, can service our clients better. We are more responsive in the event of a crisis. Another advantage is that being forced to stay on your game 24/7 inevitably makes you a better attorney. The biggest drawback is the amount of time it takes away from being with family and friends, or to indulge in non-work-related interests.
Constant accessibility makes it very difficult to fully unplug.
What attracted you to your practice area?
My mentor, Larry Mackey, introduced me to the practice of white collar criminal defense about three years into my legal career. Prior to that, I was in the firm's creditors rights department. I would describe white collar defense as acutely human. You become extremely close with your clients, which makes you emotionally invested in their well-being. I am most comfortable and productive engaging with people, and this practice area facilitates that.
What needs to be done to make the legal profession more diverse, especially in leadership roles?
Diversifying the legal profession is a tremendously difficult challenge with no quick fix. Recruiting diverse talent must begin early by introducing underrepresented groups to the practice of law at a young age. Too many minority youths are not familiar with the practice of law and, therefore, will be less likely to pursue law as a career. Once a minority candidate has decided to pursue law as a career, retention must then become the focus. Law firms and their leadership must be committed to mentoring diverse talent in order to retain them long term.
What was your most memorable job before becoming an attorney?
From 1999-2000, I lived in Marbella, Spain, on the Costa del Sol and worked for a moving company. The company catered to wealthy northern European expatriates, so we would move people in and out of these incredible mansions and beachfront condos on a daily basis. I met a slew of interesting characters, while simultaneously immersing myself in the Andalusian culture. On one occasion, we got a call from one of the male members of the Swedish band Ace of Base. He had just broken up with his Swedish model girlfriend and wanted her moved out of his house immediately. Needless to say, that move was a little awkward. I didn't bother asking him for an autograph.  
What's one key thing you learned from your participation in the United Way Leadership Program?
The United Way Leadership Program I graduated from was a community leadership and non-profit board training program. In addition to meeting some incredibly talented young professionals, I was introduced to a variety of United Way-sponsored organizations that are doing incredible work for the central Indiana community. The one key thing I learned from the experience was that contributing just a bit of one's time and energy to a charitable cause can make a tremendous impact on the population being served.
Please enable JavaScript to view this content.