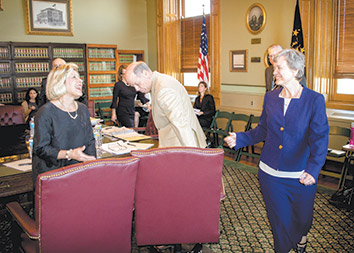 The three people Gov. Eric Holcomb is considering as the next Indiana Supreme Court justice are a repeat-finalist former Gov. Mike Pence considered for the same position last year; a candidate who is a decade younger than the rest of the court; and a southern Indiana trial court judge elected to the bench as a Democrat.
Clark Circuit Judge Vicki Carmichael, Wabash Superior Judge Christopher Goff and Boone Superior Judge Matthew Kincaid are now waiting for Holcomb's decision as to who will replace retiring Justice Robert Rucker. The three were selected from a pool of 20 candidates who have been moving through two rounds of interviews since March.
Holcomb has 60 days from April 26, the date the Judicial Nominating Commission sent its formal letter to him about the finalists, to make his selection. Rucker's retirement is set for May 12.
Here's a look at what the three candidates had to say during their interviews on April 18 and 19 about why they should be the next to take a seat on the Indiana Supreme Court.
Judge Vicki Carmichael, Clark Circuit Court
As a judge elected on the Democratic ticket, Carmichael's ascent to the high court would require Holcomb, a Republican, to appoint a justice who is not a member of his own party. Faced with a question about that distinction and about political influence on the law, the Clark County judge said she has never let her political leanings affect her work.
"I think if you look at my track record, and if the governor looks at my track record, and if the governor's people talk to litigants who appeared in front of me, attorneys, other judges that I've worked with, the Court of Appeals, the Supreme Court, I think they will hear what I am saying is that politics don't matter," Carmichael said when asked how she might convince Holcomb to select a Democrat to fill Rucker's seat. Rucker is the lone justice on the bench appointed by a Democrat.
Similarly, Carmichael, 54, told the JNC that she does not consider herself a judicial activist, but rather prefers to follow the principles of judicial restraint. That said, she also noted that she is not afraid to make tough decisions when a case calls for it. However, even those tough decisions are made within the traditional role of a judge.
Further, Carmichael said she respects the role of stare decisis and thinks it is necessary to defer to precedent in order to provide continuity. However, technology has created changes in both society and in the practice of law, which affects how judges might view precedent.
For example, the ability for an adult to pose as a young person online in an effort to prey on children has created a new legal issue that was not considered in previous generations. Given such societal developments, Carmichael said the judiciary may need to reexamine some of its existing precedent.
Goff
Judge Christopher Goff, Wabash Superior Court
Having recently celebrated his 45th birthday, Goff, if selected as the next justice, will be at least one decade younger than the other four justices. Kincaid, who turns 47 on May 12, would be in a similar situation.
Asked if he was ready to assume a seat on the Supreme Court at his age, Goff told the JNC he has never truly been "ready" for any task he has undertaken, including becoming a judge at 33. But in the moments in his career when he feels the least equipped to complete the task in front of him, Goff said it is incumbent upon him to reach out to people and other resources to provide guidance and help him get the job done. Operating with that mentality, the Wabash County judge said he has built a successful career.
As a judge in a rural county, Goff told the JNC that he could bring a unique perspective to the high court — the perspective of small town Indiana. Issues such as criminal justice reform have a different impact on rural areas than on larger cities, Goff said, so he would encourage the judiciary to consider the perspective of small towns when examining judicial issues, such as whether Level 6 felons should be housed in county jails or the Department of Correction.
"Indiana is really a collection of small towns," Goff said. "Most of Indiana looks like Wabash, it doesn't look like Indianapolis."
While Indiana's Supreme Court has included five justices for many years, other surrounding states, including Kentucky and Illinois, have seven justices sitting on the bench. However, posed with a question about the possibility of Indiana expanding its bench, Goff said he thinks five justices seems to be working well for the state. Although adding two justices would offer more perspectives when considering judicial issues and deciding cases, Goff said additional voices could lessen the impact of each of those voices.
Kincaid
Judge Matthew Kincaid, Boone Superior Court
Kincaid returns to the trio of finalists this year after being selected as a finalist to replace former Chief Justice Brent Dickson, whose seat was eventually given to Justice Geoffrey Slaughter. Now, Rucker's retirement and the nomination of three white judges to be his replacement will leave the Indiana Supreme Court without racial diversity.
Though he cannot directly empathize with racial minorities, Kincaid told Chief Justice Loretta Rush and the JNC that he believes justices can prove their commitment to diversity through their actions. The way a justice treats litigants can go a long way toward showing support for people of all backgrounds, Kincaid said, as well as being prepared to hear and consider each case that comes before the court.
Similarly, Kincaid told the JNC that community involvement is a key aspect of being on the Indiana Supreme Court. Justices must be willing to travel to hold oral arguments and meet with Hoosiers, especially legal professionals, all over the state.
"The community, I think, is our whole state," Kincaid said. "We're all Hoosiers, and whoever sits on this court, wherever they're from, whatever age they may be, whatever their particular experiences, we're the court for the state of Indiana."
Kincaid praised Justice Steven David, with whom he formerly served on the Boone Superior Court, for his willingness to hand out his cellphone number. Further, the judge specifically credited former Chief Justice Randall Shepard for encouraging more accessibility and community involvement on the court.
Asked about his views on judicial restraint, Kincaid said he believes following precedent is the proper way to decide cases, noting that jurists are tasked with interpreting the law only as it is written, not as they would like it to be.
Referring to Alexander Hamilton's Federalist Paper 78, Kincaid said the Founding Fathers viewed the judiciary as "the least dangerous" branch of government. In order to uphold that reputation, Kincaid said jurists must interpret laws and statutes by looking at the plain meaning of their texts, a process that requires strict adherence to the concept of judicial restraint and helps the judiciary stay within its proper role.•
Please enable JavaScript to view this content.