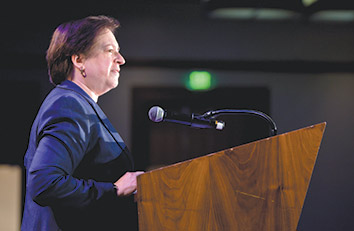 U.S. Supreme Court Associate Justice Elena Kagan told the 7th Circuit Bar Association that the prolonged vacancy created by the death of Associate Justice Antonin Scalia had an unexpected result.
During the 419 days the Supreme Court operated with an even number on the bench, the eight justices worked to find common ground so the court could issue majority opinions. Kagan said she and her colleagues learned to keep talking, listening and persuading as well as being open to persuasion.
She noted in a particularly polarizing time in American politics, the Supreme Court's ability to find common ground offers a broader lesson.
"I think courts do model behavior," Kagan said. "They teach people about reasoned decision-making and they teach people about collegiality. And when they're working at their best, they also teach people about bridging differences and reaching agreement in places where you might not expect to find it."
Kagan was one of the keynote speakers during the dinner held in conjunction with 7th Circuit Bar Association annual meeting and judicial conference. Attorneys and judges in the 7th Circuit gathered in Indianapolis for the April 30-May 2 event that featured plenary discussions and smaller breakout sessions on such topics as data breaches, arguing in federal court, and sports law.
Brian Welch, partner at Bingham Greenebaum Doll LLP, is the president of the 7th Circuit Bar Association.
The dinner also included honoring attorneys for their pro bono work and videotaped remarks by Holocaust survivor and Terre Haute resident Eva Mozes Kor.
Comparatively, the process to fill the open seat created when Associate Justice John Paul Stevens retired in June 2010 was a breeze. Kagan, then-U.S. Solicitor General, was nominated and confirmed in just 87 days.
Filling Scalia's seat evolved into a protracted battle. Senate Republicans, who held the majority, refused to consider President Barack Obama's nominee, D.C. Circuit Chief Judge Merrick Garland, and then changed the rules to confirm President Donald Trump's nominee, Judge Neil Gorsuch of the 10th Circuit.
Kagan praised Chief Justice John Roberts in particular for guiding the justices to reach agreement while short a ninth vote. It was not easy since many times when the court would gather for conference, the initial tally often showed an even 4-4 split.
She acknowledged sometimes the court could only reach a majority on a small aspect of a case that was not the central point of the arguments. The larger issue was left to continue bedeviling the lower courts because the eight-member court still could not give them an answer.
But overall, she thinks the Supreme Court performed "pretty darn well."
"I think most of time it felt as though we were doing something really quite valuable by keeping on talking and by trying to find common ground," Kagan said. "And then by finding it in places that we didn't expect and in managing to reach across the sort of natural divides that we have and find a consensus."
Former Indiana Supreme Court Justice Frank Sullivan also noted the sharp discord across the country in his remarks after receiving the American Inns of Court Professionalism Award. He was honored for his career that has included working in the legislative, executive and judicial branches of government.
Now a professor at the Indiana University Robert H. McKinney School of Law, Sullivan, who has been recognized for his efforts to encourage and give opportunities to minority judicial clerks and lawyers, talked about his family's commitment to racial justice and said he was disheartened that people today are so polarized.
"We hang with our own," he said. "I think that we are all victims of some sort of centripetal force towards sameness. I've tried to be deliberate in pushing against that force and building as wide a circle of colleagues and friends as I can who are not, well, Caucasian males."
Also honored at the dinner were the Indiana attorneys and programs that have advocated on behalf of the indigent. The 7th Circuit Bar Association presented pro bono awards to:
• American Civil Liberties Union of Indiana, along with legal director Ken Falk and senior staff attorney Gavin Rose, for outstanding public service work in the 7th Circuit;
• Brian Paul, partner at Faegre Baker Daniels LLP, for outstanding pro bono work in the 7th Circuit;
• Christopher Cody, partner at Hume Smith Geddes Green & Simmons LLP; John Maley, partner at Barnes & Thornburg LLP, and Kerry Connor, solo practitioner in Highland, for outstanding pro bono work in the U.S. Districts Courts in Indiana;
• Volunteer Lawyer Program of Northeast Indiana for outstanding public service in the U.S. Bankruptcy Courts of Indiana.
Both Kagan and Sullivan applauded the attorneys recognized for their pro bono work.
"You remind us that the privilege of being in this profession carries with it obligations," Sullivan said. "We admire your work and it should inspire all of us to join you in it."
The evening closed with the speech from Kor, who asked the judges and attorneys of the 7th Circuit to help crime victims learn to forgive. She had planned on attending the dinner but a health emergency sent her to the hospital instead. So she videotaped her comments, which mixed compassion with humor, from her hospital bed.
Kor, who founded CANDLES Holocaust Museum and Education Center, recounted her own journey from being subjected to medical experiments at Auschwitz to eventually writing a letter of forgiveness to one of the Nazi doctors. Doing so, she said, transformed her from being a victim to being a survivor who was free of her painful past.
"Our judicial system, I hope, can create a way to help victims heal themselves because every person deserves to live free and be happy," Kor said. "… By helping to heal individuals, we can help to heal our community, our nation and the world."•
Please enable JavaScript to view this content.