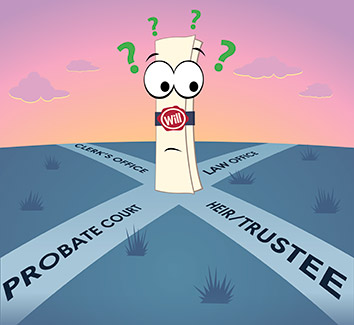 The final stop for a last will and testament in the e-filing era depends on where in Indiana an estate is opened and what the local probate court demands, at least for now.
The lack of a statewide standard for what to do with original wills when estate cases are opened electronically means practices vary, causing confusion among attorneys and personal representatives.
"I think the courts have struggled with that question, and I don't know that a lot of them have come to a conclusion yet," Indianapolis estate attorney Barbara J. Baird said.
In Marion County and many others where e-filing is mandatory, lawyers and personal representatives who open an estate case through e-filing simply attach an affidavit stating that the electronic version is the same as the original. The lawyer or the decedent's personal representative swear to retain and produce the original will upon request of the court.
Eichholtz
"I haven't had anybody question it or test it or say, 'That's not the original will,'" Marion Superior Probate Judge Steve Eichholtz said. "I'm sure it will happen," he said, though he doesn't believe the potential for abuse is any more or less with e-filing.
Varying standards
An original will may be required to be kept in any of at least four places, depending on whether a county is e-filing and what the local court rules say. Courts permitting an affidavit with e-filing may require the original be kept in a law office or with the personal representative. Some e-filing courts still require the original will be filed in person or mailed to the court, while still other original wills may reside in a county clerk's office.
E-filing will be mandatory in Tippecanoe County in early June, but Circuit Judge Thomas Busch said he hasn't decided yet what he'll ask lawyers to do with original wills at the opening of an estate. "I'd like to see a statewide standard, then I wouldn't have to make my own decision," Busch said.
Busch
Lawyers who've been e-filing in Tippecanoe County have been allowed to follow the Marion County procedure, he said, "but we're still receiving wills. … When people ask, we say, 'Please send in the will.'"
Judges and attorneys said little guidance was provided from the state in terms of how original wills should be handled once e-filing became mandatory, as it is now in three dozen counties. Some are erring on the side of established practice.
Vanderburgh County became a mandatory e-filing county in May but continues to insist on also receiving the original will.
"Once the will has been e-filed for probate, we're asking attorneys to submit the original will within a week either by mail or in person," said Vanderburgh probate clerk Amy Cron. Lawyers are on board with the requirement, she said, though some from outside the county have been confused by it. "So far, we've not had anybody who's not been willing to submit the original will," she said.
Cron said the county continues to warehouse wills dating to the 1800s, but she envisions a coming day when an e-filed document will suffice. For now, though, tradition is winning out.
"A lot of the attorneys feel like that's a document that should always remain" with the court, Cron said.
Baird
As Baird said, a will by its nature is one of the weightiest documents for courts, because the person it represents can no longer speak for him- or herself. "I think the law has addressed that issue by requiring the original (will) procedure," she said.
Seeking uniformity
Busch, like Eichholtz, is a member of the Indiana Office of Court Services' Probate Committee, and he said he plans to push for a recommendation of a statewide standard when the group of 15 judicial officers meets in early June. He hopes to also soon decide what the procedure will be in his court, and that it's possible those who filed just an affidavit might be asked to also supply the original will in paper form.
Schneider
"We need to have a standardized process," said Allen Superior Probate Magistrate Phillip Houk, who said lawyers e-filing to the courthouse in Fort Wayne have been filing with an affidavit as in Marion County. But Houk, who's also a member of the court Probate Committee, agreed courts didn't get much direction when the issue was brought up as the state transitioned to e-filing. "If they now tell me we've got to do it differently," he said, "I'm not going to be all that excited."
Lake Superior Judge Diane Kavadias Schneider chairs the court Probate Committee and agreed on the need for uniformity. Lake County hasn't yet adopted e-filing and still requires the filing of original wills. "I don't see what the difference would be, that it would be any different from any other (e-filed) document, as long as it's in proper form," she said. "Technology is great — when it works."
Shifting the burden
While e-filing is easing the transition to a digital practice, Baird points out the irony for estate lawyers: They may be left holding more paper because they may be required to store and safeguard the official will after an estate is opened. This raises other questions for which there aren't consistent answers, such as how long wills must be kept.
Houk
Houk notes that for someone like him who's presided primarily in the area of estate law for more than 30 years, "it was shocking at first to my sensibility" that the court would no longer require the original will at the opening of an estate. "It was kind of a radical thought that you wouldn't bring the original into the court," he said, but he's gotten past his initial reluctance as e-filing has been adopted smoothly in Allen County and elsewhere.
Baird noted Marion County has a designated area where all wills are stored, but now, that burden will shift to lawyers. She understands the efficiencies gained from e-filing, but she's not a fan of firms now being required to be custodians of original wills — particularly smaller firms that may lack space.
"If the original is important, it certainly makes sense that it be retained by the courts handling the probate of the will rather than being scattered around multiple lawyers' offices around the state," she said.
Another option is available for attorneys and personal representatives who may be charged with the safekeeping of a will but may not want to be personally or professionally responsible for the document. Under Indiana Code 29-1-7-3.1, a will may be deposited with the clerk of the circuit court where the testator lived for a fee of $25.•
Please enable JavaScript to view this content.