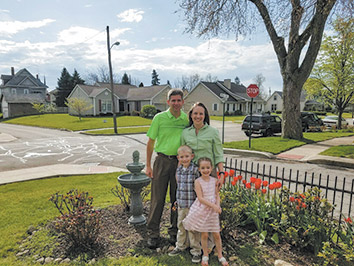 Craig Vickery moved last year from his eastern Indiana home to Perrysburg, Ohio, just outside Toledo, for work at a new job. An Indiana commercial court kept him from starting without even providing him notice he'd been sued, asserts one of the first appeals from the pilot project docket.
"There are still a lot of days that my wife and I look at each other, and we're still in a state of shock," Vickery said. "We were accused of things and not given a chance to even tell our side of the story before a temporary restraining order was issued.
"I would have had a lot of things to discount any of the things alleged in the TRO had I been given an opportunity to stand before the court and address it," he said. "As it stands, I was never given the opportunity. It's disappointing and kind of a head-scratcher for me."
The effect of that order on Vickery is profound. He's been barred from working in his chosen profession for nearly 11 months. But for his new job working in the glass industry, Vickery said he and his family would not have left their home in Randolph County. "It's certainly been a struggle," he said of supporting his wife and two children in the meantime.
Vickery, through attorney Kevin Betz, has asked the Indiana Court of Appeals for an expedited review in one of the first challenges of rulings from an Indiana commercial court. The suit alleges the specialized docket touted as a speedier, more efficient means of resolving complex business disputes operated in secret to keep Vickery out of a job in his profession for a year.
Betz
"It seems like this is a combination of an exuberance to serve the corporate community at the cost of individual rights, and with rules regarding jurisdiction that help that and make it more onerous for individuals as well," Betz said about commercial courts' special jurisdiction rules.
Ardagh Glass Inc. sued Vickery, who had been a senior mold engineer at the company's plants in Muncie and Winchester. His employment ended after Vickery claimed he was passed over for a promotion that went to someone who he and a supervisor said was less qualified. Ardagh was granted a temporary restraining order blocking Vickery from going to work for a competitor on July 1 — within hours after Ardagh filed its request, and allegedly without providing notice of the suit or a prior hearing for Vickery. Since then, Vickery has been prevented from reporting to his new job in Perrysburg, at the global headquarters of rival glassmaker Owens-Illinois.
Vickery's appeal alleges that Marion Superior Judge Heather Welch's grant of the restraining order was "blatantly wrong and unconstitutional." He claims in the motion to expedite that he's "quickly running out of resources to live," having been deprived of a livelihood that paid $80,000 annually and supported his family.
Attorneys for Ardagh including Adam Arceneaux and Derek Molter of Ice Miller LLP did not respond to messages seeking comment about the alleged rules violations and rights deprivation. Arceneaux said Ardagh would not comment on open litigation. They referred to Welch's rulings in the case.
Ardagh claims Vickery was subject to a noncompete agreement that barred him from working for competitors or sharing trade secrets. In his appeal, though, Vickery argues, "This is a case about secrets — all secrets kept from Craig Vickery. The new Commercial Court secretly enforced a Non-compete Agreement against Vickery" and issued an ex parte temporary restraining order to enforce the agreement before Vickery was given due process.
"It was issued without meaningful notice and without a right to be heard, and there was no justification for the failure to give meaningful notice," by the court or by Ardagh's counsel, Betz said, alleging violations of Trial Rule 65.
Welch converted the TRO to a 63-page preliminary injunction in January, blocking Vickery from working in his trade through at least June 30 of this year. Betz, though, said it's unclear whether Vickery could be prohibited from working in the industry for an even longer period.
Welch ruled that Vickery, who'd worked for Ardagh's predecessor, Saint-Gobain Containers Inc., since 2004, had signed a noncompete agreement that transferred to Ardagh when that company purchased SGCI in 2013. Ardagh, and competitors including Owens-Illinois, manufacture glass containers and bottles for customers including Anheuser-Busch, Diageo and Pepsi. Ardargh claims the noncompete agreement Vickery signed when he started working at SGCI prevented him from working for competitors for a year after his employment ended, and indefinitely prohibited the sharing of trade secrets and confidential information.
Vickery asserts on appeal that Welch's restraining order and two other ex parte orders were issued within five hours of being filed. He also claims the court wrongly denied his motion to dismiss Ardagh's claims, rejected without rationale his motion to dissolve the restraining order because of due process violations, and wrongly denied his motion for summary judgment. Of 33 substantive, contested matters decided by the commercial court, he prevailed on just two, Vickery argues on appeal.
Betz noted the commercial courts — a pilot project authorizing six specialized docket venues around the state — appear to be operating with rules that limit an individual's ability to opt out once a temporary restraining order is granted. The courts then retain jurisdiction, he said.
"Some of this may be part of this litigation," Betz said about questions of venue and the commercial courts' specialized rules. "Certainly, we are raising these issues about the commercial courts, and fundamentally raising issues about justice for an individual and an individual Hoosier family as opposed to a multinational corporation in the commercial court."
But Betz said there are also questions about whether the noncompete is even enforceable and whether Vickery had information that could be considered trade secrets or confidential. He noted the noncompete Vickery signed didn't include a clause that granted enforcement power to successor companies. Vickery also claims he never heard of the corporate entity that sought to enforce the noncompete.
Noncompete agreements, Betz said, "are supposed to be agreements that are disfavored under the law and strictly construed," against the party seeking to enforce them. The Indiana Supreme Court and Court of Appeals have repeatedly rejected such agreements in recent years when their terms are overbroad. In Vickery's case, the noncompete's terms prevented him from working for any competing glass companies in the United States.
Betz shared an anecdote about Vickery's first visit to the commercial court in Marion County. Betz said Vickery observed that it was a courtroom like any other in the City-County Building, yet the rules were different there.
"My client, Mr. Vickery said to me, 'Why is there not a court for individuals as opposed to corporations?'" Betz said. "I said, 'That's a great question.' I didn't have an answer for that."
The case before the Court of Appeals is Craig Vickery v. Ardagh Glass, Inc., 49A02-1702-PL-00330.•
Please enable JavaScript to view this content.