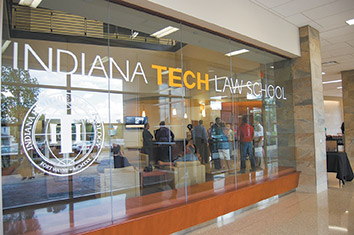 Little more than a week after graduation ceremonies, Indiana Tech Law School was well on its way to extinction.
The name had been removed from the building, the Fort Wayne law school's website redirects visitors to the main Indiana Tech homepage, and all mentions of the legal education program had been scrubbed from Indiana Tech's homepage. Neither Dean Charles Cercone, former interim dean andré douglas pond cummings nor university spokesman Brian Engelhart returned phone calls or emails.
Questions are unanswered about the final steps being taken to close the school, what will happen to money given for endowed scholarships, where will the materials in the law library go, what will be done with the curated art collection, and how the $15 million building, constructed especially for the law school, will be repurposed.
The American Bar Association, which provisionally accredited the law school, has not spoken publicly about the closure since it issued a statement that Indiana Tech would have to follow the procedure for ceasing operation outlined in Rule 34 of the ABA Rules of Procedure for the Approval of Law Schools. The U.S. Department of Education did not respond by IL deadline to an inquiry about any role it has in the closure and how much federal loan debt Indiana Tech law students have.
While silence has prevailed outside the school, members of the Class of 2017 said the atmosphere inside changed immediately after the university announced in October 2016 its plans to shutter the legal education program at the end of the academic year.
A planned legal conference on campus was cancelled, support staff were pulled from the building and the receptions and informal gatherings held periodically with the faculty stopped. The day after the announcement, students saw workers measuring the classrooms and evaluating how the space could be reused.
The Indiana Institute of Technology, which opened the law school in August 2013, cited a $20 million loss as the primary driver behind the decision to close. Still, the 2017 graduates were angered by the university's action. They opted to hold their own graduation ceremony, off campus at the Allen County Public Library, so they would not have encounter retiring Indiana Tech President Arthur Snyder at the main commencement May 13.
"That was basically our ceremony, which was very meaningful and important because we had stuck together and gotten through this process," said 2017 graduate Philip Davis.
Of the 21 law school graduates, only five, including Davis, attended the university-wide graduation at the Allen County War Memorial Coliseum. Standing amid a sea of black caps and gowns waiting for the event to begin, Davis, 60, said he enrolled in law school to make a career change from real estate. He chose Indiana Tech because of its proximity to his house and has plans to stay in Fort Wayne to practice business and real estate law.
"I basically made the best of what was provided, but it was to some degree based upon what we would do in response to what was offered," he said of his education at the law school. "I guess what I'm saying, it was a mixed bag of fantastic stuff and stuff that was terrible and so that's where you end up."
Moving forward
Second- and first-year students at Indiana Tech had to decide whether to transfer to another law school or change career paths. Law schools are free to determine how many credit hours they will accept, but the students who completed two years of study in Fort Wayne will likely have to repeat some classes, if not a full academic year.
"I think what Indiana Tech did was wrong," said D. Benjamin Barros, dean of the University of Toledo College of Law. "The expectation is for an ABA-accredited law school to have a teach-out plan to educate all the students. It's shocking to me Indiana Tech didn't meet that obligation."
Toledo has already admitted some Indiana Tech transfers and expects to have a total of 13 enrolled by the start of the fall semester. All the law schools in Indiana have received transfer applications from Indiana Tech students, according to the deans of the respective institutions.
Both Indiana University Maurer School of Law, which received two transfer applications, and Notre Dame Law School, which got "a few," are still waiting for spring semester grades before making any decisions about accepting the students. Indiana University Robert H. McKinney School of Law received four requests to transfer and is still considering the applications. Finally, Valparaiso Law School had a total of five applications from Indiana Tech and expects two will matriculate in the fall with one student repeating the entire first year.
Western Michigan University Cooley Law School has received "a number" of transfer applications, said James Robb, associate dean of external affairs and general counsel. Some Indiana Tech students have been admitted, others are still being reviewed, and Robb is anticipating a few more will submit applications because Cooley keeps fall enrollment open until classes begin.
Class of 2017 graduate Noah Moore had considered transferring but, after talking to his family, decided to stay at Indiana Tech. The Jackson, Mississippi, native started in the fall 2014, shortly after founding dean Peter Alexander abruptly resigned, and endured the law school's roller coaster existence.
Moore was there for the celebrations when the Indiana Tech welcomed Cercone, gained provisional accreditation and graduated its first class. And he was there for the times when the school failed in its first attempt at provisional accreditation, when only three graduates in the inaugural class initially passed the July 2016 bar exam, and when the university decided on closure.
"It was very difficult," Moore said of his time at the law school. "It was a very emotional time but I kind of took the attitude of a lawyer that you're going to encounter certain hardships, certain obstacles on your journey. With that in mind, I just decided to move forward."
No remnants
Transferring is fairly common among law school students, so Barros and Robb believe Indiana Tech applicants will not have difficulty integrating into other institutions. Many law schools have orientations especially for transferring students, and faculty encourage the new arrivals to get involved in student organizations and activities.
When Cooley closed its Ann Arbor, Michigan, campus in 2014, students were given a small stipend. Robb explained the law school tried to ease the hardship of the closure by being transparent, making financial information and other details available to the public, and helping students cover some of the expenses associated with having to relocate to one of the school's other campuses.
At the time Indiana Tech announced it was closing, Washington, D.C., attorney Christopher Mackaronis of Stone Mattheis Xenopoulos & Brew P.C. said he was representing two faculty members and 13 students. He intended to expose the university to the "bright light of sunshine" but has not returned phone calls or emails seeking additional comment.
The 2017 graduates will be able to sit for the Indiana Bar Exam because the school had ABA approval when students finished their studies, said Bradley Skolnik, executive director of the Indiana Office of Admissions and Continuing Education.
Allen County Bar Association president Melanie Farr, attorney at Haller & Colvin P.C., does not expect the closure will have any impact on the legal community in Fort Wayne. The law school was open such a brief period, she noted, that it did not have the time to establish a flow of students and graduates who could fill clerkships, summer associate positions and J.D.-required jobs.
She also does not expect that the demise of the law school will stain the reputation of the lawyers in Allen County, but she speculated the consequences might be different for the graduates. Hiring attorneys look at where applicants received their legal education, its national ranking, and how involved students were.
Law students, Farr said, work hard to complete their degrees and, for Indiana Tech graduates, she would not want "to see that time and effort going to waste."•
Please enable JavaScript to view this content.